Yes trailers for drafts are a friggin pain! I had a percheronXTb mare (17 hh) that my aunt had found for me. Well i had to pay to rent a trailer from town because she wouldnt fit in mine (it was too short in every direction! lol)
As for their temperment, i love them. I find they do tend to be more level headed than other "hotter-blooded" breeds, but of course there are always exceptions.
There is a Belgian cross gelding (or so i believe) at our gymkhana group (he's around 6 yrs) & the lady brings him just for her 4-year-old son to ride lol. He walks all the barrels, poles, keyhole, etc with this little kid on his back (looks like a toy lmao) & he steps so friggin gently!
---
"If a horse fails to do something that is because he was not trained to do it. If a horse fails to do something properly that is because he was not trained properly."
www.wildestheartart.com
Thanks so much! Smrobs and WickedNag, I love your videos. I'm sorry about Vickie, though :( Your horses are beautiful.

Thanks for pointing that out, Solon...it would be a generalization to say they're all automatically gentle. I wonder if it would be a good idea to get a very young horse and bond with him/work with him with a trainer? I guess this is personal preference and goes for any breed, though :)

Okay, so I'm thinking that the biggest issue with having Drafts would be the trailer/tack/farrier thing, especially in SA since they don't seem to be very common here. But I'm SO sold. Just one more thing...I know lots of children ride big horses, but I read you shouldn't be less than 15% of the horse's weight when you're doing serious stuff like cantering/jumping etc (I think I saw this somewhere on the forum). I'm tall but I don't weigh that much, would that be a problem?
---
"In riding a horse, we borrow freedom." Helen Thompson
Wouldn't be a problem at all.
---
Unless it weighs a ton... it's just a horse.
Draft horse motto.
I've only had experience with one draft, my draft cross gelding and I love him to bits but I know not all drafts are as gentle and calm as he is 90% of the time. Although he's calm, his sheer size means he can really hurt me without even mean too. When the other horses step on your foot, sure it hurts but with Cody, Wow! I've had a broken toe or two.... when he bumps you with his head because he itches ..... can send you flying. We've done a lot of ground work since he was a yearling so he respects me but if he didn't, it could be dangerous. I'm currently looking for a new trailer as he outgrew mine (3 horse slant) and can only ride in the back two stalls. My daughter started riding him when he was 4 (17.3, 1800 lbs. and she was 12 and all of 80 lbs) and there was no size issue, he listened to her just like he would me. Getting on is a problem, I will admit. If you do get a draft, teach them to sidle up to rocks, steps, trailer fenders, etc. so you can get on! Trail riding can be hazardous when there are branches...... I say we're vertically challenged. He's wonderful on the trail though, very few things spook him although he does have his days when he's feeling good and there's a boogie man around every corner! He's very comfortable to ride, great gaits but he is clunky. We're doing dressage and it certainly would be easier if he wasn't so built for pulling but as my instructor says "He's very earnest and willing." I do use an electric fence as he is hard on fencing...... I've found my sources for tack so don't have much of an issue finding things that fit him. If you have never trained a horse, a young horse probably wouldn't be a good idea unless you have a trainer close by. Have fun looking!
---
Dana
Riverside, CA
ASD, Vickie slipped on the ice and broke her neck. It was devasting and my granddaughter was heart broken. This is Waylon, her new horse :) from a horse show and than a trailride.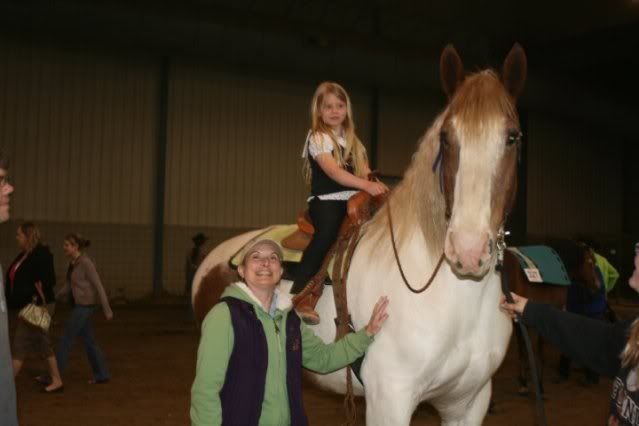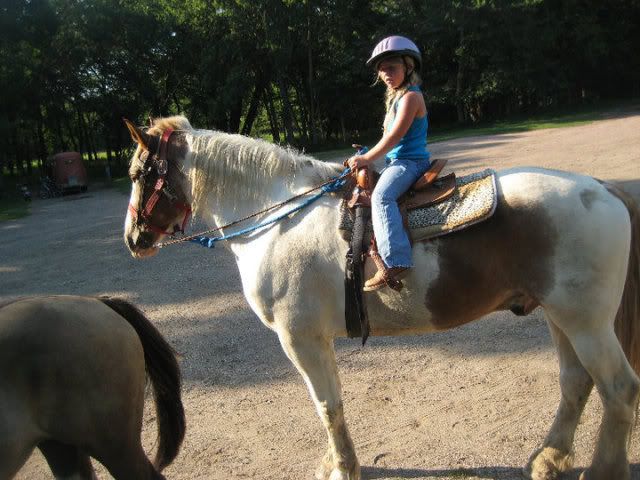 Quote:
Originally Posted by
BackInTheSaddleAgain
View Post
Drafts are absolutely AMAZING~!
I regularly work with my Clydesdale, and the four drafts she's in pasture with (Two shires, one Belgian, and one Percheron. We lost a fifth horse... another Clydesdale to colic not too long ago . RIP.)
I was hooked on Clydesdales since before I can remember. I wasn't one that was fortunate enough to have grown up with horses, but my obsession with Clydes always stuck with me. I was able to make that dream come true.
You've chosen wisely! Of course, any horse can be less than favorable. But, I'm confident in saying that drafts are the most easy-going, loving horses there are (in my experience). Honestly, I can go on and on.
The biggest disadvantage in my experience is letting their size intimidate you. My Clyde is fully capable and I can trust her deeply, but I play head games with myself sometimes. And you absolutely MUST teach draft horses to respect your personal space. They are very curious. They always have to have their noses into whatever you're doing. They need to learn to keep off your tail unless they're invited. lol
Not sure about South Africa. I'm in the US... California. Clydes are very rare here. And they can be expensive. I bought my Clyde in a different state, though.
So, yes. I'm a huge Draft horse advocate. Yes, great for beginners (but I would recommend an older one).
Sorry for the poorly written response. lol
Here are some pics of our babies:
My girl (Tenacity) is the smaller Clydesdale. The larger is Bartley... the one who passed from colic:
Me and My girl... she's only 3. I'm 6'1" tall. She's pretty big already!
Tenacity and a 3 year old shire, Duke:
Pete (the Percheron)
Star (another 3 year old Shire)
And (sorry for the bad pic) this is Morgan. He's a 17 year old retired Amish Belgian. 19.2hh!! He's absolutely massive. That's my Clydesdale next to him, to put it into perspective:
My god she is so beautifull, i miss her lol at least i can see she is loved. You have been doing a wounderfull job with her. I love to see all your updates on face book.
I wouldn't suggest a green/young horse of any kind unless you have tons of time to devote to just working with the horse, just my opinion.
There are lots of Drafts(specially Clydes) in my area, since we used to have them for working on farms and pulling carts. I have to say, I love Clydes. But temperament depends on training and personality, even though generaly they tend to be gentle giants.

One of these years I am going to own my Warmblood/TB jumper and my Clydesdale.
---
A pony is a childhood dream, a horse is an adulthood treasure.
Rebecca Carroll
Danastark, hehe good point...a head rub from a TB doesn't do much but irritate you and maybe knock you off balance a bit, but I can't even imagine what the same from a Draft would do O.O Or rather, I can, and my rear hurts in anticipation lol.

WickedNag, I love her new horse! They look so cute ;)

Thanks again for all the info, everyone...I'll do a lot more reading about them and I guess we'll see what happens. Like I said, I think the big issues here will be a) finding one and b) the equipment needed. But, all in good time I suppose...
---
"In riding a horse, we borrow freedom." Helen Thompson
---
Yay! Hi! This is the girl I bought Tenacity from
Quote:
My god she is so beautifull, i miss her lol at least i can see she is loved. You have been doing a wounderfull job with her. I love to see all your updates on face book.
---
"All I pay my psychiatrist is the cost of feed and hay, and she'll listen to me allll day."