Quote:
this is lennox (lennie lump)..my shire x..love him to bits..
he didn't happen to come from the new market area as a foal did he. He reminds me of a horse I used to ride, its not the same horse but he looks like babs!
---
If there's madness in my method, does that mean there's method in my madness!!
Quote:
sitbacnroc
you look so tiny! I agree My2Geldings!
Haha, that's what people tell me. I feel like a little kid on their first pony whenever I ride her! :)
---
-Sadie-
I can't get enough of these pictures. lol
---
"All I pay my psychiatrist is the cost of feed and hay, and she'll listen to me allll day."
My max white sabino Clydesdale mare, Aeslinn
Her second time under saddle..
Early last spring... spooking at something outside the frame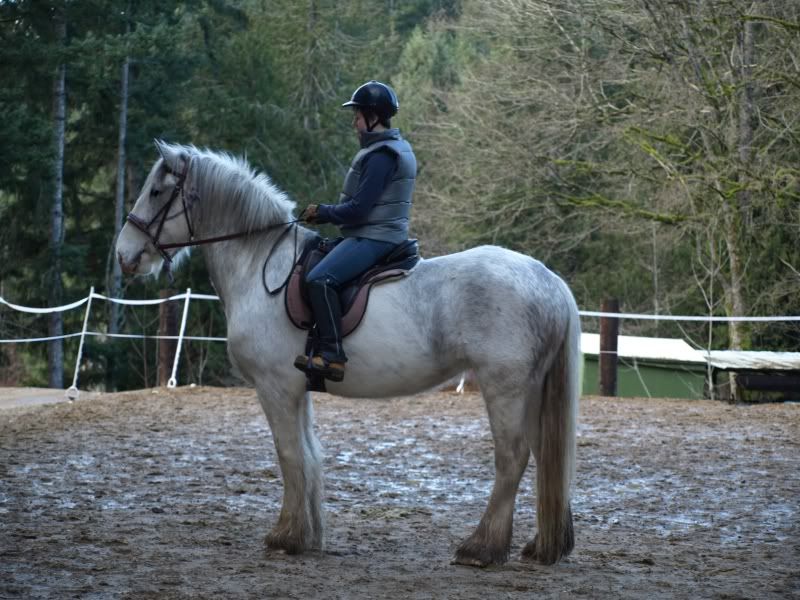 How on earth did you manage to stay on her, while she was spooking like that and so out of control?

Lizzie
LOL... I'm not sure... it was tough for sure, I thought I was a goner! All she tends to do is stop with her head up, we joke around and say "she's gone periscope up again!"
Wow, TLU. She is absolutely gorgeous!
---
-Sadie-
wow, all of these pictures are amazing everyone
---
Our horses know our secrets; we braid our tears into there manes and whisper hopes into there ears.

Amblin Cowgirl- Just wanted to say what lovely photos these are of you & your black Percheron in the snow. Beautiful Art.
My Grandmother raised this breed back in Kansas. I've always been attracted to their rounded Grand form.