I'm very proud of you for moving Max, he doesn't deserve the negative energy there, and to be on concrete ~ that's horrible on his joints, it's like us standing on cement all day long in one place, just awful! So good for you! I'm excited for Max he'll be tons more relaxed and happy in a loving environment. The owner sounds like he's a very angry individual, that's unfortunate for him… Let your new barn owner that you definitely want Max separated and to have his new pasture setup prepared before the weekend so it will be ready when he arrives. Max is going to love the pasture! My horses don't have green grass to graze on which makes me sad for them so I feed 4 times a day to try to replicate grazing as much as possible. Someday I hope to have at least 5 acres for my babies… But until then I'm grateful to have my horses in my backyard, it's so rewarding to look out and see them all day long and I love it when they nicker at me when they hear my voice, they're always talking to me, it's so fun...

Friesian's love to be with their owner's more than other horses so Max being on his own will be just fine as long as he see's your smiling face daily. He'll also be able to finally be at peace without mean people & horses in his face 24/7. I board horses, I would NEVER speak unkindly to my boarders, my barn is a sacred space filled with love & happiness. Never a unkind word or energy is there... I won't allow it. I'm all about having positive energy in all that I do and it shows in my horses, I've been told that they're the happiest horses people have seen ~ it always warms my heart to hear that.

You're on your way now to a wonderful new world with your gorgeous boy… Let me know how everything goes… =)
The ranch down our road raises Friesians and the latest foals are sooo cute and have that upright neck/head carriage right from the beginning!

Good for you for moving Max. I would think as long as he can be next to the other horses, he'll be fine. Maybe once you get to know the other horses, if you notice one of them is submissive and might make a good pasture buddy for Max, you could suggest that but even my guys who get along, do bite each other once in a while in play and leave a mark. If you plan on showing him and want him to look perfect, it would be hard to have him in with others. It is so neat to see the beautiful horse emerge, like a diamond in the rough, huh?
---
Dana
Riverside, CA
Thank you so much for all the kind words, I don't deserve that
I totally understand you Friesian Crazy, I have no idea how somebody can act like that, you can be all grumpy when you're shredding papers 8 hours a day in an office an but working with horses, that's not about you anymore, it's their life you're taking care of and how can some people treat horses as if they were some money making machines I don't understand. Max will never be properly fed and of a proper weight as long as he stays in this stable (I already buy him a huge pack of food a month, I can't afford more), he'll never have proper bedding unless I buy it myself and transport it to the stable (and even then I can't make sure it's gonna get to Max and not to their own horses), he will not know what it is like to have long fields to run across. I'm sure that just the grass itself is gonna improve his weight a lot. I mean, if you have to feed your horse yourself, if you have to get your bedding youself, if you have to be in the stable every single day to ensure the horse gets out at least for one hour, what is the stable for? Why are they boarding the horses? Where's the point? It is this stable that I bought Max from and it's about time we go. I'll miss the big manege with fine sand, spacious, renewed boxes, washing box, the lunging manege... the stable looks stunning but it's just a veneer if you know what I mean, it's just a thin layer of superduperness to cover how rotten it is inside. When I bought Max it was full with 27 horses there, then our trainer left and (such a sweet girl) and then it went even worse it has ever been. Now there are 16 horses there and I guess 2 more (excluding Max) will go soon too. If you saw the video of the mare I posted, that's very similar to what the new stable looks like, all is made of wood, the stable is wooden, manege is just a small area enclosed by plain planks, it's very primitively made but oh my god horses have everything they can dream of and much more. Isn't a big big pasture with
neverending
fields and forrests what every horse dreams of? There's such a family atmosphere there, people are happy, horses are happy and that's what all is about. There are quite a few disturbing facts they've told me such as they never clean their horses, the only wash them with water before a ride but hey, that's their business, if I feel like having my horse polished every day it's only up to me. They're gonna be very amused by watching me comb my horse's mane every evening, a friesian is a very unusual sight here and taking care of a horse to such extend that one is combing his mane is what people rarely do
Thank you so much for your support. You can't imagine what a warm feeling it gives me. Before I found this forum all and absolutely everything was up to me and as I definitely don't consider myself being a total horse pro that know everything I felt quite lost a couple of times. For example this pasture thing has been bugging me a big lot, I knew if Max is together with other horses it's not gonna end up well but I've never heard of anyone having their horse separately (I imgined all those 10 or how many horses together and then Max separately next to them) and I felt like... that it wouldn't be fair. I've never had to deal with any pasture matters before so you telling me having a horse separately is totally fine calmed me down and made me 100% determined to go for it, he'll be happy, he won't be bothered by problematic horses (he definitelly isn't one, I'm worried out on the pasture he'd be the bullied one, imagine what a change it's going to be for him to be out there suddenly), I believe that is the best I can do for him. You can't imagine how good it feels to go to bed after having such a nice chat with you on the forum. Max will be happier not only because of me and the things I do for him but mainly because of you all because you were the ones to tell me how to do things so he gets the best he possibly can
danastark, that's exactly what I was thinking. I know one horse up there that's being bullied a lot, he's new so they say it's because of that, that the other horses just need to show him who's the boss but I think it's been too much for him, he has wounds everywhere, old ones are healing well but new ones are coming every day. I think he's been up there long enough for things to be already settled between the horses. His owner died 2 months ago on the trail (he was drunk all the time, I've never seen him sober, he was a good man but couldn't handle his life anymore), they found the poor horse standing next to his body. His name is Whiskey, he's a beautiful little paint, very small and such a good horse, the owner of the stable bought him for his girlfriend. We will see how things evolve... They said after we bring Max up he'll be in the stable for approximately 2 or 3 days to get used to the new place and only then he'll be allowed to go on the pasture so there will be enough time for us to fix all that will be needed.
Here are some photos of the stable we're currently in. Beautiful, gorgeous stable. But with the worst management you can imagine.
And here is a close up of the box and what horses are standing on (took it today with a mobile phone, bad quality but you get the idea...) The "stuff" on the floor is not the actually bedding, it's hay as it was just feeding time. You can imagine what the horse sleeps on after he gets his belly full.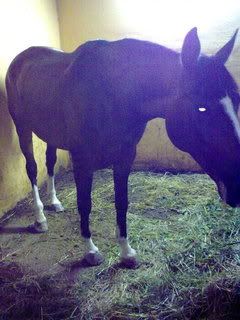 I'll definitely get some photos when we're up there in the new stable, I'll keep you updated about Max, how he's doing, about his first steps on a pasture, how he's getting used to the new place and oh... loading him the trailer will be lots of fun (not)...
Excuse my typos, too late to edit.
I'm so glad you're feeling better... You'll be able to sleep better at night knowing he's a happy and content in his new home. Green grass and lots of pasture to run & be free IS a horse's dream ~ he'll be in horsey heaven!

Always listen to your heart when you're considering what to do about your precious boy, it's will never lead you astray, learn to trust and follow your instincts. Max will have new stall buddies through the panels, it's good to have him near other horses but out of harms way. I have to separate my horses with the horses I board because they just don't get along well enough for my liking, it's way more work for me but the horse's health and safety is my number one priority. I would never dream of putting two horses together that didn't get along it's just not worth the consequences.

Talk to Max and let him know what's going to be taking place this weekend, I'm sure he already knows ~ horses are extremely intuitive, but hearing your voice will sooth any concerns he may have. =)
I always talk to him, he loves listening to me unless something's going on (car passing, people coming, strong wind blowing), he's still very cautious about everything unknow to him that's going on. He'll always be very relaxed and trusting halfway through our walks but then a bird flies off a bush or something else happens and he spooks, then it's a very big problem to calm him down again as all he thinks about is "home, home, home, NOW". But we're working on it and I can say he's much more relaxed generally than some time ago, he would not go away from the stable unless accompanied by another horse back then. Now I can take him on halter and a lead, he's still watching everything around and expecting things to happen (you know when you expect something's gonna happen it then frightens you even more) but he will go where I want him to go with his "ok I will go there but if something unexpected happens I'm gonna freak out" face on
I sincerely hope he didn't understand a word of what I was telling him the very last time I walked him around the fields, he was especially wary, he watched EVERYTHING, people in the far distance, stones on the ground, corn stalks moving in the air, I had a hard time keeping calm myself (he usually
only
jumps but when something scares him a lot he tries to run home) so in sheer despair (that day he really acted as if I'd been out with him for the first time ever) I spent the whole time describing to him VERY explicitly how various things are gonna eat various parts of his body in various kinds of ways... It wasn't anything really pleasant
I was keeping my voice very calm and sweet just as if I was telling him what a good boy he was, only the content was something one wouldn't be too happy to hear
I must say when we came back to the stable I was giggling a lot.
I believe the pasture is gonna help him with many issues he has now, he doesn't know rain, winds, he's not used to objects moving (stones rolling, branches in the air, birds, hares, deers,... He once got scared of a stone he kicked and rolled off the road. Well, everything a horse that has been out regularly knows he hasn't seen it before. I think we're on a good way to get him a good therapy to become a loving, reliable, strong horse that I believe he is inside, only never had the opportunity to show it
And so that we don't turn this thread into me complaining about Max related stuff only (I'm sorry for overloading it), tell me, how did you teach your horse such an awesome spanish walk? It's stunning! He listens to you and you can tell he's having so much fun. It's almost looks like he's saying "Let me show you some more! How about this one; a good one eh?"
He's enjoying working with you a lot. I was thinking about doing something with Max to teach him to concentrate, he gets distracted so easily. So maybe you could give us some tips, I'm not hoping for a super clear spanish walk, I just want to show him that when I ask him for something and he will listen to me, concentrate and try, everything will be much easier. Once he stops thinking about all those ghosts around that are not actually there things will be much better.
That's so good that you talk to Max all the time, horses understand us much more than most people realize... When I had one of my horses, Flash, up for sale he would turn his hindquarters to me with his head up high then he'd look at me and shake his head no. It was heartbreaking, but I had to sell him to buy Xander. We were very blessed to have a lady who lives just up the street from me buy him and board him at my barn, so he'll never leave my side after all... I still ride him and love & feed him daily. He's nice & loving again now that he knows he'll never have to leave his home. Horses have huge tender spirits of which we must love & respect always.
As for the spanish walk, you need to have your horse against a wall or fence when you begin. Start out by tapping in rhythm 1-2-3-4 on the cannon bone lightly and then more firm if necessary and say lift or step. Each time your horses lifts its foot walk him/her forward. Be sure to reward him/her by saying "Good boy/girl!" followed with a treat, work on one leg at a time. Don't do it too long as that will be frustrating, you'll want to keep it fun for your horse. Then after a few weeks move the whip out further in front your horses to get him to strike out at it, once your horse understands that concept, extend the whip out further in front of the leg to get your horse to lift higher and higher.
You can also look up on youtube how to train it in more detail as well as how to ask for it under saddle. Xander LOVES it and has a ball practicing daily. Here are some picks of him striking out at the whip, you can see him really reaching for it, Xander can hit his nose with his knee when his head is collected, it's awesome! If you start training Max let me know how it goes, I'm sure he'll love it in the end! =)
Arg you Friesian owners! XD I own a
half
Friesian, Divo (don't tell him that, because he thinks he is one). He only stands 14hh but he has SUCH a presence it's unbelievable. He looks pure Friesian, save for two little white socks on his hind, and a itsy bitsy star.
He has to be kept by himself because my nasty jealous Foxtrotter, Loki, will chase and bully him to no end. Poor Divo has a huge scratch on the bottom of his chest, between the legs, and the upper part of his left leg on the back is also all scratched up. I think he tried to jump something, but didn't get quite high enough, or snapped it off as he went over. I just about died when I found it. Thankfully, he's healing up fine and I don't think it will scar.
He's so patient and quiet. He loves getting head cuddles and attention. Picks up all his feet, doesn't throw a fit over the smallest things. I just love him to death
I would really, really, like to get a purebred Friesian out of the local stallion. Their stud stands 16hh, and their mares all do too. I met their newest little colt and he was SO friendly. Super spunky too, prancing and showing off
They ride the stud and he's trained in Dressage, I get to go out this Sunday and actually ride him O-O I've never been on anything over 15.2hh, let alone a stallion!
The awesome thing is that you can put a down payment on an unborn foal, and pay in monthly installments before it's even born. Everything's guaranteed except for the gender, of course. I think their also able to do an embryo transfer, so that your mare actually carries the Friesian! I might be able to either save up or pre-pay on a foal with my summer job next year.
---
Wait! I'll fix it....