Hackamore
---
I would like to try using a hackamore on my 5 yrs old Percheron but doing research on them really has me confused. What kind is best? What length of shanks? Would the draft be too big sense he is only 16.2? Lots of questions... Any help would be greatly appreciated!!
I used to ride a Shire who liked to put her tongue over the bit and use her weight to bully her rider. I took one of these...
Reinsman Flat Leather Nose Mechanical Hackamore - Horse.com
and had to replace the leather nose band and the curb strap to make them longer - and it worked great. There is enough shank action that you can stop that mugh weight, but you are not going to be breaking your babies nose every time you pick up the reins.
This is not something to start a horse in, but it worked nicely for us on trail rides where we spent most of the time with a loose rein.
I really like little-s hackamores. I used one on my mare when I first got her. She has a low pallet and it took a lot of patients to find a bit that didn't cause her discomfort, between experimenting with bits I used the little-s. She loved it, would even close her eyes and stick her nose into it like she was in total bliss or something.
Here's one:
Little S Hackamore
You can find the way cheaper though, I got mine for $25 at TSC. Oh, and I would suggest wrapping the noseband, the rawhide can be pretty sharp.
Here's Skye in hers: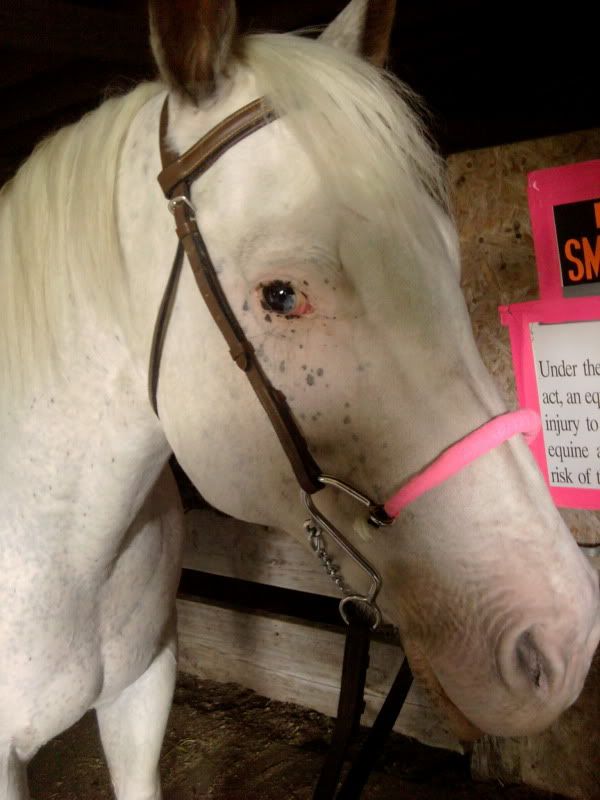 ---
RH Queen O Anywhere "Sydney"
2009 Sugarbush draft
Yearling
Join Date: Mar 2012
Location: Where the red fern grows....
Posts: 1,293
• Horses:
4
I ride in a hackamore....I just had a new one made by a man in I believe Ohio that is nicely made and my gelding responds well, that is what he has been ridden in for over 15 years. When one uses a hackamore, you HAVE to have gentle hands, you cannot hang on their mouth, jerk backwards or "brace" yourself on their mouth. Loose rein, soft hands, I cannot stress this enough and I have seen people who just should not use a hackamore on their horse until they can control their hands better. Some horses are saints and very forgiving but eventually your going to do something and that saint of a horse is going to get tired of it. The hackamore works by exerting pressure on these nerves. Used incorrectly, a hackamore can cause a lot of pain. Heavy Hands and an erratic cue can numb a horse quickly and destroy any respect the horse may have for the most basic cues like "stop" or maybe even "slow down". Once a horse has been wrongly taught to ignore the riders cues in a hackamore, serious ground will be lost in regards to training that may never fully be regained. A lot of subtle movements are done when the hackamore goes on and a good hand knows and uses the unique idiosyncrasies of the equipment.