I'm joining the "I love him" bandwagon. he is a beautiful boy! just take your time and when he lets you pat him, do not cheap out on the wither scratches.
He's obviously out of some quality stock. Alberta has some very nice Clyde breeders and I'd put out some feelers to them seeing if they can offer some background on him. The foal crops are relatively tiny so it shouldn't be too hard. Even if he was never registed, there should of been a stallion report filed (the year proir to his foaling) and you might be able to narrow things down.
www.clydesusa.com
is the US organization. They can direct your Canadian search. He most likely came from a "backyard" (hate that term but not someone who makes a living with breeding and raising Clydes) by the simple observation that he has a full tail. People in the biz are going to dock the tail the day they are born. There is good money in hitch geldings right now and he would of easily ended headed that way if he came from a breeder.
Wow! He is absolutely gorgeous! I don't have any advice for you unfortunately, but good for you for taking him in! :)
Wow, what a stunning horse, and such a wonderful thing you did for him. I've got no experience or anything that could be helpful to you, but I wish you luck! He sounds like such a well behaved stallion.
What a AWSOME Horse. And great pictures. Good luck with him.
He is absolutely gorgeous!!!! Take it slow and easy and I am sure he will come around to your way of thinking!!! Can't wait to see his progress!
Wow, he is stunning! Any updates?
---
RH Queen O Anywhere "Sydney"
2009 Sugarbush draft
Speaking of updates; He is coming around slowly. The footing isnt good enough to do any round pen work, which i think is the stage we are at right now. Hopefully the footing will improve soon, maybe monday? Here are a few pictures
Much closer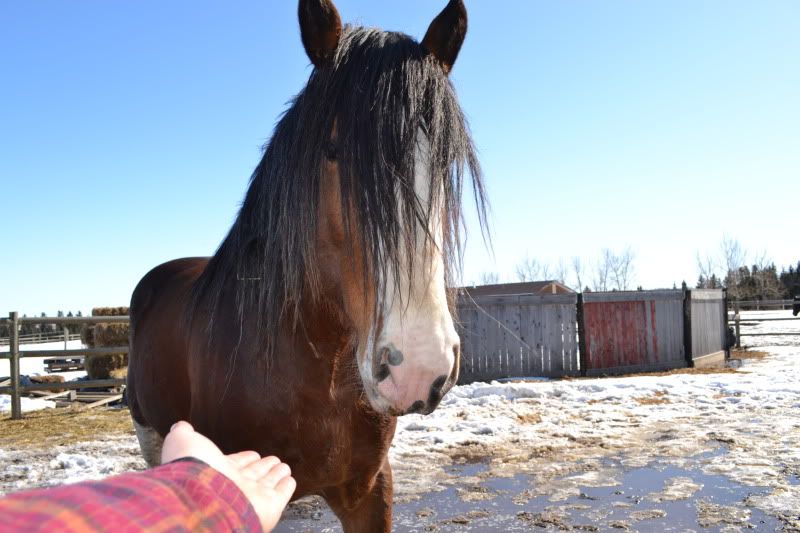 Stallion, meet puppy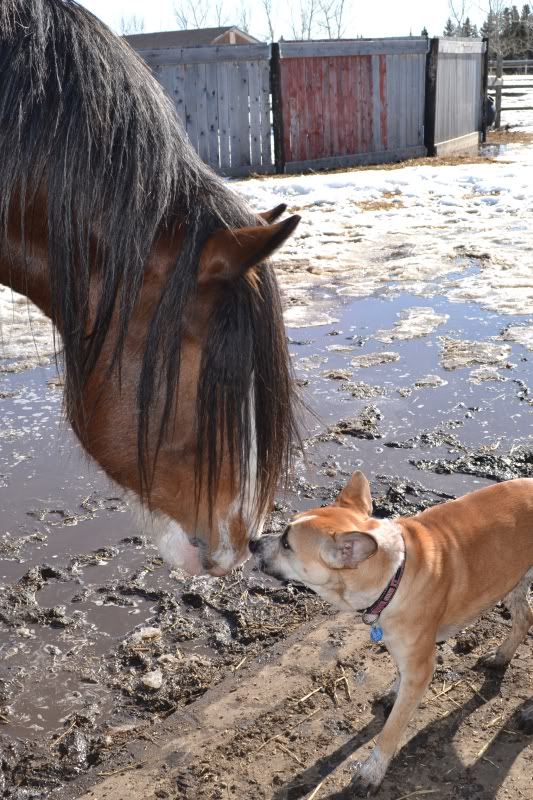 And playing in the mud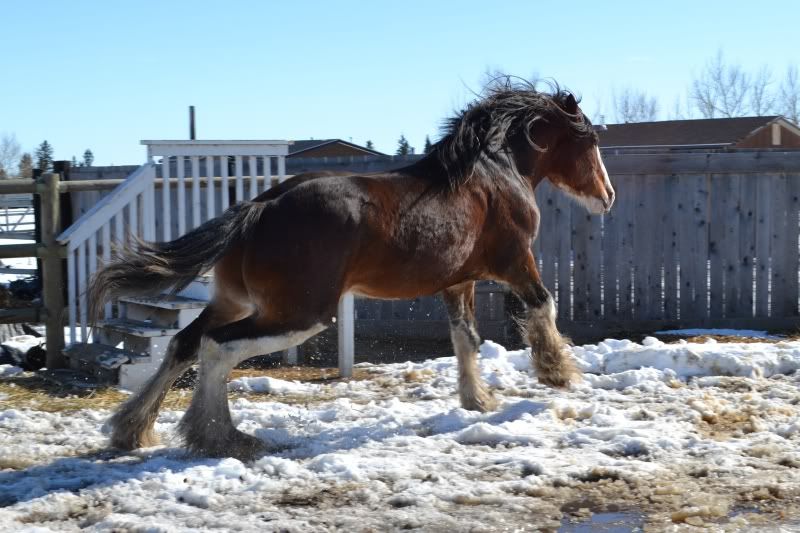 He is freaking gorgeous. I don't know what to tell you, but love on him and be patient and keep us updated!
---
The hills were bathed in moonlight, the shadows not so stark;
Silver light reflected off his brown hide as he held me in the dark
– I love you, Mudpie!
That last pictures really shows off his raw power!! He is breathtaking.
Take your time with him, baby steps will get you far. Remember that to him, u need to represent calmness and safety. Make every experience that u are with him is a positive one. He will come to see u as a friend eventually. spend as much time as u can just being near him. And please keep us here updated! I don't think anyone here will ever get sick of seeing your handsome boy.
Posted via Mobile Device