Hello draft people
---
Hi my name is Dan i live in wisconsin. I could post this in the other section but I'm not all that interested in anything but drafts:) My wife bought me a 6 year old belgian last weekend at an auction. Basically they were giving horses away. She's a real sweety and pretty calm. This is my second horse I had a appy that was 16 hands but I never rode him because I was fatter then and felt bad for him. But now I've lost about 100 pounds and that leaves me at 230. So that should put me in the ok zone for a 16.3 hh 1500 pound belgian wouldn't u think? They told my wife that she was green broke but hadn't been ridden in about a year. Of course we have no tack for her so here's the question I need a bit that isn't too severe. I don't want to hurt her and i want her to feel it too. I'm not rushing here I don't need to ride til next summer. We're going to do ground work thru the winter but I just wanted to start getting the stuff I need together now. Thanks in advance for any advice. Dan
Just try a regular snaffle and see how that goes. I used to have a Belgain. He was awesome! But I had to get rid of him because we couldn't find a farrier to trim his hooves.. : /
This is Ben.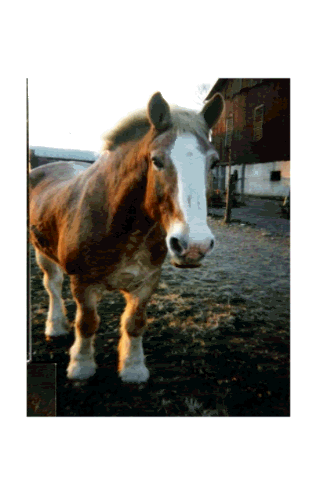 Hi Dan, I have a Suffolk Punch, Clydesdale x. When I started out with her I started with an ordinary snaffle, she quickly realized that if she opened her mouth wide enough and turned her head just so, she could pull it through her mouth. So I now use an eggbut snaffle which is excellent. I had to sell my saddle because it didn't fit my Phoenix. I bought an Abetta synthetic western saddle with a draft tree (9 inch gullet) which fits my wide girl really well. It was a bit of a gamble, I live in New Zealand and had to import the saddle from the US so it would have been a bitch to return it had it been wrong, but it is great.
good advice here im learning too. Been scrathing my head on what bit to get mine.
I use a simple D ring snaffle on my Perch/cross mare. Be sure to measure your horses mouth to get the correct sized bit. Usually you won't find a wide enough bit in a local tack shop unless they specialize in draft/draft crosses.
If you are using a snaffle and have trouble with it pulling through the horses mouth, buy yourself a length of soft leather about a 1/2" to 3/4"wide and tie one of these straps to keep it from pulling through the horses mouth. DO NOT make it fit tight, it does not applie pressure anywhere but is simply an aide to keep the bit from pulling through the horses mouth. Works great, I have them on all my bits. This site has a lot of training tips that are good for everyone from beginner to advanced horsemen and women.
Training ~ Curb Strap tying Instructions
---
Thanks to all for the advice! It's been along time for me. Going to do this nice and slow. Been looking at saddles a little too. Thinking I might go with the aussie saddle over the western due to prices. We'll just be doing trails I'm no competitor or anything like that. Any reasons to stay away from one or the other kind for that purpose? Thanks again Dan
Hey Dan are you thinking of the Wintec Australian stock saddle? They are very good saddles, quite a few of my friends ride in them and have nothing but good things to say about them. I seriously looked at getting a Wintec stock even though I have been riding in a western for the last 16 years. I thought that the interchangeable gullet system may have been the answer to the width of my mares back. On closer inspection the extra wide gullet still was not wide enough - Phoenix is ridiculously wide across the shoulders and wither - and at this stage is only four. So still has some filling out to do
!
I knew nothing about Abetta saddles I was just trying to find something wide enough to fit Phoenny when I stumbled on the brand. I was really surprised to find that Wintec saddles are so cheap in the states! In the States my Abetta was a little more expensive than the Wintec but in comparison to what I would be paying for a saddle here in NZ the extra dollars were relative. It ended up costing me $1780 NZ dollars for my Abetta, this included postage and duty fees etc. The irony is it would be cheaper for me to buy a Wintec through the States - under $1700. To buy a new Wintec saddle here in New Zealand it costs about $3500. Way to costly for me!
Sorry went off on a bit of a tangent there. The point I am trying to get to is that you may have to buy for fit rather than brand. Measure the width of your horses back so you have a starting point. You can find websites that show you how to do this. Once you have that measurement then start your shopping. I don't know what sort of size a Belgian will get to, you may be fortunate and be able to get a Wintec with the interchangeble gullet system - good luck.
I started my Belgian with a rubber mouth full check snaffle. The girl started him in a oring snaffle and he hit his teeth taking the bit in and out, so he started throwing his head. He's better now with the rubber mouth, also the full cheek side help him keep from pulling it through his mouth.