Hello! I'm new, and here are my Horses!
---
Hi there - I'm new to this site and thought I'd start off by introducing myself and my wonderful drafties! I'm in my mid-40's and finally living my dream on my acreage which I just bought in the fall of 2009. I have 38 acres of bliss!
I re-started back with horses in January 2009 after a 12+ year absence (and much longer since I'd owned my own horse(s)). I got my first restart horse back in April 2009 -- a beautiful Friesian x Percheron gelding. Just recently, in May 2010, I was able to move him home with me after completing the fences & horse barn. I shortly thereafter purchased two more horses as pasture companions.
I've been working hard to get this farm up & running, and it's starting to pay off now. I feel SUCH an enormous sense of accomplishment and joy when I'm out with the animals and enjoying the space I've created for them and for me. Without further ado, here are a bunch of pics & some video to show off my critters!
The view from my bedroom window this morning ... Kammie is standing (5 yr old registered Shire mare), Jet is lying on the right (5 yr old Friesian x Percheron gelding), and Dan is lying on the left (3 yr old grade Percheron gelding) ... oh, and that's Ocean in the foreground (2-1/2 yr old deaf Dane rescue girl). The barn was completed at the end of May -- it's a two-stall Shedrow barn (huge 14x15' stalls) with a huge 14' overhang (30' wide):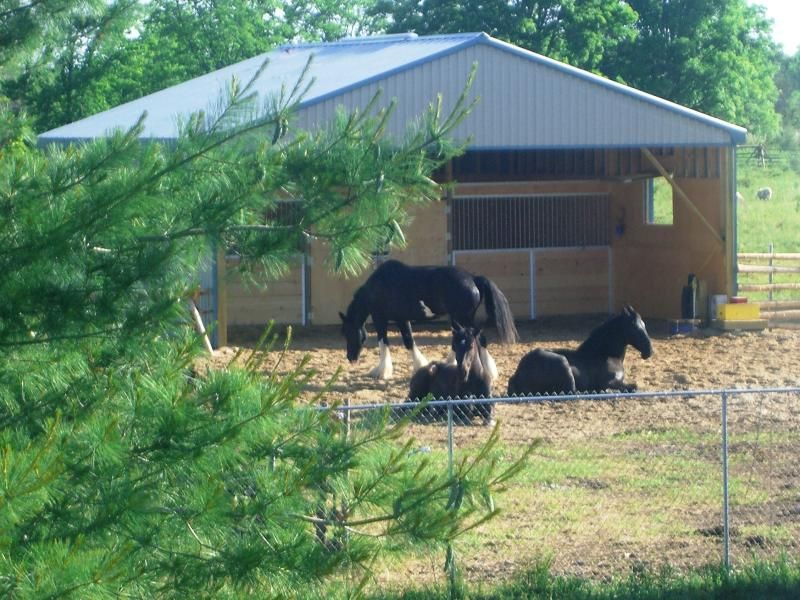 Jet ("FWF Prince Roac the Raven"), my 5 yr old Friesian x Percheron gelding that I bought in April 2009. I rode him in a couple of smaller dressage shows last summer, then he had most of the winter off after I had health problems. He recently was trained to harness, both single & team, so I'm looking forward to doing more of that with him. I'll also do another dressage show or two if I can get both him & I in shape!
Dan (likely will be renamed "Digby"), my new 3 yr old grade Percheron gelding. I first saw him while he was in training for harness. He previously had NOTHING done with him and was incredibly shy of being handled and spooky over everything. But, he has a good mind and came along extremely well in his training. I fell for his attitude, his willingness to try despite his fears, and a bit of sumpin that I saw in his eye. He has been a handful to work with (a full grown spooky draft can be scary!), but has progressed amazingly well. He now picks up all four feet for me (a first for him), accepts longe line work (which we've done half a dozen times now), and drives both single & in a team with Jet. Oh, and he recently figured out that fly spray will NOT kill him, and he need not kill ME in the effort of putting it on!!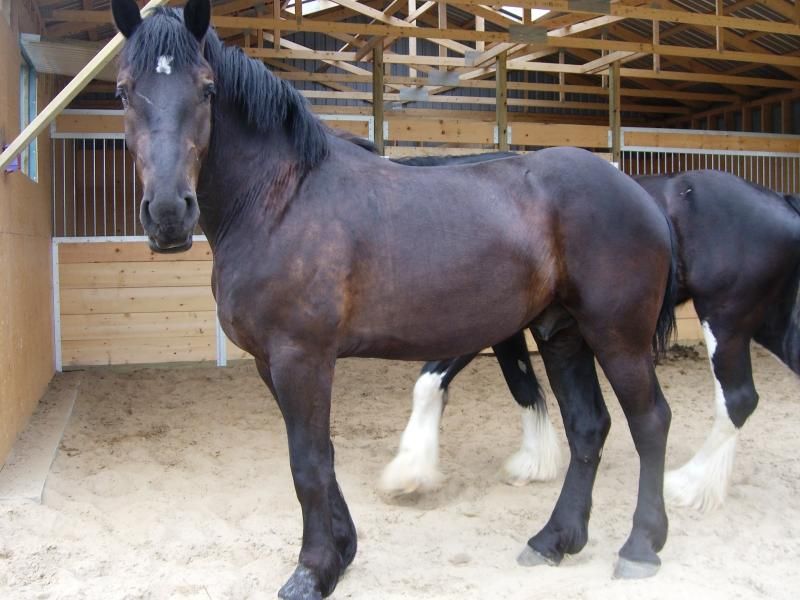 Kammie, my newest horse. She is a 5 yr old registered Shire mare. I literally stumbled upon her. When I was picking up my sheep & llama, we were chit-chatting and I mentioned (for some reason) that I always liked Shires but they were so hard to find now. They said "oh, well two doors down there is an elderly couple who have a Shire farm and they are selling it and getting out of Shires!" OMG!!! So (stupidly - ha ha) I drove down and talked with the couple. They are in their 80's now, and spent the last 2-3 decades adoring, training, driving & breeding Shires. They still have their 21 yr old Shire stallion (gorgeous! black, four high whites & a broad blaze) and a 28 yr old quarter horse, neither of which they are selling. They also had a couple of geldings, a 2 yr old colt, an 11 yr old speckled black mare, and Kammie. I saw Kammie last and immediately fell in love with her ... and the price was VERY right ... so, despite my "plan" to stick with two horses for awhile, I bought her!!! Here she is ...
She has the most adorable whorl of hair on her upper lip -- I've never seen anything quite like it!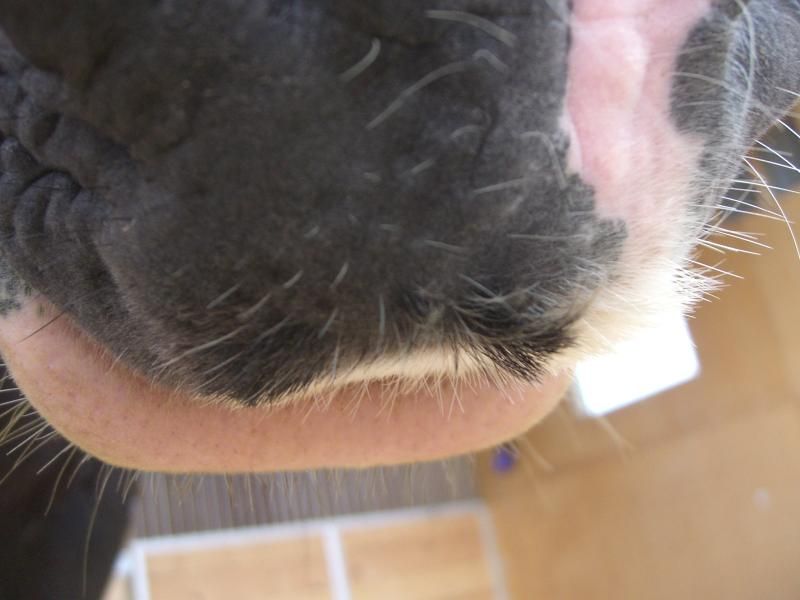 It forms a little mini rhino horn when viewed in profile! LOL
I LOVE draft feet, so here are my three from the belly down .... Kammie on the left, Dan in back, and Jet on the right:
And here are Kammie's feetsies next to my feetsies!
A few fun pics: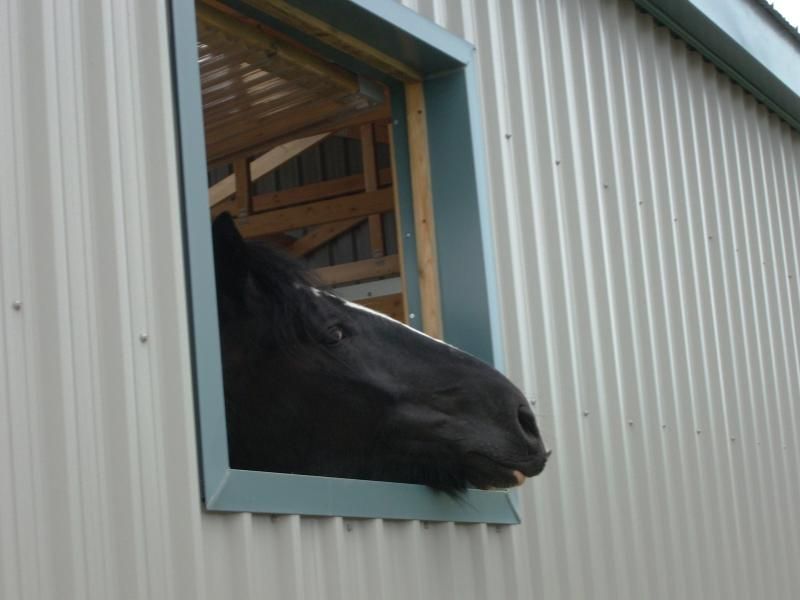 Here is a pasture view of Miss Llama-Bean and the sheepskies!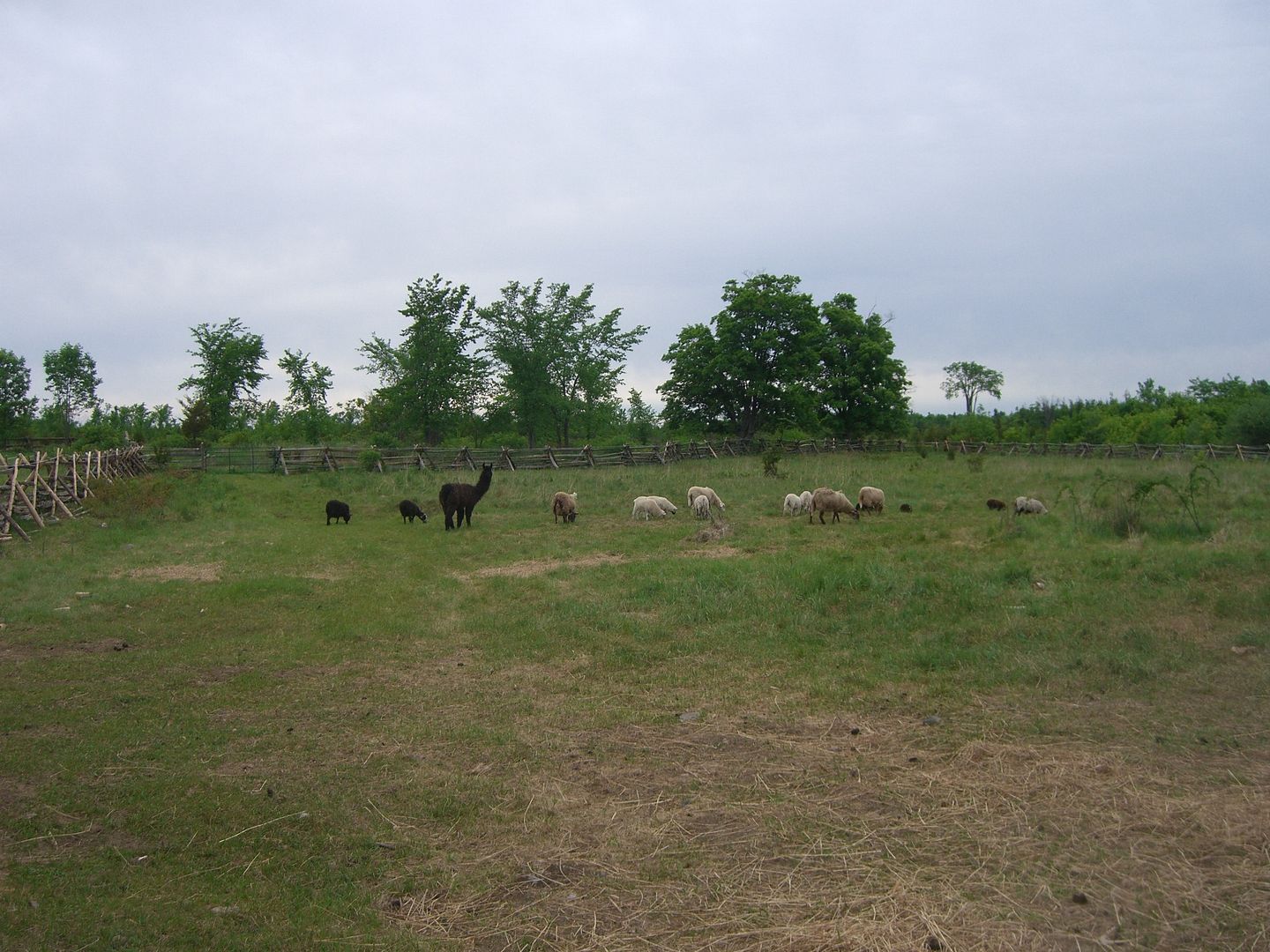 And, finally, some vids for your viewing enjoyment *g* ....
The horses:
More horses & a cameo appearance with the llama & sheep:
The sheep & llama coming in for their supper:
More sheep & llama, and horses at the end:
I'm a VERY happy camper these days!!! *g*
Very cute horses. And I love the video where the sheep come running to you... it was SO cute! I love sheep!
Oh my gosh, all of your horses are beautiful! I am drooling over them!
---
RH Queen O Anywhere "Sydney"
2009 Sugarbush draft
Thank you!!! I'm working with the Shire & the Percheron to train them to saddle (and the Shire also to harness -- the Percheron is already green trained for that). It's a lot of fun, but also a lot of work!

I don't see a lot of Shires -- does anyone else have one?
I have to ask. Where did you get Jet from? All your horses are just gorgeous.
Quote:
I have to ask. Where did you get Jet from? All your horses are just gorgeous.
Thank you!
Jet is originally bred by Flying W Farms (FWF Prince Roac the Raven - his picture is on their site of year end award winners). His previous owner bought him from FWF and moved him to her place in Tennessee. I bought him as a 3-1/2 yr old (March 2009) and shipped him to eastern Ontario, Canada, where I live.
Jet's sire is Koning (his pictures can be found on the FWF website), a tall modern Friesian stallion. His dam was a lighter-boned Percheron.
Your horses are no less than STUNNING! They all look amazing together, too. Very uniform and official. lol

My clydesdale and my pasture mate's Clydesdale (RIP) have(had) a stash, too! My clyde has a beir, chest hair, and long (ehem).... bum hairs, too. Hair in all the wrong places for a mare.
Congratulations on the realization of your dream! I too got back into horses after a 12 yr. absence-having kids but finally at the age of 40, got some property and my first purchase was a percheron cross.

All your horses look so happy and healthy! I've seen a gypsy vanner with the same type mustache as your mare, only bigger! Pretty funny :)

Welcome to the forum!
---
Dana
Riverside, CA
Lovely horses.
---

~*~Play Howrse? PM me to add me on your friends list!~*~
wow the are beautiful.

Your shire mare is stunning, i'd love one but so hard to find here in australia.