LO He is gorgous isnt he!!. The one with all the mane is Gerabaldi.He is my boys grandsire.I am attempting to get my boys mane to that length too. His forelock comes down past his nose band so, so far so good eh!I'm at work now so cant get into Photobucket to upload more pics until I finish which is 8 hours away now. Silly computer restrictions at work!!
Ah well he has a prettier head than his grandsire anyways
Please post more pictures when you get off work and get some rest-- we need more!
---
There is something about riding down the street on a prancing horse that makes you feel like something, even when you ain't a thing. ~ Will Rogers
He is just incredible. Thanks so much for sharing!
oh WOW he is sooo gorgeous! whereabouts in NZ is Makarewa? I visited the south islan about 18 months ago and LOVED it! such a beautiful country :)
---
Boxer
Diligent, loyal, strong
Makarewa, is about 8 - 10km towards Queenstown from Invercargill. Right at the bottom. :)
I have some other pictures of Gerabaldi's Offspring so will post them too.We have a website
http://kiwishires.webs.comif
you want to see a couple more pics of my fella.
Here is a shot of my Boy Supernova at a show in January this year
This is what he looked like the day we bought him home to our place
This is his Dad Southern Cross Supreme
Some mares at his Dads farm
My boy as a baby
Horses at the farm we got my boy from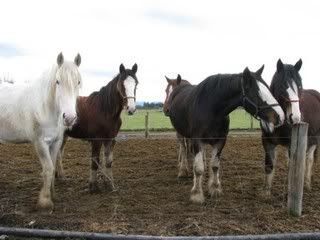 My boys mum
---
~*Real Horses Weigh A Tonne*~
Here are some pictures taken over the summer ... (we are now in mid winter)
Gerabaldi again - he is my boys grand sire
& these are the MOST recent pics of my boy taken about 2 weeks ago.
& this is my favourite from the last lot of photos
---
~*Real Horses Weigh A Tonne*~
Wow, he is one wonderful hunk of horse flesh! You must have been able to see the diamond in the rough w/ him as a shaggy, muddy baby :) Gorgeous now :)
---
Dana
Riverside, CA
Aw! I just want to run up and give him a huge hug. He's so furry!