Hello and Rescue draft, I have questions.
---
Hello, I will also post a formal intro to the board, but I have an urgent question. Last week, I purchased a Belgian Draft from a church camp that fell on hard times. They have had her for 2 years, before that she was owned by the Amish. She is trained to drive and frequently did hay rides for campers, and anyone can ride her, she is very calm and basically well mannered. That is all the person there could tell me.
My vet says she is very wormy (which we have taken care of) but looks otherwise healthy. She is about 8 years old. We have made her an appointment to get her feet done next week. She will not let me touch them and they are severely overgrown.
My question is: What is the best way to help her gain weight back? I have been reading up on draft diets, and adding oil. Can you give any sort of weight building supplements to drafts? or would I be better off just letting her gain it back with hay, and oat/oil? She is 17.2-17.3? Our stick goes up to 17 and she is taller than that, the tape says 17.3, but they are not as accurate IMO, and weighs about 1500 pounds, currently.
Abbigail AKA Abby
Left side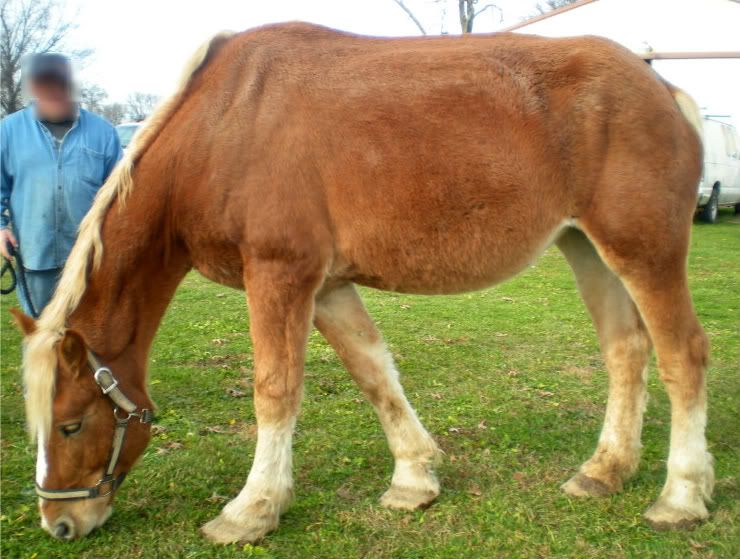 Right side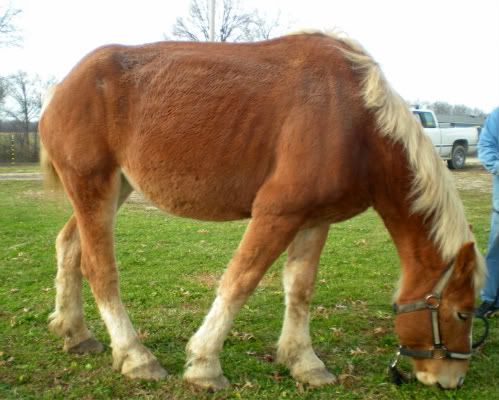 Front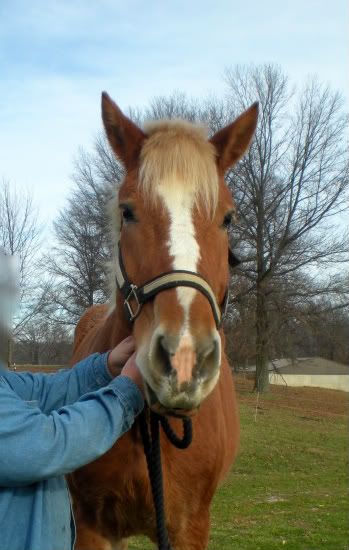 Thank you in advance :)
shes needs alot of weight. Talking to your vet about it is the best thing to do. But I always try to give more hay and other forage to get weight up. (Forage can also be hay cubes, pellets, or beet pulp.)
The best way to gain weight is the allow her free access to forage; hay, hay cubes, hay pellets, etc..

grains can help, but they aren't "the" way to build weight in a horse.

Adding a supplement such as calf manna or weight builder can aid in gaining weight in a horse as well, as those will ensure the horse is getting all the essential vitamins and minerals they need.
---
"The ideal horseman has the courage of a lion, the patience of a saint, and the hands of a woman..."
When I rescued Bob he looked like your girl, sweet eyes that just wanted someone to love and take care of them. Bob was on 24/7 turn out, I had no where to take him off the grass. I gave him an extruded pellet feed, started off with a small cup and added a little every couple of days till I got up to 2 (horse)scoops twice a day, I also added semiole ultra bloom starting with a 1/2 cup a day and added till I got up to 2 cups(measuring cup)twice a day, I just added it to his feed. If you know what they were feeding her make sure and take a couple of weeks to change her feed. Also I would make sure and oil her a couple times during the change. Make the change slow, she's already under stress with the change of lifestyle. Make sure she drinks enough water, sometimes a horse won't drink if the water is different. You can put some apple juice in her water that might help get her to drink (if its a problem)
If she's from the amish community she may have been put in stocks for foot care, that might be part of her problem with her feet.
Thank you. She drinks water just fine, no problems there. From what I gathered talking to other people there to retrieve horses, they rolled in a round bale on Mondays, and that was it for feed. They were in a dirt lot with mud up to your ankles and smelly.

Our farrier said we would have to take her to someone with stocks to trim her for now. Unfortunately that is how most horses turn out when raised by the Amish. Hopefully we can work on that. She did let me brush the mud off without to much fuss yesterday.

I have been giving her free choice timothy/orchard mix hay and grass (what there is left) during the day. I give her alfalfa in the evening when I bring her in and I have been giving her oats with oil in the mornings.

These were suggestions per my farrier who raises/works drafts daily. Our vet admittedly is not as versed in specific draft info.

I just wasn't sure about supplements, or weight builders, due to the fact I was cautioned about EPSM and feeds. I know it will take time, I just hate seeing her like that. I will look into the ones mentioned. Thank You.
I think you have a good plan going right now. I know it looks terrible for her to be so skinny but it will just take some time to build that weight back up. She is going to be a gorgeous girl................who am I trying to kid, she already is.
Congratulations on your new girl. Amazing how big a draft horse's skeleton is!! I think the advice your farrier gave you is sound. I've read that alfalfa is the best thing to put weight back on quickly but you have to watch drafts with alfalfa so probably if you give her the added fats with as much of the grass hay as she'll eat, she'll come around. Poor girl, some church camp!! How could they let innocent animals look like that? Glad she's got you now.
---
Dana
Riverside, CA