How Big Can I Expect My Clydesdale To Get?
---
Hi Everyone,
I have a 3 year old Clydesdale (she will be 4 in May). When I bought her last July she was about 16.1hh and 1000lbs, she is now just around 17hh and 1150lbs. When I bought her she still had her wolf teeth and was unable to eat so she looked very skinny and malnourished. She refused to eat hay poor gal. I heard that Clydes grow until they are 8 years old, but when do most stop growing up and start growing out? Her sire is 18hh and dam is 17.3hh. She has more of a warmblood built right now, she's very lean. Any information on the growth of these big guys would be great thanks!
First Picture- This is the day we brought her home (super skinny)
This is her most recent photo (feathers are growing back in! she had scratches)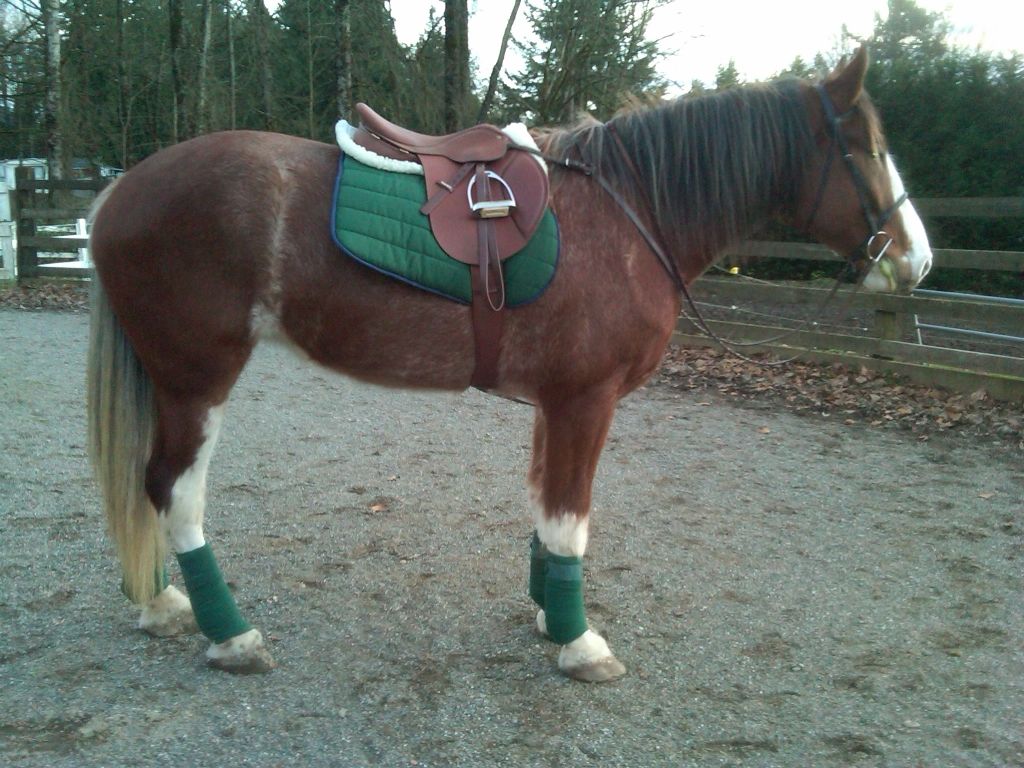 ---
Louise D. & Charlotte The Clydesdale
She is cute!
---
"The greatest pleasure of a dog is that you may make a fool of yourself with
him and not only will he not scold you, but he will make a fool of himself too."
-Samuel Butler
Because she was malnourished, I would expect her to be a little smaller than her parents.
It looks to me likes she's already growing out. But than again, I'm not exactly a Clydesdale expert.

She looks great by the way, good job!
Posted via Mobile Device
What a big lovely beastie(: I don't know much about draft horses, but I'd expect her to be between 17.3 and 18 hands, since her parents were about that big(:
---
The hills were bathed in moonlight, the shadows not so stark;
Silver light reflected off his brown hide as he held me in the dark
– I love you, Mudpie!
Beautiful horse! She will definitly gain a few more inches. As for growth rate, every horse is different. It looks like she has lots of filling out to do. Good job with getting her healthy again :)
The more modern drafts are all more "warmblood" in appearance. Taller and leaner is what they want for hitch horses and that's where the $$ is. How is she bred?

She will grow until she's 6-8. Her height is normally reached by 5-6 and then they continue to fill out for another year or two. Don't push her to grow.
your mare is beautiful good luck with her
---
Country Woman


My draft gelding grew up until about 6 and then had another growth spurt out and in length at 6 1/2. He's 7 1/2 now and I'm hoping he's done!! I did the measurement from the center of his knee down to the coronet band and that in inches is supposed to be their grown height so 18 inches would be 18 hands. It has proved accurate with my guy. Someone else mentioned that if she was malnourished she might not reach full height according to her breeding which is probably true. She is a beauty!
---
Dana
Riverside, CA
They all grow till 6 years just like a regular horse.. thats when the bones close.. They do get thicker for a few years after that..
[QUOTE]Taller and leaner is what they want for hitch horses
Read more:
http://www.horseforum.com/draft-hors...6Br[/QUOTE
]
I have to disagree with this train of thought and it really bothers me that people think this...they get thicker if feed properly and not kept skinny for a saddle horse causing joint issues from malnutrition..You see height with hitch drafts, but all have the same girth when they mature and start producing muscle.. I have to say to those that believe this needs to buy a riding horse if keeping a draft thin to ride is considered OK with them. This goes for all the draft breeds..not only Clydes.
This is a link to a Clydesdale professional breeder.. You let me know if you see any thin ones. Jerry produces some of the top breeding stallions and mares produced on the North American continent. He is also a national Judge.
Wismer Clydes
Don't assume that her lack of nutrition will automatically mean she will be smaller. We made that error with our boy, and had been told he "should have matured to" but due to his circumstances as a colt probably won't reach 17hh (told to us by the person we bought him from)

The breeder of my Clyde mare looked at him as a 4 yr old and told us not to "write this one off as short... He will be ample sized, but may be late.", sure enough, He shot up about 3" between 7 and 8 years old, and is now filling out. I have to get myself a proper stick, but he definitely reached 17hh, possibly a bit taller.

My mare never missed a meal in her life and has grown fairly consistently the whole time, she is finally appearing done at 7... But her shape has started to change