If you want her to grow back her lovely feathers, just wash her fetlocks with Listerine every once and a while. It kills the fungus before it can spread. I do with my Percheron's and my Belgian. Put it in a squirt bottle and squeeze it against the skin where the feathers grow.. leave on for an hour and rinse. IT also works for rain-rot. Its a trick Jerry told me about and has worked wonderful!

AD
She's a big girl, that is for sure.

Make sure she wants to do what you ask her to do - otherwise she needn't.
That's the key to big draft horses, - you can't force them to do much at all.

And she is a mare.................... Oh Lordie.
Quote:
They all grow till 6 years just like a regular horse.. thats when the bones close.. They do get thicker for a few years after that..
I have to disagree with this train of thought and it really bothers me that people think this...they get thicker if feed properly and not kept skinny for a saddle horse causing joint issues from malnutrition..You see height with hitch drafts, but all have the same girth when they mature and start producing muscle.. I have to say to those that believe this needs to buy a riding horse if keeping a draft thin to ride is considered OK with them. This goes for all the draft breeds..not only Clydes.
This is a link to a Clydesdale professional breeder.. You let me know if you see any thin ones. Jerry produces some of the top breeding stallions and mares produced on the North American continent. He is also a national Judge.
Wismer Clydes
Intesting link because all the horses are very modern. You're not going to be honored with All American recognition unless your horses are built and move like what the industry wants today. Pull up pictures of the hot stallions from the 80's and compare them to the stallions that these same breeders stand now. They're a different beast.
I beleive that Clydes were just as tall back in the 80's as they are today..at the time the Budweiser teams were winning..I don't seem to see any "riding" horses back then either...even in scotland they were tall and thick..They weren't lean for ridin, and small and punny..those were culled out of all breeding programs. Its like all breeding... BYB breed the junk cheap and fast...good breeders that breed the "breed standard".
heres my proof
https://www.drafthorsejournal.com/in...5/25-years-ago
born 1985
Donegal Clydesdales - Scott Benefactor
Dillars Benedictine
Image resized to : 99 % of its original size [ 504 x 461 ]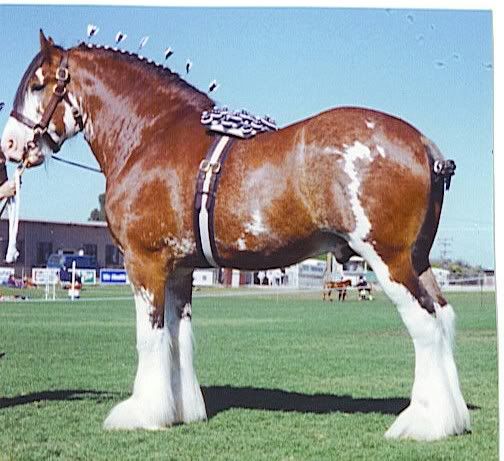 AYTON PERFECTION/ fresh off the boat from Scotland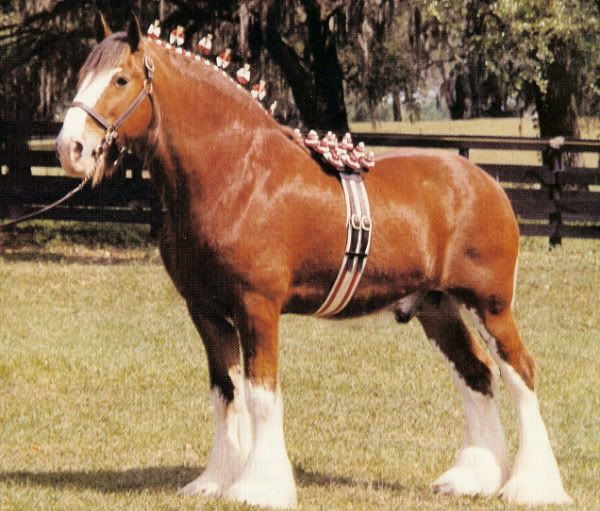 Here is Ayton Perfection shortly after he arrived in the United States
here is my mares sire as a two year old American Belgian Draft/ born 1982
As an aged stallion 22 years later..
There really isn't much difference in my Belgian mare compared to her ancestors from 50 years ago...I don't see much difference in my Percheron team either to the ones from the 50's. However my mare is thicker than my gelding, which is usual since she has had a few foals..
The poster will end up with a nice sized horse, especially once she hits her 8th year and after..right now she is still a baby...
AD
I wanted to give you a good example of how they get thicker as they age..
Here is my Belgian mare at 3 years
At 6 years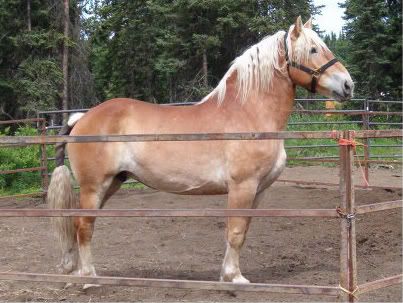 as an 11 year old
AD
AlaskaDraft... We have been getting the Clydesdale catalog for about 6 years now, and it is getting a bit harder to find those compact examples in the Clydesdale breed (easier if you know which lines tend to follow that type), even among the "senior" Stallions which tend to be thickest. They are still there, like all quality things there will always be a few "traditionalists" who will continue to create them, but I think we really are seeing a shift in type, not just in the draft breeds, but all breeds.
Clydies - something really special
---
I very nearly bought this chap to be my private riding horse.
In many ways he was utterly awesome. But he was way too much for me at my time of life - all that power. He was called Tweedie.
Banned
Join Date: Feb 2012
Location: Stanford, California Home of Stanford University!
Posts: 25
• Horses:
3
Anywhere from 16 hands to 18 hands. My Clydesdale is 17.3 hands
Started
Join Date: Sep 2009
Location: Port Orchard Washington State
Posts: 1,870
• Horses:
3
Caleigh usually throws 17-18h from what I've been told and the sire she was bred to for your filly usually throws 18h. So I'd guess 18hands. Contact Monica at Northwest Clydesdales and ask how tall Jasmine got. She's a full sister to your filly.
---
When life gives you lemons....chuck em at whoever is giving them to you!
I don't want lemons! I want cookies!
Not the same breed, but my coming 2y/o Belgian gelding, who was weaned at 3 months (not my choice) is already 16.3hh and weighs 1350lbs last time he was taped... Both parents were under 17.2hh. Just depends on the horse. If you feed her correctly now and properly maintain her, she could reach her dams height or better.
Posted via Mobile Device