I love my draft! He is so sweet! I am starting him with gymkhana! Thats barrel racing and pole bending combined. H e already knows a lot of trails but the thing is he is very heavy on the front end and runs up and down hills. His old owner/ trainer was not good. We almost have completely fixed the hill thing though! Oh and like three days ago I jumped him over barrels laying on there side in a western saddle then later that night I rode him for the first time in an english saddle. We just walked, trotted, and stopped. I was too scared to go any faster! lol.
---
I LOVE our TB/Draft cross at my barn... :] he's such a little goober! He'll let anyone ride him. The little 8 year old leads him around the farm...
My BO has him for sale, but he'd probably be good w/ eventing or dressage, etc. He's so cute!
HERES MOOSE!!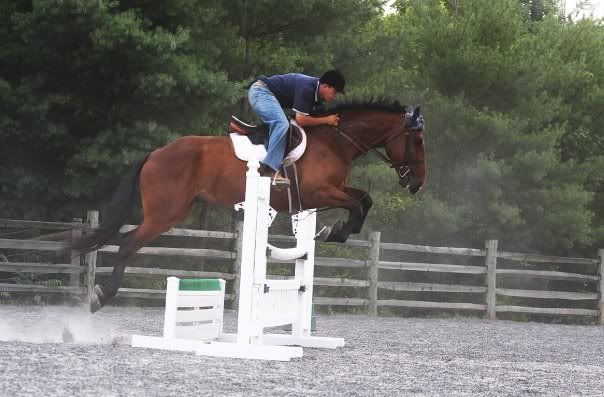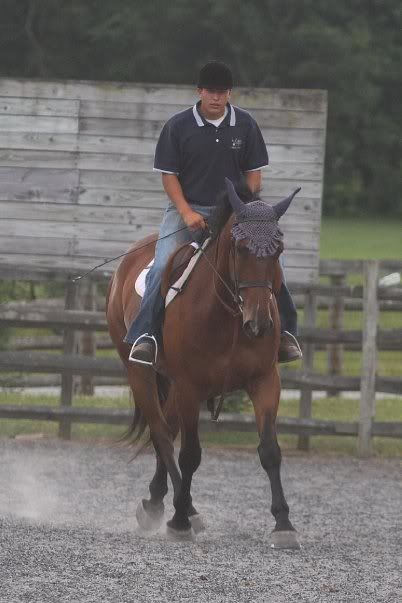 ---
All I pay my psychiatrist is the cost of feed and hay, and he'll listen to me any day. ~Author Unknown
We have a couple drafts. Rocco is part draft. He's extremely sweet with little kids, but very pushy and strong with other people.
Killian is mostly Irish Draft, and he is basically the sweetest and calmest horse I've ever met. So lazy & slow. =)
Spud is a draft throughbred mix from Ireland. He's slow and sweet and amazing, but loves to go fast when you jump.
Galen is mostly Irish Draft.. she's Killian's sister (not biologically. they have the same owner.) and she's AMAZING. Same as Killian but has her marish moments.
Luke is part draft... he's amazing and absolutely perfect.
<33
---
I love my Belgian x Standardbred she is a character. She loves when you scratch the inside of her ears its weird but cute because she usually doesn't like the outside of her ears being touched. I rode her for her first time ever today and she was perfect didn't offer to buck or anything. You wouldn't have thought it was her first time being ridden if you had seen her. She is a very fast learner usually aims to please unless it's an off day for her or she feels like being lazy. She acts like a big puppy dog and if she could follow me into my house she would.
---
She has taught me everything there is to know about life.She has taught me patience, kindness,and most of all how to love unconditionally. She is Bess.