kiltsrhott--Of course! I'm not a mare person, but I think I'd make an exception for her ;D

hemms--/someone/ has very pretty eyelashes 8D
---
The sensitivity of the internet baffles me.
Zexious, this is the great thing about Urs. She's not mareish at all! I actually had her vet checked a few months after I purchased her to be sure she wasn't pregnant. She's so quiet about her heat, I don't even notice it, and she's super sweet and willing all the time. My gelding on the other hand, is a moody brat! I'm not sure how this happened, but their personalities should be reversed if going solely by gender stereotype! lol

Hemms, I love your horses dark face! So beautiful!
---
Hemms, brrrrrr!!!

That is all LOL
---
Always remember that feeling of looking at a big, open country over the ears of a good horse, seeing a new trail unwind ahead of you, and that ever-spectacular view from the top of the ridge!!! Follow my training blog:
http://robertsontraining.blogspot.com/
Lol, smrobs. We're a hearty bunch.
Posted via Mobile Device
Kilts, I also had one of these androgynous mares... The only mare I've owned. She was all business. Loved it!
Posted via Mobile Device
Type of bit for my Spotted Draft
---
Hi all,
Just joined the forum and am looking for some advice on bit types. I normally start young horses in an O-ring snaffle, like many others, but wanted some input as to the bits used with drafts. I have a 5 and 1/2 y.o. Spotted Draft (Paint/Clydesdale), who is still green, but doing well under saddle. I am currently riding him in a snaffle, but it has a slight twist and cheek bars. I have used an O-ring, but found it ineffective. This bit seems to be okay, but are there other bits that work well for these big mouths and aren't harsh? He flexes laterally beautifully, working on vertical, not trained to neck rein yet, just wanted some ideas. I appreciate any feedback. Thanks!
I have always used a simple egg but snaffle on my guy. Just because he is a draft cross doesn't mean you should need a harsher bit. As long as it fits, I would use the gentlest bit you can get a decent response with.
I apologize if this is a repost, but I can't resist showing off my handsome Sam sporting his winter woollies. He is Clyde x Appy.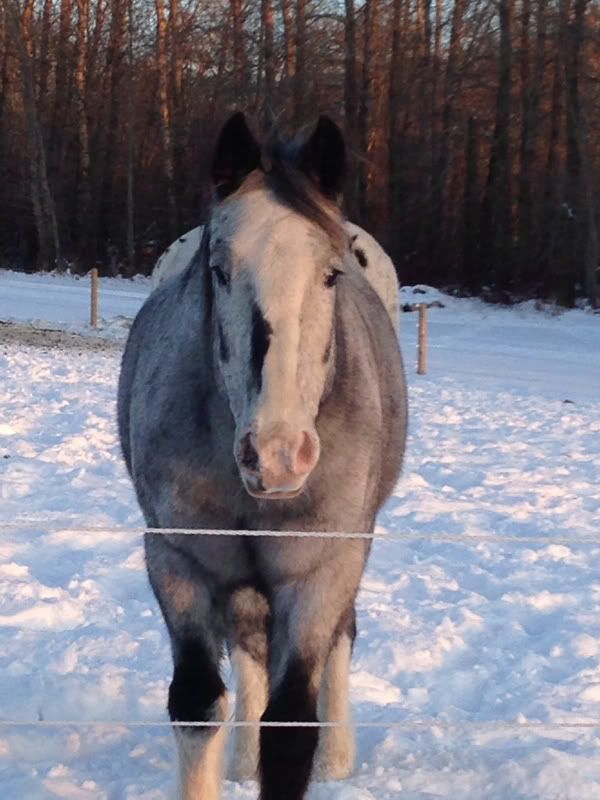 Thank you Koolio, I appreciate it. I definitely agree with the harsh factor. He still has a sensitive mouth, despite it's size, and I don't want to screw it up! Your horse is beautiful! I have never seen an Appy/Draft mix...thank you again!
Koolio--Sam is adorable. Look at that face! Gah.
I love half drafts <3 ;-; I'd love to own one, someday... My Paints are so average by comparison xD

kilsrhott--I have to say, that's amazing! Every mare I've ever met has just... well, not meshed with me. I'm a gelding person through and through, because we seem to get along great.
I'd love to meet one that was sweet!
---
The sensitivity of the internet baffles me.