The Eventing Percheron Blog, go look it up! they are great! Full percheron and does well at low levels of eventing. Alot of great fox hunters are full draft percherons!
---
Jumping a horse = Getting wings!
Why live on the edge when you can jump off?- Greenwood Horse Trials Tee-Shirt
Quote:
Our Highland, Dora, will jump 1.2m with ease - she actually enjoys jumping , the only time she gets a fence down is when it's too small !
Here she is with our mini Rio grande.
Attachment 8813
To adorable! They look like twins except the one shrunk! to cute! Love the mini!!
Adorable picture, Nutty Saddler!
Delta and I have just started "jumping" now. We're doing trot poles ever ride, and she doesn't hesitate at all.
Here's our first "jump".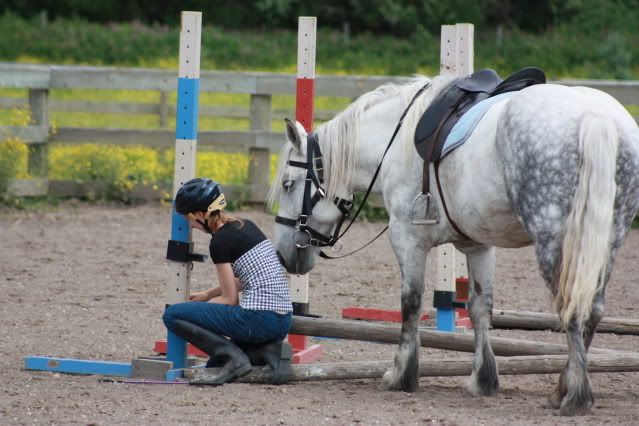 Any horse can jump, its a matter of can they do a course of jumps - and yes some full drafts can and do.
At the coast there is Kendall Venning, who events with her full clydesdale mare, and also does jumper rounds, I believe she does around 3'3 - I think, not sure about the height.
I have Ozzy, who is a full clydesdale, and he's jumping at home at 2'9 - 3'0, at shows we are now competing at 2'9. Although typically he is clearing the jumps a lot higher then they are.
We are just very careful about what we ask for and we practice, practice, practice.... lots and lots of flat work, and we don't jump our show height all the time at home, a horse only has so many jumps in him - regardless if he's light or heavy.
Its just a matter of do they like doing it, or do they prefer to crash through the jumps - I don't think if your horse likes to smash poles that your going to be all that successful at jumping then.
Ozzy is in amazing shape, and we keep him at a very tight weight, he is not at a halter show weight, or out of shape if we are jumping. In fact other then his enormous head - if we were to shave his feathers, at times he looks more warmblooded.
He has a website, which I haven't updated for awhile, but it chronicles some of the struggles we've gone through to get him light and safetly jumping. ozzyclyde.weebly.com
Here are some images I have of him jumping from last year.
And my favorite jumping image....