Proper Haffy shaped Haffies, love them
Quote:

The horses in the background are watching and thinking, "blondes do have more fun!" Great photo!
This is my little mare that i am sadly selling!
Quote:
But there is a breed standard for Haffies, and they should stick to what the foundation of the breed was. LOL, again I am somewhat of an anarchist to some, I would far prefer to keep the Haffie as a small compact solid little dual purpose horse who can pull, or be ridden. If you want to have something taller and lighter then out cross, but leave the breed as it was.
I have to wonder if those who developed the breed in the first place would recognize this as a Haflinger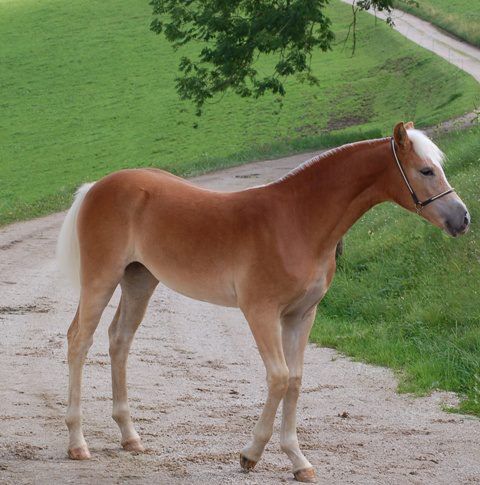 It is a very attractive looking horse, but to me, just not a Haflinger....
Very pretty horse, but the color weirds me out. Whenever I see that sort of flaxen color on anything that doesn't look drafty, I get confused haha. Haflingers should look like Haflingers, not Arabs, IMO.
Beautiful horses on this thread!
---
"Thoroughbreds are the best. They're lighter, quicker and more
intelligent. The best of any breed is the Thoroughbred horse, the best
of that breed is better than any other breed." - George Morris
Haflinger from Top of the Line Farms..
---
After having adopted some Haffies with definite issues, bless them both, I decided to sink some $ into a nicely trained horse. Milo is trained to ride and drive. We are really excited to have such a nice horse. Exercising him the first week...
---
.....CrazeePony
Mine's in my profile pic. She's a Belgian/Quarter cross named Brigid. Poor girl has Naviculitis and extra-calcification in her pastern joint.