New to the Clyde/Draft world
---
I just purchased a 5 year old Clyde Mare, she arrives Monday! I can't wait.
but I am new to the whole "Draft" world. I need an english and western bridle for her and have no idea where to start, my local tack shops don't carry anything draft except for halters.
overall I would just like some tips with upkeep with them, mainly taking care of her beautiful feathers, im sure they are a pain! and anything else "special" they need.
the photos are from when we test rode her, my mom got on even! (she broke her back 2 years ago) I'm in the white.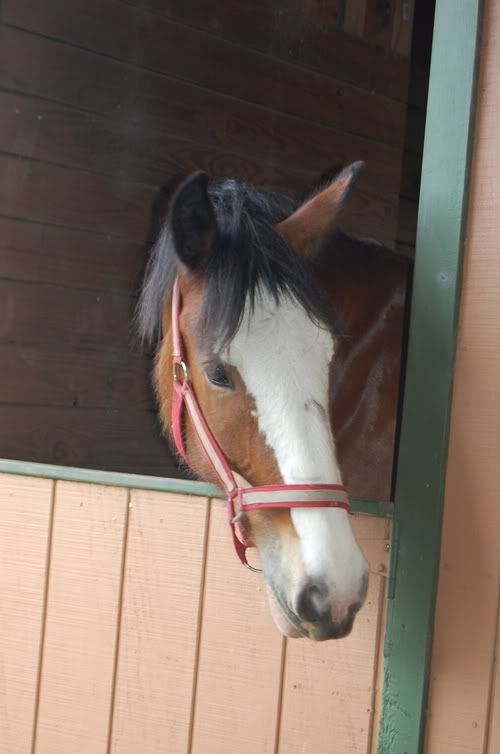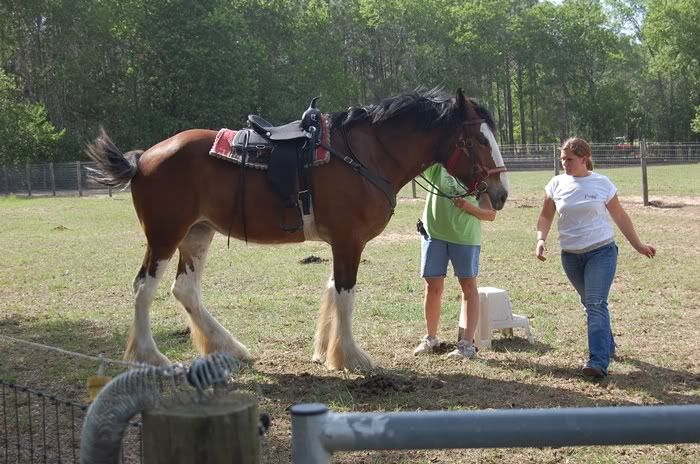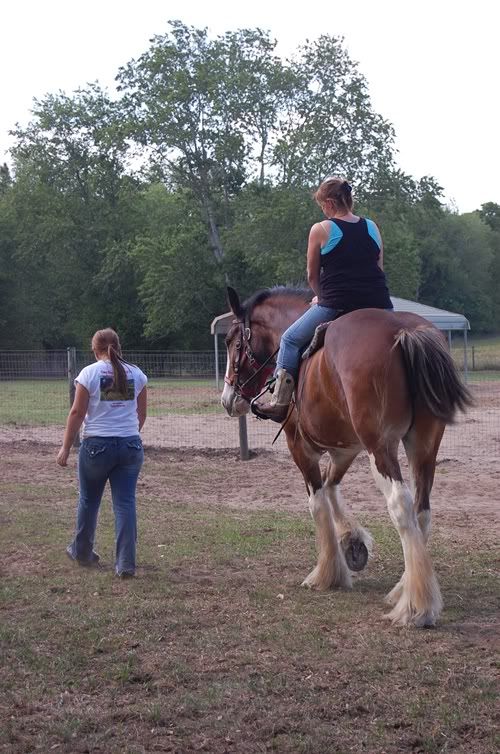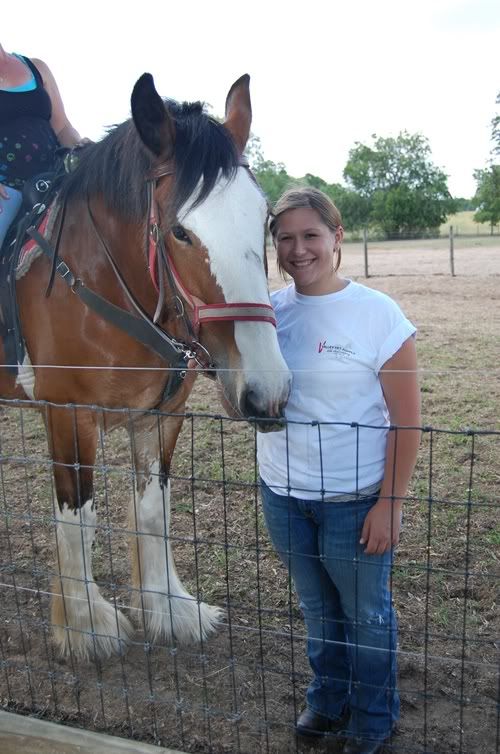 Thanks in advance!!
---
16 year old TWH Mare named Ginger
3 year old APHA Paint Gelding named Fox.
RIP Evie (Clydesdale) 7.29.09 & Magic (OTTB) 2.23.10
I don't know too much about Draft Horses, never owned one.
But that is one good looking horse!

Congratulations!
there is a horse the same as him next door except cuter
She is very pretty! I don't know much about the care but I just wanted to comment on how beautiful she is.
Shes gorgeous. They should have their feathers cleaned and kept dry. Fungus likes to grow in them. They shouldnt have sweet feeds. You can also find tack online. Just make sure you have a fitter out to see her.
---
Bailey's Mountain
6 year old tb
It's so nice to meet a fellow Clydesdale owner!! :) She is gorgeous! I was in your shoes too at one point, brand new to drafts and had no clue what to do so I'll give you all the tips I picked up along the way from taking care of my Clydesdale.
Do a google search for draft tack. You'll find a number of different dealers and tack shops that have online stores to purchase from. Try also
www.drafttack.com
As far as a saddle goes in my opinion Wintec's are awesome with their interchangeable gullet system. Some Clydes can be much narrower than others (like my guy for instance, he didn't take an extra wide gullet b/c he's narrow) so you can buy one saddle and just find the correct fit for her.
As for her feathers - brush them out all the time! Keep them clean and dry, especially take special care of them in muddy weather and in the cold. Feathers can freeze up in the winter time, become brittle and the hair will literally break off. The mud will also stay under their feathers and irritate the skin causing a fungal infection called scratches. Take the time when grooming them to brush them thoroughly so they neat and silky. Baby oil is what the Clydesdale owners use on their show horses to keep the feathers nice and silky. Just comb the baby oil through them. Also, baby powder and the big one the show horses use is corn starch to keep them nice and white. Do the same as with the baby oil, sprinkle it on and comb it through.
If you can afford it I would put her on a good joint supplement such as Grand Flex or SmartFlex from SmartPak (if you are inexperienced with horse supplements SmartPak has a hotline you can call to speak to someone who can help you). Because she is a larger horse maintaining healthy joints and a healthy muscular and skeletal system is very important.
That's all I can think of for now!! If you have any other specific questions just ask away. :) She's a gorgeous mare too! They are one of the sweetest, gentlest breed I've come across. Good luck with her!
Oh my gosh I'm jealous! I love yur horse! how tall is the mare? where did you find her?

Stunning! looking forwards to seeing pictures of her when she arrives today!
Thanks for the advise, we will be sure to keep her feathers clean, dry and brushed.
Evie is currently 18.2hh and will top out around 19hh we are guessing. I found her on Horsetopia.com, we live in Florida and there aren't many pure Clydes for sale around here.
here are some pictures of her first day. her and my TB Gelding got into a small kicking fight for alpha, didn't get any photos of it but as I figured my TB gave into her, she is the new alpha.
---
16 year old TWH Mare named Ginger
3 year old APHA Paint Gelding named Fox.
RIP Evie (Clydesdale) 7.29.09 & Magic (OTTB) 2.23.10
I agree with Draftlover (except supps - I use Equisupps.com b/c they are cheaper than smartpak and have most of the same stuff and donate to a horse rescue). But yes to a joint supp, yes to a wintec, and yes to drafttack.com. It's where I got my clyde/tb cross his 7" bit :) and it's great quality stuff too! Congrats - she is lovely!
---
16 year old TWH Mare named Ginger
3 year old APHA Paint Gelding named Fox.
RIP Evie (Clydesdale) 7.29.09 & Magic (OTTB) 2.23.10