Percheron or Clydesdale?
---
Theres an debate going on at the rescue, one of the owners is claiming that Peggy is a Clydesdale, while the other is claiming shes a Percheron. Lol we cant find her papers at the moment to tell for sure. Shes 30 years old this year by the way. A beautiful old lady if you ask me! Does anyone know which she is?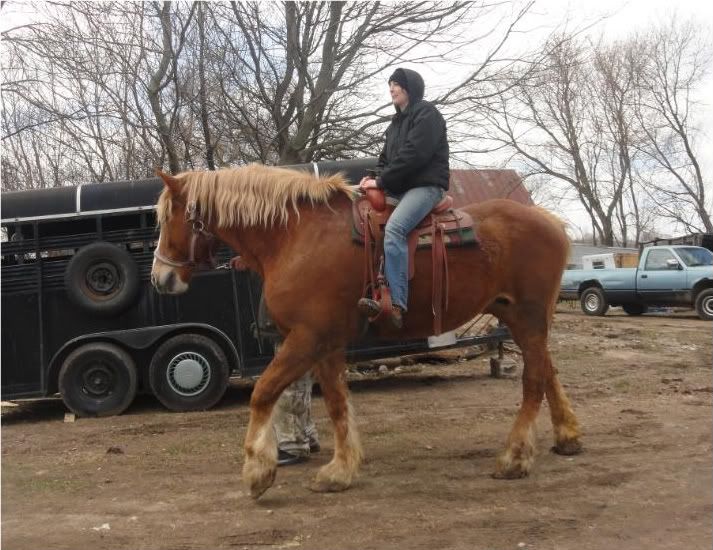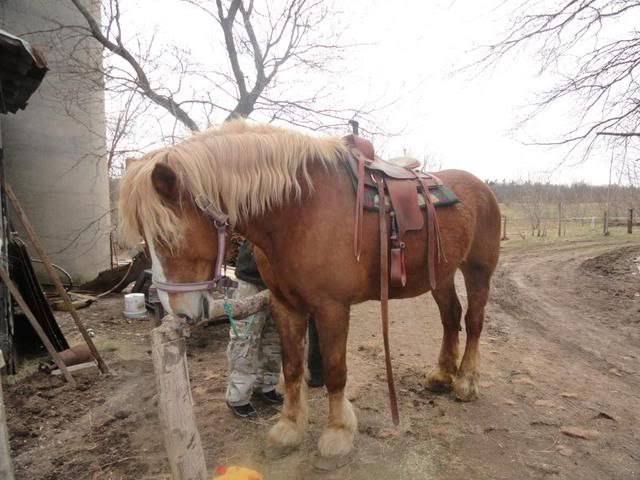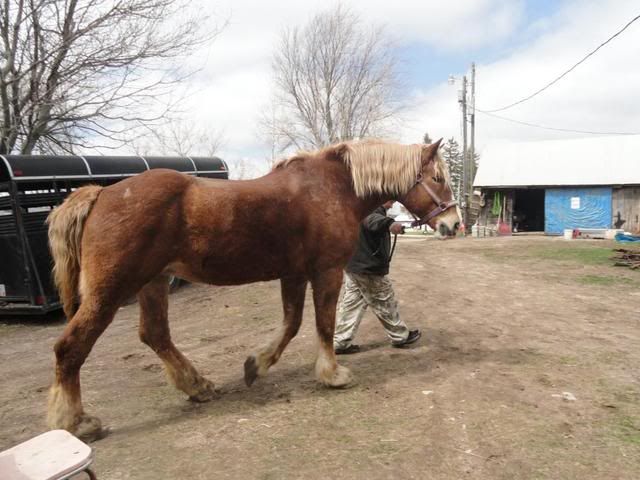 Shows how much I know, I'd call her a Belgian just because of her color!
Whatever her breed she is a grand old lady for sure
Green Broke
Join Date: Mar 2009
Location: Kansas in the summer, Kentucky most of the time
Posts: 3,028
• Horses:
3
I would have said belgian as well!
---
Look like a SUPERSTAR, Ride like a FOUR STAR, Win like a ROCKSTAR
Eventers: Making BAD Dressage look GOOD!
Looks like a Belgian. She appears wonderful for her age!
---
A good horse is worth more than riches. ~ Spanish Proverb
Green Broke
Join Date: May 2009
Location: Winnipeg, Manitoba, Canada
Posts: 4,510
• Horses:
2
Agreed with Golden_Horse - she doesn't look like either breed. If I HAD to pick one, she's far closer to a Percheron then a Clydesdale just based on her slimmer build and the lack of feathering on her legs. Her head is also closer to a Percheron as she lacks the extreme roman nose of the Clydesdale breed. However, if I had MY guess, she looks to be a cross between a Belgian and Percheron.
---
Quote:
I hope God tells her to smash her computer with a sledgehammer.
Dont think shes a clydesdale :/ wild guess but maybe shes a suffolk punch?
Posted via Mobile Device
Lol now I have no idea! I guess it really doesn't matter. She's the sweetest old horse in the world. If shes out in the pasture laying down and you sit my her, she'll lay her head in your lap and go to sleep. And to think her old owners were selling her for her meat.
Not a Clydesdale and doesnt really look like a Perch to me either. I'd say Belgian like the others.
---
"If a horse fails to do something that is because he was not trained to do it. If a horse fails to do something properly that is because he was not trained properly."
www.wildestheartart.com
I also say Belgian. She doesn't have the leggyness or the feathering for a clyde and purebred percherons normally only come in gray and black (sorrel is possible but pretty darn rare) so even a cross is unlikely with her color. Sorrel would be possible if one of her grandparents was a perch and the other 3 were something else, but her being a perch is unlikely.

I am 100% sure she's a belgian. And a very nice example of one as well, especially for her age.
---
Last edited by smrobs; 04-18-2011 at

09:40 PM

.