ok heres my boy!
---
Bailey's Mountain
6 year old tb
His name is Oso....Trahkener/Perch. 17.1 hands, 12 years old.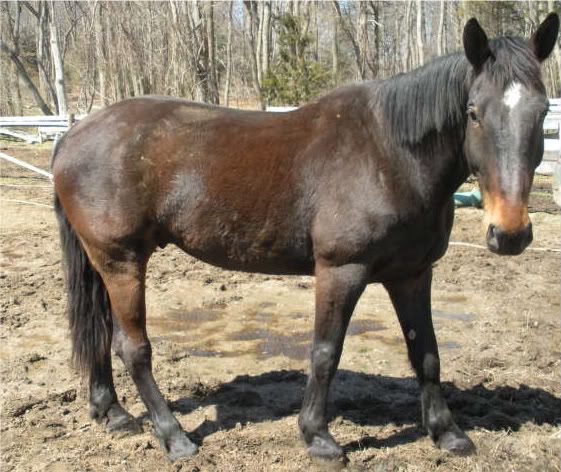 Yearling
Join Date: Oct 2008
Location: Sweden - the land of carrots and apples
Posts: 1,387
• Horses:
2
Me (in blue) and Sue (in the suit) driving Gus last summer in town. Not my horse, but I can pretend. =]
Also have a few of Scotia, another draft not mine, that I rode a few times. Just gotta find them.
---
Grooming - The fine art of brushing the dirt from one's horse and applying it to your own body.
---
Last edited by cmrtoner; 04-01-2009 at

11:19 AM

.
okay i am new to this site as well as my belgain. Before i start i just wanna say how pretty your girls are as well as how handsome all your men are out there. drafts are my one and only favorite breed of horses and i have owned 2 and leased and ridden many others.

Congrates to belgianlover for your new clydes as well as getting ben back that is great. can't wait to see them together

Okay about me and my boy. My name is courtney i have been riding about 11 years. My horses name is Hanz he is a 3 yr old Belgian draft horse gelding. Right now he stands at 16.3 and is estimated to be about 17 to 171/2 hands tall and approx 2,000 lbs but are really not sure yet. We will see when he is 5 yrs old if we estimated it right. Hanz was an amish horse and wasn't taken care of at all. They rushed him and hooked him up and when they did he got scared and fell and hairline fractured his hip. They kept him in a stall for almost 7 months. The girl i got him from got him and put the weight on him and found that no one wanted him nor wanted to take the chance on him breaking down. my sis in law works at the docs office as a nurse where this lady goes for check-ups. Well she was telling my sis in law that if she knew anyone that wanted a draft horse to let her know. My sis in law goes well that is funny you should say that cause my husbands sister meaning me is looking for a draft horse. She told her that i lost my draft horse 2 years ago after rescueing him from slaughter and owning him for 4 1/2 years and doing everything and anything with him. This lady told my sis in law that i could go down. so they set up this whole surprise and i went down and next thing i know i meet hanz. I went to see him 5 times and she told me the 3rd time i was out there that if i wanted him i could have him as long as i gave him a great, loving and forever home i agreed and the day i said yes i will take him was the 2 yr anniversary of my horses death. I am so happy i got him. He has helped me in so many ways.

Sorry for the rambling. Without furthur ado here is my HanzyBoy:

Sorry for the pic overload enjoy!!!!
---
Proud owner of Hanz AKA Bubba

"One way to make your butt look smaller ride a draft"
CMRTONER, beautiful horse. Do you know what the dam was?
i actually don't
he was imported from england and i don't have any details on any of his information
. i wish i did
they are so pretty i wish that i had one. they are so rare here. lol