All the drafts are so pretty! Some day I would love to get a Percheron x tb cross.
---
RH Queen O Anywhere "Sydney"
2009 Sugarbush draft
Such pretty horses everyone!
I want a draft so bad!
Groomed a little today
---
Worked on getting some of the mud off my girl today. She did great, but I feel like I'm fighting a losing battle. As soon as I groom and turn her out she gets muddy again. Oh well!!
ooohhh god I would kill for a Gypsy Vanner or a friesan!!!!!!!!!!!!
---
Live to ride. Ride to live.
Beautiful horses guys. They are stunning!
Here is Clancy, an Irish Draft Horse, I ride at lessons(:
---
"A stubborn horse walks behind you, an impatient horse walks in front of you, but a noble companion walks beside you."
he is a cutie
Here's another pic of my 3 yr old swedish wb/draft cross stallion in the snow
Hi
I'm new here! I live in the UK ..Wales actually and this is my Shire X boy Kane. He's around 9 now, I've had him since he was 3 and he's the most fun!! We do bits of everything together and he likes to prove all those that think big horses are quiet and boring a thing or two!!
He's what is called an Irish Cob.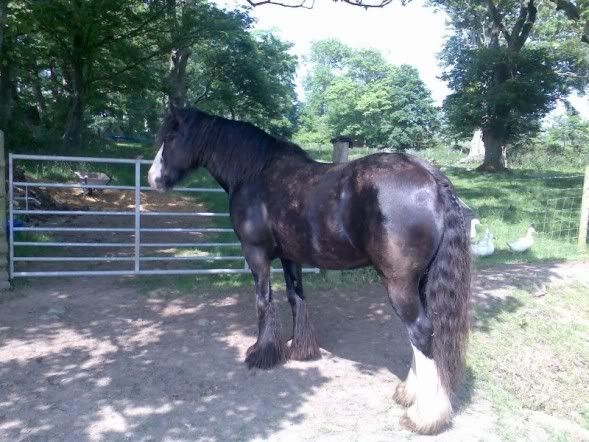 This is my baby (well not anymore he is 5 this year) he is 50% Gypsy 25% TWH and 25% QH. He is 16 hhs and I hope he is done growing!
And this is Bubba, my husbands horse. He is a Percheron that we are thinking is crossed with Friesen as he does not take a draft saddle, he will 6 this year and has yet to bulk out like other Percherons. He is 17.3 hhs and I hope he is done growing too!!
KrystaLake-I feel your pain. My 5 yr. old draft cross is about 18 hds now and we tell him we're impressed and he can stop growing now...... Your horses are beautiful.

Thedogshome-your guy is gorgeous, love those shiny big buns!

THL-your Irish Draught looks like my PMU gelding who is perch/clyde/paint/TB.
---
Dana
Riverside, CA