So what do you think Molly is?
---
Since we pretty much figured out what Peggy is, why don't we try to figure out what Molly is.
Molly is the boss horse, I'm not sure what you call it, but all the other horses follow her orders. I don't know how exactly tall she is, idk how to measure in hands, but I'm about 5'4", maybe 5'5" and I'm shorter then the lowest part of her back. I have to stand on something to brush her butt lol. Her mane is super super long and her tail touches the ground. She's got her gutt sticking out a bit in these pictures, but when she's driving with Peggy she looks slimmer. She also an old lady, in her 20s.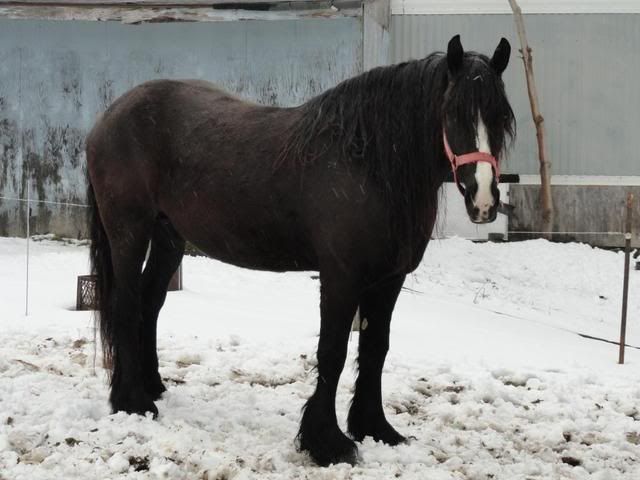 This is her with Maude standing behind her. Maudes an average size horse.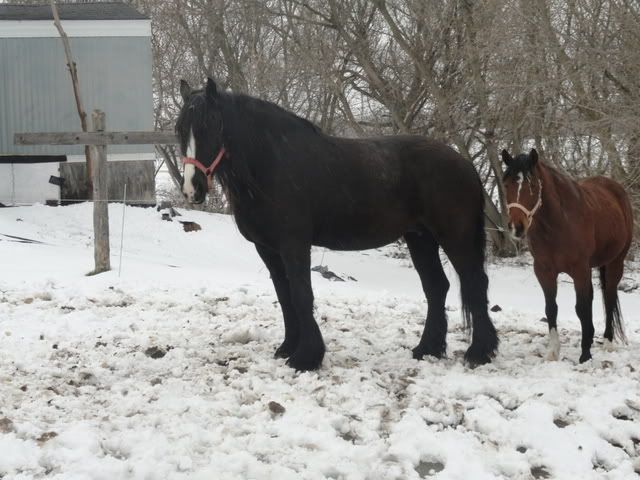 I could try getting more pictures of her if needed. She looks so beatiful when she's driving with Peggy, she likes to hold her head in a kind of arch and picks her feet up real high :)
I dont know why but as soon as i saw her i thought "noriker".... i doubt she is, since its an austrian breed. but that was just my first thought..possible a noriker x something like a shire or some other draft breed? i have no idea lol probably better to leave it to the experts since i dont know alot... shes gorgeous though :) and hugeee!! she looks like 18hh+ O_O

if you could measure her height in inches, you could work out how many hands she is. there are 4 inches to one hand. you measure from the ground, to the horses whithers. (:
Definitely drafty. I'd have to say a Shire cross, with the feathering and coloring.
Shire or Shire/percheron. Her feathering is very light for a full shire and if she is full and registered, she would naturally be worth something as breeding stock due to the very low #s of the breed. That information most likely wouldn't of been lost even if her breeding career was over. Her head looks more Percheron. Her bone and size say full draft. She looks great for a 20 year old.
I see Shire in there definitely. Maybe ShireXPercheron as Left Hand Percherons said..
---
"If a horse fails to do something that is because he was not trained to do it. If a horse fails to do something properly that is because he was not trained properly."
www.wildestheartart.com
She looks like a Shire to me.

Lizzie
Shirexperch to me :) shes beautiful!
---
*TravAQHA* <3
Looks like a Percheron to me.
---
-Caroline-
Pround owner of an off track Thoroughbred.
Devon, officially mine on July 31, 2010
I see Perch....but my best guess is a cross between a cute & a chunky :) She's adorable!
---
Life is like a camera. Focus on what's important, Capture the good times, Develop from the negatives and if things don't work out, Take another shot.