When you talk about 'draft' horse, are you speaking specifically about a heavy horse like a Begian, Clydesdale, Percheron or are you talking about a good all rounder heavier type of riding horse. In the UK we call the latter 'Cobs'. If you want a cob, then it really is down to temperament and how he/she feels and looks. If, like me, you adore Heavy Horses then that is what you should get for yourself. I got my first 'Heavy' (a Clydesdale) when I was 49 and he was 4. I got my 2nd Clydesdale when he was 15 months and I was old enough to know better than to get a 2nd heavy! (LOL) I have not one regret. There is no specific breed in a heavy which makes one type better for riding than another. Go see a few heavy horses which have been broken for riding. Then you go for the one which you like best and meets your needs. If you are worried about getting on and off, costs of feed, price of tack (much higher because its harder to get the right size), negative comments from some people who ride ordinary horses etc. then perhaps a heavy is not the right horse for you. However, if you have thick skin, a step ladder to mount from, want a giant puppy dog following you around everywhere, want to feel like you could look into heaven when you sit on a horse, want to feel 1 ton of love evertime you have a carrot in your hand then you go get yourself a heavy!
If you like a bit of colour, you might consider a Gypsy Horse/Cob. Lots about and come in shorter to taller in size. You might also consider a Drum Horse. They are usually quite tall, often brightly coloured and are Gypsy x Shires/Clydes, most of the time.

If you feel you have formed a liking for Belgians, consider rescue. There always seem to be many Belgians in rescue and many are already trained. Do a google search and I'll bet you will come up with some needing a loving home.

Lizzie
These were the very first pictures that I ever seen of my girl. The last one with the smoke bomb was what sold me on the temperament that I was looking for as a first time owner. Even still (to date), every now and again as I'm walking through the pasture with her, I'll randomly scream or flail about in an attempt to spook her. Or I'll do something unexpected while she's eating her grain. It all ends with her looking at me like I'm some sort of idiot.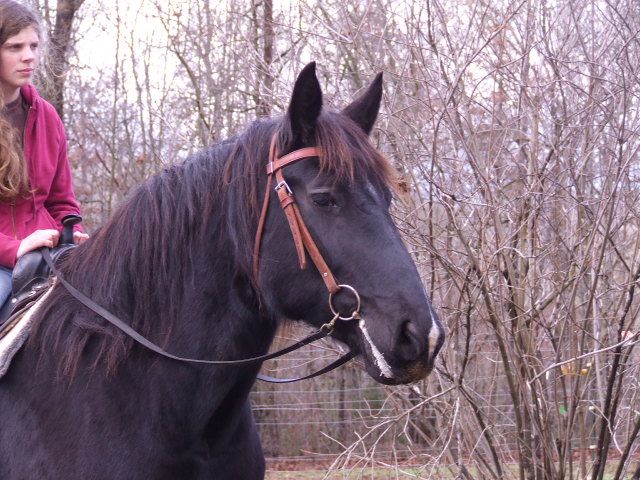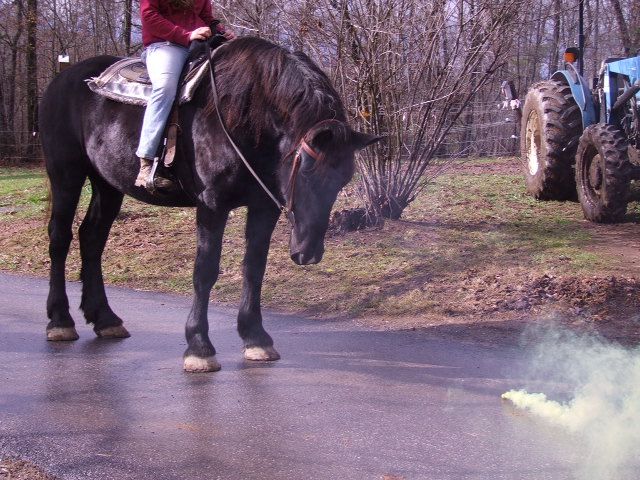 ---
ONE horsepower, TWO-THOUSAND lb/ft torque... If it doesn't weigh a ton, it's just a horse....
Percheron, Percheron X Owner
---
Last edited by DraftGuy; 12-17-2012 at

10:23 AM

.
I would say it depends on the horse, and don't rule out a cross...personally I would say a QH cross is pretty mellow, generally. I don't know where you are, but do look at rescues-there are several who specialize in drafts, and they may be able to help. I have a Clyde X, and of course think they are the best, but I am a little partial to my particular "big lap dog".
---
Signature undergoing edits. Please standby.......
The breed isn't going to matter so much as the horse's personality... There are calm horses in every breed, as well as more high strung horses in every breed. You'll also want to look for a horse that is beginner friendly. I have a Belgian and wouldn't trade him for the world. I have friends with Clydesdales and friends with Suffolks and friends with Percherons. I'd look for drafts as a whole, and then look at ones that meet your criteria for what you want in a horse, not just what their breed is, this way, even if you think a Clydesdale is right for you, a Shire might just be the right fit... Know what I mean?
---
"It is true, I want a great many things I haven't got, but I don't want them enough
to be discontented and not enjoy the many blessings that are mine."
Elinore Pruitt Stewart, Letters of a Woman Homesteader
thanks so much for taking the time to say hello. I am riding a Belgium for lessons and I agree that if the personality of any horse is like her....then I have the perfect horse. She is unfortunately owned....so another draft with similar characteristics will definitely become the horse.

I am hooked up to a great Draft Rescue Farm in OHio and will be carefully checking out the prospects over time.

Appreciations,
Steff
Make sure when you do your search, you search for Belgian and not Belgium.

Lizzie
Thanks Lizzie,

It's good to learn from the experts! I'll get my spelling working on the Belgian

Steff
I have a Belgian cross and he is just wonderful. Calm, steady as a rock and just a solid solid citizen. I don't have experience with other draft breeds but as others have said, look for the individual personality within the breeds you are interested in, as they are all different.

Case in point, my Belgian cross has a very similar personality to a thoroughbred I owned many many years ago!

Good luck to you in your search and please do share pictures along the way!
---
Thanks so much for your encouragement and support. I have signed up for a great Draft rescue farm in Ohio so that I can find my draft in the right time.

Best to You,
Steff