Rough cell phone pic's of him,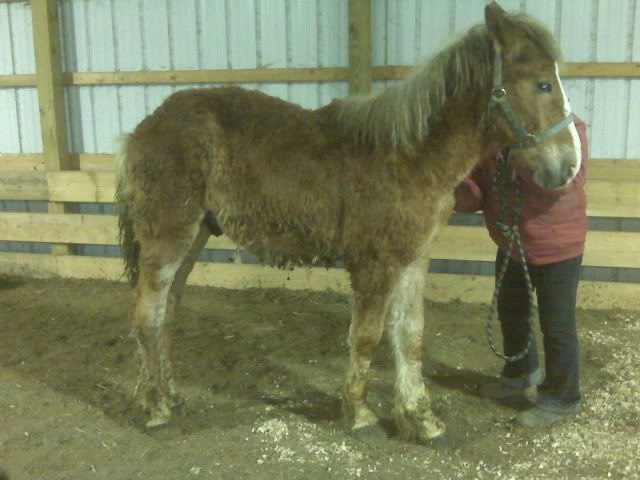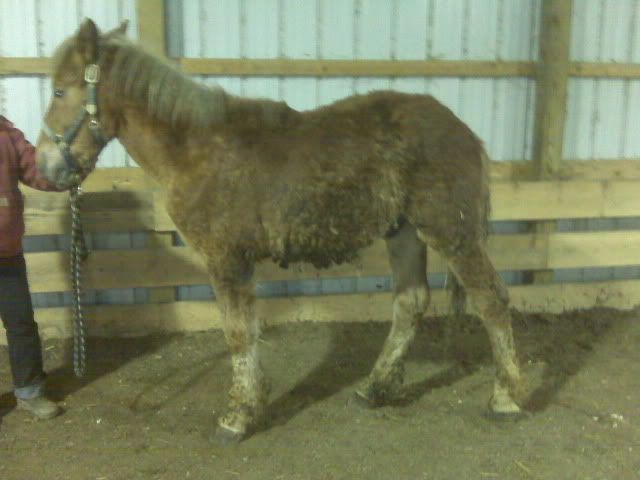 Dingleberries, anyone??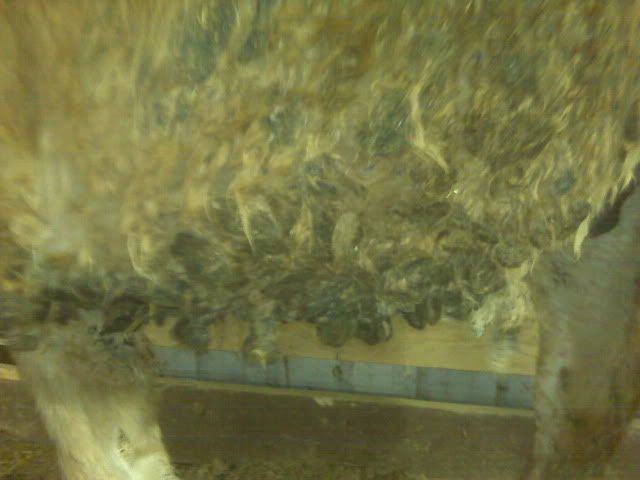 How old does everyone think?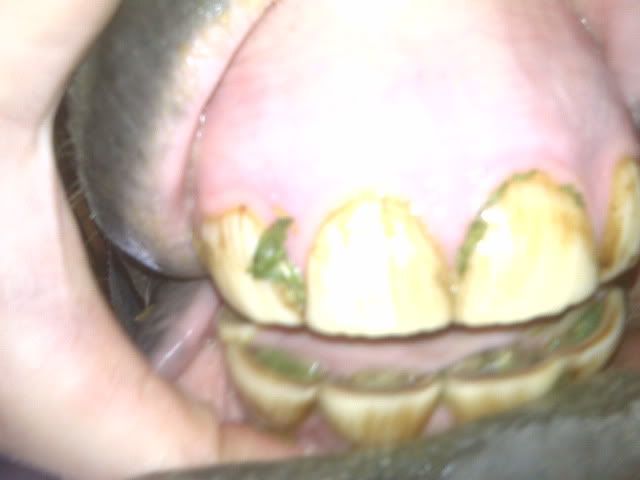 The "skinny" is lost some in these pictures because of the low quality pictures and the hair.
to me it look like his withers are long and he has a very short back with a high bum! he's got such a sweet face though! maybe he'll grow a longer back...he doesnt look very old maybe 2? im not great at guessing ages by the way! :]
Maybe you should get a vet out, that could be anything really... Might be a vertebrae malformation, could be an actually injury, he could be sucking his butt in because he is frightened... I vote call a vet.
---
Ω Horses are a projection of peoples dreams Ω
I don't see the hump either but I also see some long withers and a short back. His shoulder slope has a nice angle which should make him rather smooth gaited. I wouldn't place him at above 2 years old, maybe younger.

Poor guy sure does have a lot going on but, fortunately, it's rather simple stuff to deal with. I don't think you can make an accurate assessment of him overall until he is cleaned up on the exterior and the interior.
---
I'm not arguing with you, I'm just explaining why I'm right.

Nothing sucks more than that moment during an argument when you realize you're wrong.

It's not always what you say but what they hear.

The vet will be seeing him. And I can see where you guys are coming from, I didn't feel like the pictures gave a clear visual of the humpyness either, but in person, he's not "normal" over the back.
I can see what you are talking about and IMHO it looks like a pretty severe roach back. Make sure that the vet checks it though cause a person can only tell so much from pix. How does he move? Does he seem to be sore when walking or trotting?
Bless you for taking that poor guy in, I can't wait to see some pix from this summer when he is slicked off and filled up some. I can't offer any advice about age, I never was good at judging from teeth.
smrobs- he does trot and canter and while he's never going to get an "A" in elegance or be entering the dressage ring
he's sound and forward moving. He's even, not showing any lameness. Pictures are a poor way to tell much of anything, I know! Our current plan is- vet, to get him on a good worming program, body shave him, de-lice him, de-lice everything/everyone he's come in contact with, teach him to eat grain (he loves my hay, grain is a foreign substance to him- i've tried 3 different types) and go from there. He's not showing any signs of pain, he's actually quite happy- itchy- but happy. The weather is supposed to be warming up at the end of the week around here..... prime body clipping weather.
Could be this condition I just read about, it is a malformation of the vertebrae, causes no pain, the spinous processes are just elongated to it is essentially a second set of withers... Cant for the life of me remember what it is called, but the horse stays comepletely6 functional, just should not be bred to carry on the mutation.
---
Ω Horses are a projection of peoples dreams Ω
I'm thinking lordosis, though with his coat, and all his other problems plus the quality of the pictures, its hard to tell. He just looks like he's got a really short back, but has the sway back and/or the roach back. Would have to see him shaved up to have a better idea. I agree with the getting the vet out, and starting to clean him up, maybe just do a cursory check to make sure he's not in any pain, and do a much more thorough eval once he's in a bit better shape, as I think that as long as he's not in pain, the worms and lice are a much bigger problem right now.
I don't think its lordosis, I think its more of a roach, but he could also be very butt high at this point in his growing. Hopefully now that he is getting the proper care he may grow out of it. I am curious to hear what the vet says about him.
---
RH Queen O Anywhere "Sydney"
2009 Sugarbush draft