Hi all- wanted to give an update on Murphy. Not sure if anyone remembers this thread or not, but he's doing really great. He's rehabbed quite well and is ready to find a new home with someone who will appreciate him for what he is. Was wondering if there were any particular forums or avenues I could pursue to find him a new home. He's been gelded, is about a year old, is sound and shows all promise of being useful to someone. Any prospective new home will be checked out very thoroughly. I've put a lot of time, money and effort into getting him healthy again and I have no intention of letting him go someplace that won't follow that same path. Any advice is very appreciated!!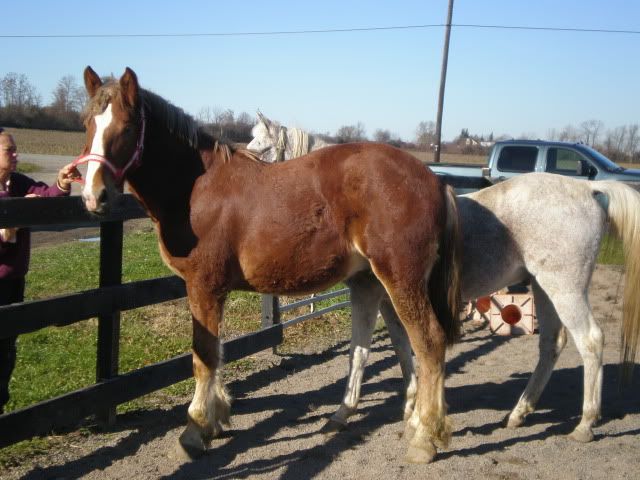 He looks so much better. Has a nice coat, love the color. His back definitely still isn't quite normal, but honestly he probably just started growing a bit funky from lack of proper nutrition, and being loaded with parasites. I would love to see how he turns out when he's 3 or 4, see how drastic the changes are with him still being so young, and still having so much growing to do. Obviously all the normal routes, craigslist, dreamhorse, equine.com, ect. are good places to start. I'm sure that someone else on here will have a different avenue that they've tried that works. Bless your heart for taking him in, and doing all you can to give him a great shot at a better life long term. Hopefully you can find him the perfect home for life with a great person that just falls in love with him. Keep us updated :).
wow he looks so good! good work : )..and good luck finding him a wonderful home..keep us updated!
---
"I am only one, but still I am one. I cannot do everything but I can still do something. I will not refuse to do the something I can do. " - Helen Keller
He looks good! Gonna be a big boy with a very short back...I don't see nothing wrong with his back other than it seems short...great for pulling!

Chris
He looks so much better, not a terrified little waif anymore. I'm curious, what did the vet have to say about his back?
---
Dana
Riverside, CA