Last weekend we went to a little schooling show, being the only ones riding 1st level we went first. At the salute, Primo promptly parked out and peed. At the end of the ride, the judge said that I better not miss X on my next test since my horse decided to mark the spot.

Sadly he wanted nothing to do with his pee-spot and wouldn't step anywhere near it. All the little kids after him thanked us for marking X.
---
If your horse says no, you either asked the wrong question or asked the question wrong

And God took a handful of southerly wind, blew His breath over it and created the horse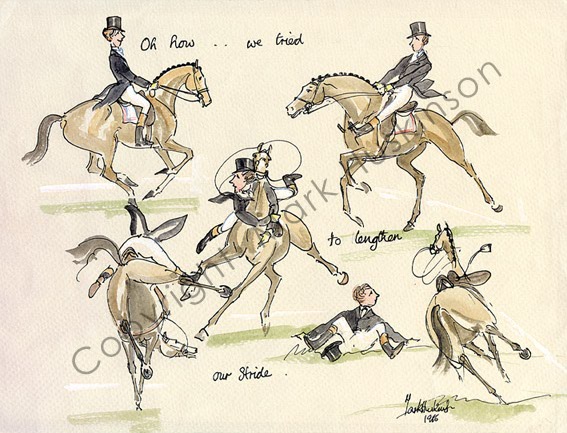 \
oh goodness.
-dies-
---
"Good things come to those who wait… greater things come to those who get off their ass and do anything to make it happen." - Unknown
---
Quote:
And I have just found for us new dressage rider who haven't quite made it yet, a new test that I can probably do


Very Funny "Dressage Test"

The Amazing New Dressage Test
For Horses Unsuitable to Become Anything
By Joanna MacDonald et al

The Test

1. A. Enter at ordinary serpentine.

X. Sprawl. Salute.

2. C. Stop dead. Stare in horror at judge and shy to left.
Continue at ordinary working gallop.

3. E. Stagger left 20 or 15 or 22 meters in diameter circle or pear shape
or five pointed star. Avoid excessive crossing of legs.

4. K. Begin to halt.
Z. Keep trying.
F. You can do it.
B. Pulley rein. Give up. Continue at out of hand gallop.

5. H. Regain right stirrup. Continue at ordinary trot, bouncing.

6. MKT Change rein. Free Walk loose reins. Remove horse from judge's
luncheon table. Ask judge for leg up. Jump back into ring.

7. Z. Turn down center Line.
Halt. Grin. Scratch. Burst into tears. Leave area at free walk on long
reins, loose language.
That is hilarious!
Love these!
---
Horses are scared of two things... Things that move and things that don't.
Green Broke
Join Date: Jan 2010
Location: south of nowhere, north of nothing
Posts: 4,643
• Horses:
6
aaah definitely needed this today haha nice.
Ray, that one is soooo me!! LMBO
---
R.I.P ~ Bubbles - 25yo tb mare - 13.04.2011 ~ 8:30am ~ passed away naturally and peacefully in my arms
Green Broke
Join Date: Apr 2009
Location: Queensland, Australia.
Posts: 4,488
• Horses:
1
Best comment, when eventing.

'Green horse, advise rider not to ride him on Cross Country due to lack of control'.

Chinga, was just dancing. In the air.
---
Sir Success. Eventer.
2000 - 2013,