View Poll Results

: Double Bridles

They are a great teaching aid
22
51.16%
I use them all the time
0
0%
They are unneccesary and cruel
4
9.30%
Don't have an opinon
17
39.53%
Voters: 43. You may not vote on this poll
Right, Kayty? Its all the basics, transitions, changes of pace, SI,Hi, legyields, halts, reinbacks, circles, spirals, etc that lead to the flashy stuff. If it iseems boring or easy, that rider hasn't the temperament or talent for dressage, or they have a.poor teacher. That IS dressage. That gets you to the good stuff. The good stuff that is a joy for both you and the horse.
I leave you guys for two minutes....


OP I have just woken up, after falling asleep thinking about this thread.

Perhaps I am wrong, but a lot of what you are saying sounds like it could come from your trainer rather than having the knowledge yourself. Reading is allbgood and well, it can teach you the mechanics of what goes where, why it goes and what but it will never teach you how it should feel.

I will reiterate this one last time for the sake of your poor old man, from someone who rode and trained with a goldie oldie and never once had any soundness or stiffness issues.

Get the double bridle out of him. Give him a snaffle, and not a fat chuncky one either. Give him at least 20minutes on a long rein to warm up in a walk, doing plenty of rein changes and circles and three loops. Then ask for a long and low trot so he can stretch his back and hind end for five minutes, then break. Then pick up more rein and start trotting more loops and changes. Then break. Can you see a pattern here? Hou can't treat this horse like a ten year old and bute it. I would feel like the wrolds most horrific owner if I had to bute my horse because I rode him too hard for his levrl of fitness.
That would be like me giving you a shot of morphine and telling you to run a marathon without the prior training. Or running it then giving you pain meds. No.

I don't think this is all you though OP and I wish I could hear the drivel your trainer is feeding you.
Posted via Mobile Device
Green Broke
Join Date: Oct 2010
Location: Some times Llanelian - North wales, sometimes Hull in East Yorkshire (UK)
Posts: 3,679
• Horses:
5
Ditto what weezilla and kayty said!

Basics are everything. My boy has the talnet to probably do PSG with the correct training, however I am still working on the very very basics with him on the longreins, we spent 40 mins yesterday working on trot to canter transitions and standing still at the halt! Eventualy after thousands of transitions, changes of rein and generaly him being arsey and having a tantrum over being asked to work over his back correctly he eventualy got 3 good transitions in a row and we left it at that.

Stan did changed for fun, he enjoyed doing them and 2 time changes are great fun to ride (I never quite got my coordination sorted for tempis) however we didnt do them often and never without atleast 40mins of working in and warming up. we actualy spent most of our lessons working on rythum and getting him to realy swing through.
---
RIDE your horse FORWARDS and keep him STRAIGHT


I've paid $170 for a lesson on my FEI horse and all we did was walk trot transitions!!!

Dressage is really about exactly about what Weezilla and Duffy are saying, I tried before to get through, and gave up.
Some trainers in North America (and I know this because it happened to me) talk a very big game, say "Germany" a couple times and have students coiled around their fingers when the trainer themselves knows very little about dressage. They indoctrinate the student to believe that everyone else is wrong, feed them choice literature to back up their claims and then preach in lessons and when something goes wrong, they add gadgets and force.
Sounds to me like that is what is happening here.

Anyways, as I've suggested before to the OP, please go read these suggestions with your hackles down and after a few days. No one is attacking you, simply pointing out where your areas of learning are lacking.
Good luck!
---
They say money doesn't buy happiness -- well happiness doesn't buy horses!
Faye, I just rode and did the same thing. I have realised that I am not demanding enough in the basic transitions. Letting him launch into canter, and hang on my hand not listening to my seat in the downwards trans.
So, I spent a solid 50 minutes tonight riding transitions, mainly walk, trot, halt, trot etc. until he would go foward without vesting his neck, and come back by folding and holding himself up.
Hell, I could have done with a double tonight, would have taken me 2 minutes to have him lighter in front, but the underlying training wouldn't have been there. I suspect the next week or two of rides will go much the same way, until he 'gets it' and we can start back up with some lateral work.
Posted via Mobile Device
This IS some shameless plugging of my own boy- but you have to realise that if you take care of these older horses, you will get more out of them. He was just turning 20 here.

I really. .. REALLY hope you listen to the sound, good advice given to you here rather than trying to turn it on its head.
Duffy your old man is truly golden! Look at that huge trot! I'd join you in shameless plugging but my grand old man's era undersaddle sadly ended before I owned a digital camera. Or a computer :) We were slow hopping onto the technology train, unfortunately.
*growls in frustration*

I spend a ton of time on circles...just not on long-and-low stretching circles! Unless he needed it...or I was warming him up...or we are working on stretchy circles. That was my point. Not that I didn't use circles! Gosh. -_-
---
DRESSAGE, n.: the passionate pursuit of perfection by the obsessively imperfect -Author Unknown
Green Broke
Join Date: Oct 2010
Location: Some times Llanelian - North wales, sometimes Hull in East Yorkshire (UK)
Posts: 3,679
• Horses:
5
This is my lad aged about 18yrs old. He had worked in a riding school in his younger years, then been shown to a high level and dressaged to medium level.
We were warming up for a showing class here.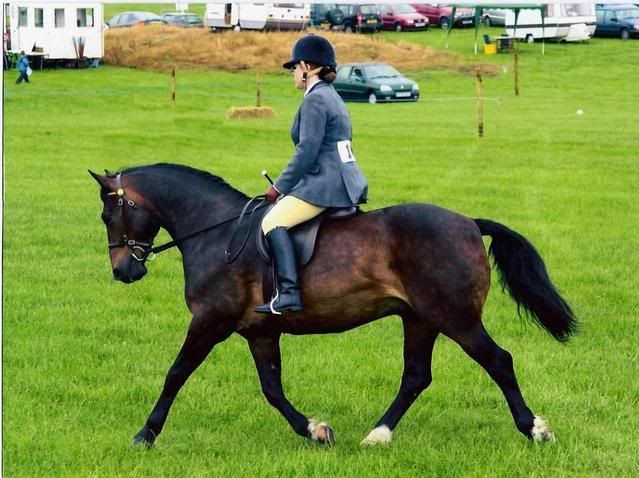 ---
RIDE your horse FORWARDS and keep him STRAIGHT


His trot is completely effortless.. He was superb. His middle trot and extension was amazing, but he could collect in the canter behind another horse walking- but he was reconditioned to get there...and they were the results!
Posted via Mobile Device