Dressage is abuse....-headdesk-
---
Okay guys and girls, I've never competed at high levels in dressage, so hopefully you can help me out!

A friend is trying to find a new horse, and now someone has told her this... true or false?

I thought this sort of thing was just used on TWH ages ago?? Sounds a bit fishy to me???

ACT: Did you know that the great dressage you see on TV is on the verge of abuse. The horse does not naturally pick it's leg up like that and they use special contraptions to force them to pick the leg so high.
Rubbers, weights and chains
In trainning



Quote:
Okay guys and girls, I've never competed at high levels in dressage, so hopefully you can help me out!

A friend is trying to find a new horse, and now someone has told her this... true or false?

I thought this sort of thing was just used on TWH ages ago?? Sounds a bit fishy to me???

ACT: Did you know that the great dressage you see on TV is on the verge of abuse. The horse does not naturally pick it's leg up like that and they use special contraptions to force them to pick the leg so high.
Rubbers, weights and chains
In trainning



Never used or know anyone that does this.
And yes I have seen horses do some very high stepping in the paddock...all by themselves.
Same... I wanted to ask around before I started laughing in the person's face though..
I had a quick peak on the internet, consensus was that if they are used on saddlebreds, TWH etc that they're soft chains to make a horse more aware of where its legs are, especially young horses?
The another notion was that its not natural, just human vanity... if the thread wasn't so old, my response would be let all horse's be wild then, if we're talking about human vanity and that its not natural etc.. is it natural for a horse to be ridden? Nope, but we did it anyway
Sorry, but your friend is way out in left field. Been there, done that, and never seen any of the "gaited" contraptions used on dressage horses.
-wipes sweat from brow-

I'm glad, not that it would put me off dressage, but it made me re-think.

Thanking kindly for reassurance ;)
Feel free to do this at your friend!!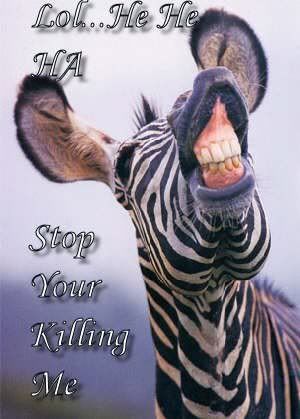 Allison, unfortunately can't see the picture.. please describe haha!

I despise people that get a bit of information, digest it, regurgitate it to others without doing their research int he first place!
Daffy, it is a photo of a zebra laughing his tail end off!!
AHA.

Very suited me thinks :)