Dressage Pics... Show us yours :D
---
Hey, I'm fairly new to the dressage world, so lets show everone's pictures of us out competeing dressage at events! This is my little 14HH Arab X Welsh pony at a recent compition, we came 6th overall :)

Start posting!!
Very cute horse, WP! I hope to take some pics of mine later this months (when they'll build up some muscles after time off). Then I'll post too. :)
---
"Life isn't about waiting for the storm to pass: it's about learning to dance in the rain..."

"When we are no longer able to change a situation - we are challenged to change ourselves."

"How people treat you is their karma; how you react is yours."

This is me a long time ago riding my trrainer's school pony. I covered my face. :p
zbuttons.jpg
This one is my horse Winston and I at a combined test.
zzunderrider1.jpg
---
Winstonsgrl
I don't have any of Bailey and I competing, but I have some schooling pictures to share. Bailey was a hunter jumper and was always ridden with a standing martingale to keep his head under control, dressage training has been a big step for him.
---
Proud mommy of...
Bailey- Appendix Gelding|Satin- Morgan Mare| Teka- Reg. Paint Mare|Shiloh- Reg. QH Mare| Misty- Reg. Pinto Mare
I don't have any recent photos... These are all from last year. I have come so far!
Here are a few of my Andalusian Relana.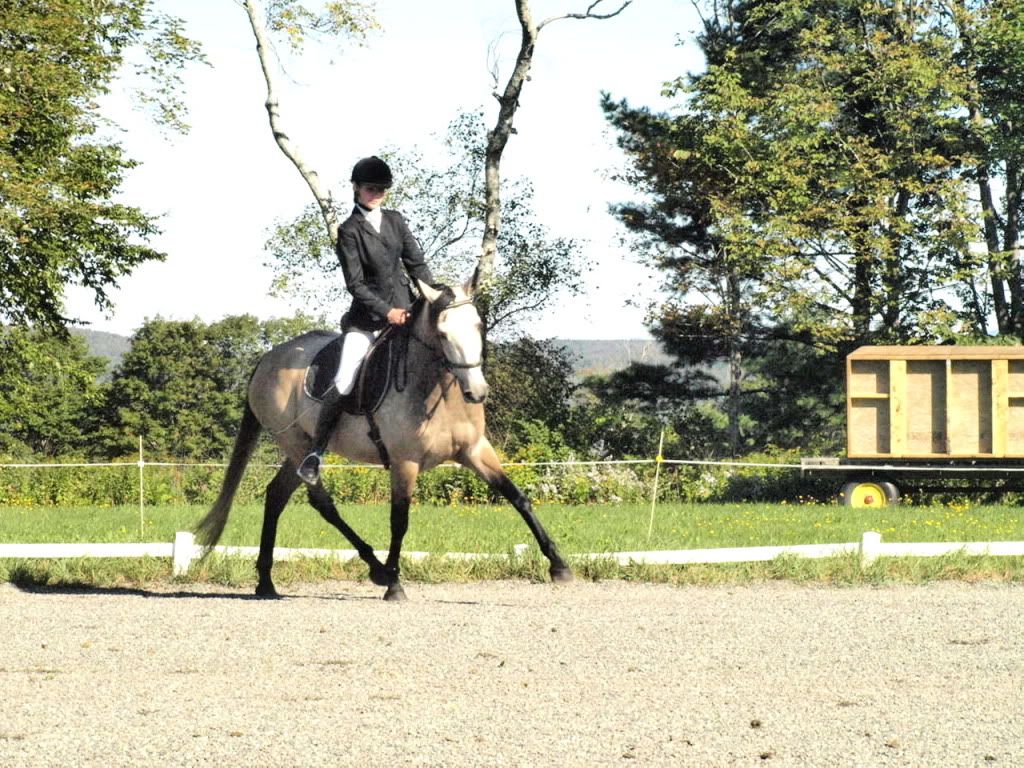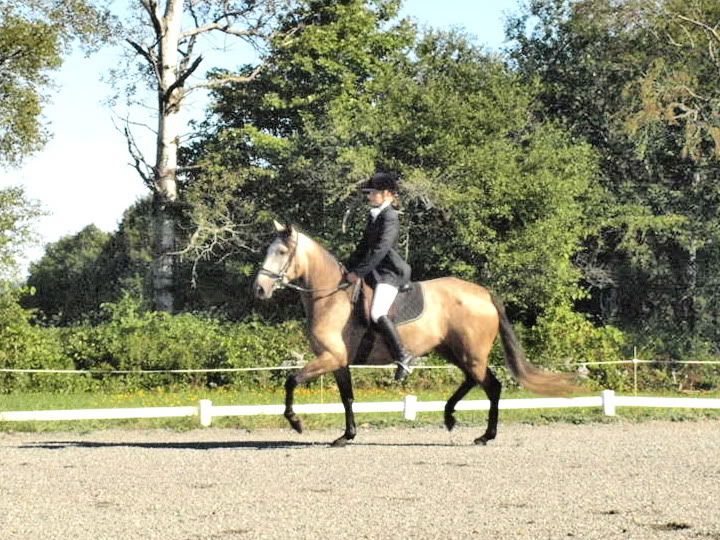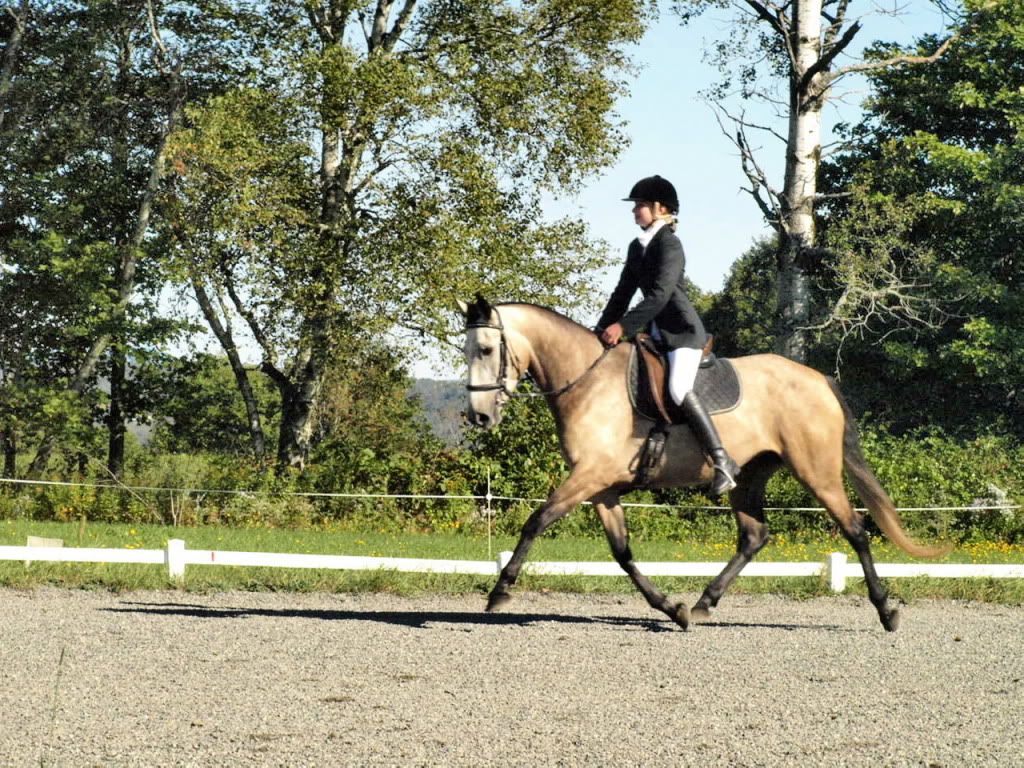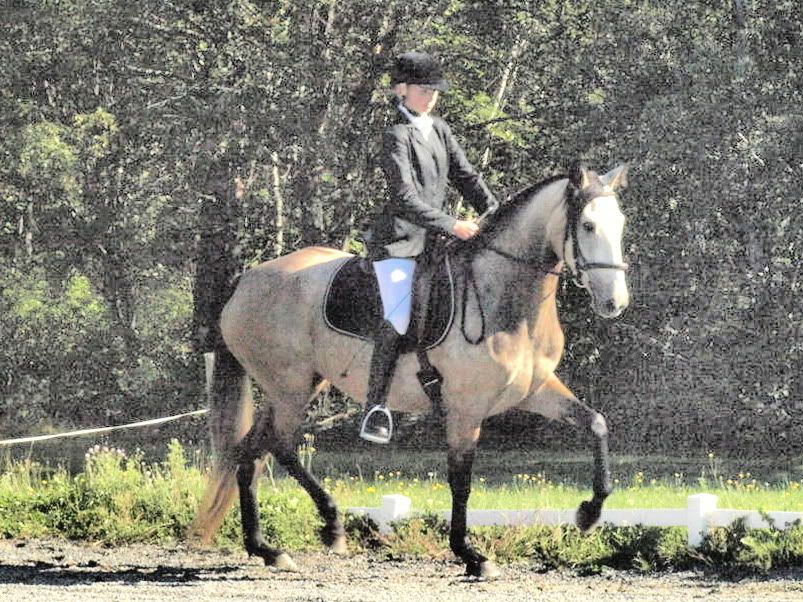 Now a couple of my other horse Victress. She's a Lipp/TB cross. Currently showing Prix.St George With some GP movements.

---
"The hand should be a filter, not a plug or an open faucet."
N.Oliveira
Wow, all of you horses and ponies are lovely!! K_V thank you, he is just a great pony! He could make it so far in the pony dressage, but unfourtantly he gets to distracted to easily, but he is going well!!
Welcome to the forum and world of Dressage, Woodville! Your pony is lovely!

Kayleeloveslana you have the cutest riding posture, lol! :P

I wish I could contribute but not with my horse atm and his old riding pictures aren't that great due to the ****ed fork (long story.)

Here's one from.. September. We are just starting out so we're hardly a "Dressage team" but hey it's something :P
---
"Strength is the ability to use a muscle without tension"

Quote:
Originally Posted by
Skyseternalangel
View Post

Kayleeloveslana you have the cutest riding posture, lol! :P
Haha thanks, I finally got it now so I'm upright all the time... Have to look proper :p.
---
"The hand should be a filter, not a plug or an open faucet."
N.Oliveira
Heres little grub! (theyre off facebook...so theyre not too good, my uploaded wasn't working so I had to copy and paste them off my FB page! theres not very good ones on there)
State Dressage 2012
A very nice artistic shot
Just come out of our elementary test...
The corner that was "scarey"
Extension
Extend pony!
CAnter
:/
About to do a loop and then enter :)
Sooo professional!
Pretty pony!
Novice 2C
Coming out of our extended trot
Again lol
entry
Tess
Sorry about all the pics!
---
Cross Country- The act of hurling yourself and your equine partner at a stationary object with poise and grace while attempting to survive...

Tess looks lovely!! Haha, you are so high up in dressage!! I'm only Grade 3 pony club, and EA for interschools I'm preliminary! I was having a look at PCANSW and your showjumping height, you C grade is the same height as PCAV's D grade!! And I'm D grade on Archie for jumping, so were same height in that!! :)