Hope for Freddy!
---
I was bucked off of Freddy on Sunday, and I ended up going into convulsions with a severe concussion and I was rushed to the ER. Actually, without the aid of a woman at the barn (a retired nurse), I probably would be dead right now.
I won't be back in the saddle full strength until next month, but I'm really just hoping the Freddy is okay. He never bucks, so it is blantantly a pain or rider issue.
The problem is that I've lost a gap of my memory; I only recall up until a few, fuzzy moments of being bucked off (at around 2:30PM; I specifically remember trying to hold his head up and then falling to the side) and everything else until 6:00PM is missing.
I'm going to talk to the people who witnessed Freddy's explosion and my fall. At the hospital yesterday, my sister (who only saw the after story) only could tell me that Freddy was still bucking after he got me off. She and Tammy have both gone out today to see if he's pulling the same behaviour or if there is an obvious sign of pain. His owner has ordered the vet out on Friday to check him over, and she's going to inject him regardless.
The most likely cause is probably his bone spur shifting again. His pastern (the location of it) has been swelling on and off since a while ago.
It could also be a tack malfunction, which we're checking saddle and bridle fit.
He could also need a chiropractor, because he's been tense on his right bend for a couple of weeks.
But the strangest thing about Sunday was the fact that, even though the weather was warm and the routine was normal,
every horse
on the farm was acting odd.
I wish I could remember the incident, and fill in the puzzle. I need to know if it was something I did to set him off; he was acting strange, but he wasn't acting explosively strange.
Send Freddy luck and hope that he isn't injured. I'll keep you guys updated! ~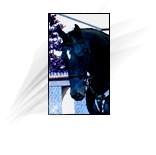 Wow I am sorry that happened but it seems like you are really possative and hopeful which is good!

Keep us posted!
---
:: Karley ::
Tucker WB/TB- 11 yr
Speedy QH/TB- 22 yr
I hope it'll all be alright!!
Good luck!
That's the sign of a true horse lover. Get's hurt to the point of an ER visit, but more worried about the horse! I hope you can find the source of his pain.
---
You just have to see your distance...you don't have to like it.
I agree! What a horse woman! Were you wearing a helmet? (I have learned the hard way, and now never think of getting on a horse without)
Very strange that ALL the horses were acting oddly...let us know if/when you learn the cause.
I believe you WILL come to remember that moment of time, maybe see it in a dream. We usually do 'block out' things that happen right around the time of an accident or huge shock. It will most likely come to you, tho probably not any time soon!
---
It's the little things that drive me wild...
Good grief, Lee!! You get better asap missy! I admire you worrying about Freddy, but he's in excellent hands with Tammy* so you concentrate on getting yourself all better!!!
Please do keep us updated on your health, and Freddy's - he's an awesome horse, I hope he's ok!!
* Tammy and I were talking a while ago... incidentally, she was my first instructor, when I was about 4 years old! She came into the store I work in (tack store in town) and we got to talking, and we realized that we hadn't seen one another in almost 2 decades haha!! Funny how fate works!
http://i7.photobucket.com/albums/y27...ies/Siera1.jpg
http://i7.photobucket.com/albums/y27...ies/Siera4.jpg
(Tammy's mom with the happy face :P ) Sorry, just had to share!!
---
The lovely images above provided by CVLC Photography cvlphotography.com
Hope for both of you. : )
Wow,
Hope you will recover quickly. I think it is common to have a bit of memory lapse with this type of injury. I believe it will come back to you.
sending out good vibes and thoughts for you and for Freddy!
HP
Thanks everyone!

I've quickly gotten back the full range of motion in my arms and legs, but my coordination and balance are still lacking and my shoulders, neck, and lumbar back region are locked. Hopefully I'll be able to start back on my pilates in two weeks to keep fit and regain full body control.

Paige and Tammy were out to test Freddy these last two days. He's passed all of the flexion tests on his neck and legs. He trotted up the concrete sound on straight lines and turns. Paige rode him, and he was, well, classic Freddy for her (meaning, a bit of an ignorant pig). He did actually throw two bucks for her, but then stopped when he realized she wouldn't stand for it.
So he sounds perfectly fine, right? Wrong. The dilemma is this: he's lame on his left front (not the foot with the bone spur) on the lunge line only on the clockwise direction. This is so strange; we don't know if this is him actually unsound, or if he just does this as a quirk (we don't generally lunge him because he attacks the person in the middle).
Has anybody else seen this type of behaviour? A vet at Tammy's barn mentioned that a horse usually wouldn't buck if it's something in the front end. But, we're talking about Freddy the Valid Diablo here.
My advice? Call Moore & Co. or Burwash. Personally were it me I would have a full work up done on the horse, including X-rays to look for bony changes.
I'm assuming the horse is on Legend and Adequan? If not he really should be and now that you are having what sounds like some joint issues, you may have to double up on the Adequan (ie every 2 weeks, versus every 4).

Did you get a vet out when you first noticed swelling and discomfort in the joint?

Good luck!