Horse shopping sucks.
---
It might be more fun if we had a larger budget, but you gotta work with what you've got. Anyway, in our budget we know that we will not get the horse of our dreams so we have made compromises and now know what we're after. We found the perfect horse that met our criteria albeit a little over budget but with some effort we figured out a way to make it work. Excellent temperament, very workman like, good size, not highly trained but had correct training, and nice movement. Then along came the vet check.
Horse was slightly lame and had a few big red flags that indicated some potential serious problems as training went up the levels. Needless to say we passed that one up. Seller was as surprised as we were and not very happy to say the least (nor did she agree with the findings). It was a bummer all around.
Now we're back to looking and I am continually surprised at the videos some sellers post. From really bad riders to some really bad moving horses. Or horses that break their stride or show lameness or throw their heads way up, etc.. One video had the rider so unbalanced that she was up on the neck of the horse in a downward transition - twice! Really? Can't you get any better quality video? I'm sure that this is because of the budget we're in but still - I often wonder if some sellers don't even look at their videos before posting.
We have the word out with a few trainers in the area and have told them what we're looking for. All of them have reassured us that is doable and we will find a horse in our criteria. I guess we'll have to kiss a lot of toads first...
It definitely can be tough work and a lot of time.. but all of that effort and searching will pay off eventually :) Keep posted on how goes the hunt.
---
We are not human beings having a spiritual experience. We are spiritual beings having a human experience. -Pierre Teilhard de Chardin
Showing
Join Date: Jun 2011
Location: Cariboo, British Columbia
Posts: 11,770
• Horses:
3
My daughter had a fairly large budget to find a horse, she looked & tried many horses all over the province and made inquiries in the states and other provinces. Took her almost a year to something suitable that would pass a vet exam. She now says she hates horse shopping with a passion, strange huh?
---
I am not here to promote anythingNo, that's not true, I am here to promote everything equestrian and everyone enjoying horses!
I know exactly what you mean. I've looked at some downright scarry videos. Not to mention the false ads. One horse was listed at 15'2, but when I called the owner, it turns out the horse is only 14'3. Prospective horses are shrinking with each inquiry.

Fortunately, I've found one that fits me well and she passed her PPE.

Perhaps we should start a thread about the most common lies in horse ads?
Horse shopping and horse selling both can be very stressful, and no fun. There are lots of dishonest people out there, or ones that are downright ignorant.

That's a really unfortunate situation, newhorsemom. If you don't mind me asking, what are you looking for? And what are you planning to do? I hope everything works out for you. (:

I will start horse shopping again next year (when I have a budget again, and when I am all healed. Ugh) and I can tell you... I'm not looking forward to it x.x
---
The sensitivity of the internet baffles me.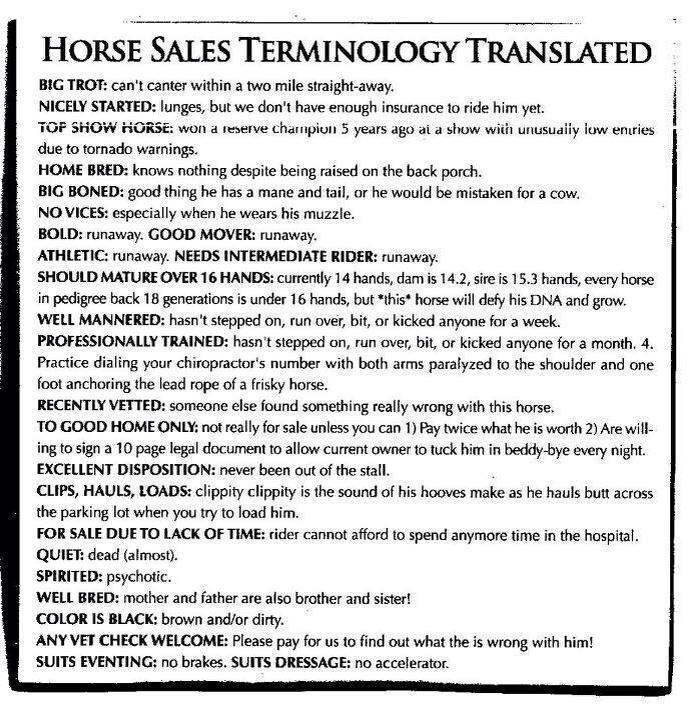 Hope your shopping goes well.
---
Mods, grant me the serenity to see the opinions I cannot change, courage to change the ones that should change, and the wisdom to spot the trolls.
Yes buying horses is tough! Eventually you will be able to develop your eye and completely avoid bad horses and bad vet checks. As well, it is important to use caution when asking people to help you look for a horse. Many are in it for their buddy with a horse and not to find you a good horse!
And yes, sale videos sellers do are appalling lol. My favorites are the 15 minute long ones that show a longside of walk and a half circle of canter and the other 14 minutes and 40 seconds is trotting the horse around hahahaha.

But, keep looking. Your horse is out there and the longer it takes, the more money you can save!
Posted via Mobile Device
I hear ya! I'm shopping for a client of mine and it is NOT EASY! We have spent several weekends traveling and the one suitable one we found and fell in love with didn't pass the vet either. (And Anabel, he had blemish free legs with textbook conformation, fairly young, perfectly sound when we rode him. But that's why we xray the heck out of them!) Don't worry about upsetting the seller OP. She thought she had sold her horse and now she's stuck with a horse she knows won't vet. It's a bummer to be on that end too. Have you expanded your geographic range? I have no idea what your budget is but I actually found an absolutely awesome horse for a kid that was halfway across the country. Yes, it was $1000 to ship the horse here but it was literally half their budget and nicer then anything I was able to find in my area for a fraction of the cost. Horse are generally a little cheaper in my section of the country but it just happened to be what was on the market at the time. The good news is horses are always coming up for sale. It's just a matter of time!


If you don't me asking, what are you looking for?
We are looking for a dressage horse for my daughter. Our current horse has reached her maximum so we are hoping to find one that can possibly go 3rd or 4th level eventually. We aren't necessarily looking for anything trained that high but are looking for a horse that has the ability to be trained to that level. Not sure if we'll get that far but when we buy we want it to be an option. We have a long list of what we're looking for but in a nutshell want a quiet horse with a great temperament, balance and work ethic. One of the things that my daughter liked about the horse we passed up was that when she got on to ride the horse was ready to get down to business and work!
I looked at one video a few days ago and the horse was very clearly lame! Ugh. We will just keep on looking - there will be one out there for us!
Thank you for all of the well wishes!!
Found a few prospects (without knowing your budget):\
Hahdo (possibly not yet under saddle, probably not ridden in a while but if price is right you could send her to a trainer for starting/tune-up then your daughter could ride her - this assumes daughter is good rider).
Registered 16.2 hand chestnut mare by the classic Trakehner stallion Hadrian is ready to ride or breed. This mare is a favorite of all who meet her. She has a puppy dog personality that makes you want to bring her in the house. She has produced two gorgeous colts, one of which was purchased as a stallion prospect. 8 years old. Pictures and more details available upon request. Sacrifice to good home only. Call Chris at (360) 455-5197
Here is another sounds promising (No video on either horse so I have no idea how they can move): (6 yo Tb for $1500)
Fancy TB Broodmare Prospect
Another site (scroll down for Mystery and Elaina - no idea of price but Mystery is probably lowest on this site since they say for a buyer on a budget) Look for horses under 16 Hands (Elaina, Keoni) to get a "better" price. Mares tend to be less expensive since many riders prefer geldings (I prefer mares myself).
Horses For Sale - Equi-librium Equestrian
Uncertain of how good of a rider your daughter is but bet you could get this mare for 5K, possibly less since she's only training first level and is 12 years old. BUT if her video shows she move uphill I would take the chance.
http://warmblood-sales.com/HorseDeta...3&UserID=13601
---
Dressage is for Trainers!
---
Last edited by Valentina; 01-23-2014 at

11:09 AM

.
Similar Threads
Thread
Thread Starter
Forum
Replies
Last Post
horse shopping

seabreeze

Horse Breeds

14

09-15-2012

08:13 PM

Horse Shopping!

Katze

Horse Breeds

23

07-08-2011

10:50 AM

Horse Shopping Help?

Gingerrrrr

Horse Talk

2

01-16-2009

09:17 PM