ideas for when riding alone
---
Hello Forum!
I've been a member for while, but havent really posted because i just take lessons (for a year), but recently i've come into a 1 year lease. I train under a dressage coach (hence the dressage section) and i'm just looking for some ideas ofwhat YOU do when you ride alone? I know it depends on the horse, the training, the rider... etc... but are there things anyone/any horse can do? Should i just focus on lots of bending/transitions? Any excersises anyone can recommend?? Basically... who wants to give me some structure?? haha It's very different riding in a lesson and being alone at the barn and trying to fill an hour with beneficial riding
Thanks!!
(incase this matters - things i've worked on in lessons: creating impulsion, some leg yields, shoulders/haunches in/out (kinda.. haha), lengthening the trot, stretchy circles)
Are you continuing lessons? If so I would take what your instructor teaches you in your lesson and practice it during the week so that you can make faster progress :) Also, just do some "fun stuff" with your horse! (Trail rides? Games in the arena? Groundwork, grooming, etc!) Congrats on the lease
It's good to have a goal in mind every time you get on the horse, like "I'm going to work on feeling my diagonals without looking" or "we're going to work on keeping a consistent tempo" or even "today I'm just going to relax and have fun".
If you're still taking lessons, you can talk to your instructor about what you need to improve on and then focus on that through out the week.

I like to do lots of circle work when I'm riding by myself. It keeps both me and the horse from getting bored. You can spiral your circle in and out, getting smaller each time then larger. You can do a loop-de-loop along the rail where you do a circle go back to the rail for 10 strides, do another circle and repeat all the way around the arena. You can also do lots of serpentines and figure-eights. Just talk with your instructor and I'm sure she can recommend exercises for you to do on your own.

Congrats on the new lease! I'm sure you two will have lots of fun :)
I don't take lessons and I don't ever intend to show or anything so when I ride it is for pure enjoyment. But! I agree, when you are alone in an arena...what to do? I take my girl through the barrels or poles. I practice backing. sometimes we just hang out. I sure can't wait to see more pics.
---
If wishes were horses, then beggars would ride.
Thanks for the good ideas! The "loop de loop" circle idea sounds good.. and changinf the size of the circle too, i have LOTS of trouble with that.
I am still taking lessons, so i'll be working with my coach, it seems like the arena gets bigger and i'm much more distracted without her tho.. Half-way through one thing, i start doing something else.. haha
And for fun, here's Gus!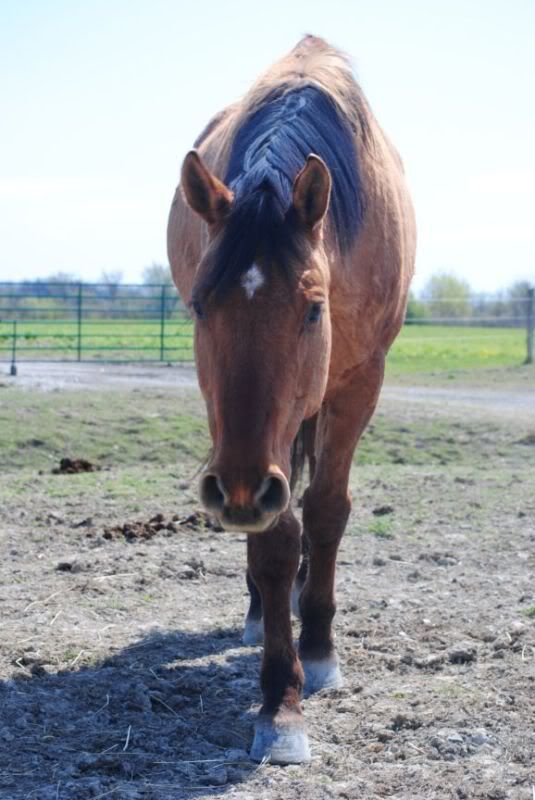 I recently bought this book and it offers an easy reference to get the creative juices flowing.

You can do the movements and drills as they are on the page or mix/match/change it up using them as a base.

http://www.amazon.com/101-Dressage-Exercises-Horse-Rider/dp/1580175953
Have you read/heard about the Jane Savoie book of almost the same title?
Okay, that is one of the cutest faces ever. I just want to kiss that nose.
---
If wishes were horses, then beggars would ride.
Mildot, yep, i think that was the one.

Andrea Sctlnd - He is the best!! such a good horse, nothing ruffles his feathers!