Maniac OTTB?? My boy's journal ;)
---
So maybe he's not a maniac... or even close to. But he IS ott... well... so I'm told :P
Thought I'd pop a journal together in here for my new 'toy', Hugo.
He's an 8 year old ottb gelding, approx 16.1hh. Finished racing Oct 09 and has lived in a paddock since.
Sale photos :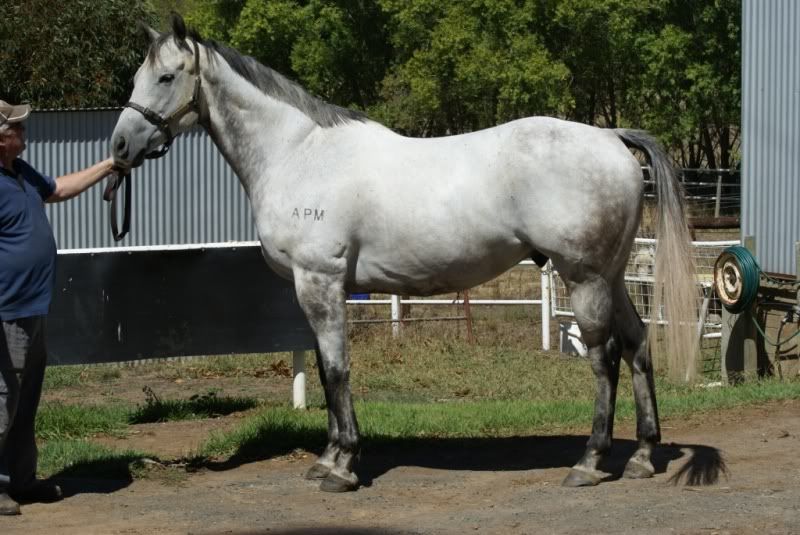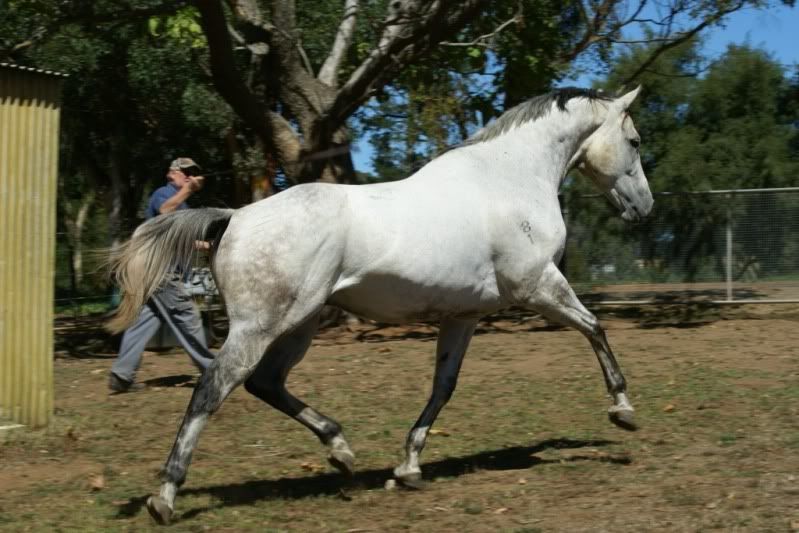 I brought him home on Monday morning and have made huge progress in a very short space of time!
He is painfully quiet and willing! I was expecting to bring home a ratbag ottb that jumps all over you and spooks at the 'monsters' in the bushes.
Well Hugo has blown my mind with his temperament. I lunged him on Tuesday night in the roundyard, and within 5 minutes he was going halt-walk-trot-walk-halt and halt-trot-halt just from voice aids. Not a hint of your typical ottb flat out gallop and buck episode on the lunge, he just trotted calmly and if he got a bit quick I'd say 'woah' and he's steady.
Got on him on Wednesday night after a brief lunge, put my leg on and he didn't move, so said 'walk on' with a light kick and off her went, a nice serene walk around the round yard. Even got one or two steps of turn on the forehand on both reins.
So decided to take him to my coaches yesterday to have a play. Got him off the float about 3 hours before my lesson to let him settle in. Well he walked calmly off, walked around next to me, into the roundyard, had a drink and a roll then laid in the shade and went to sleep with about 10 other horses walking past him.
Lunged him and again, nothing at all to suggest he was going to do anything. Put him under a bit of pressure by 'choofing' him up a bit in trot, put a side rein on the outside etc. and nothing bothered him he just kept his rhythm and that was that. Asked for canter and understandably he was quite unbalanced, but didn't race off or buck at all, just tried his best to work out where to put his legs.
I hopped on him in the roundyard with my coach in the middle, she's thinking he won't go forward off my leg. Well I had him trotting in a quiet rhythm along the rail, starting to play with getting a little flexion and in the end managed to get a few strides at a time where he was starting to come onto the bit. And those moments felt SPECTACULAR! It was like a lightbulb moment, his hind legs came under, back started to swing and his jaw softened. LOVELY!
Here's a few photo's of the ride, just remembering this is this horses first official ride since he finished racing, and I have had maybe 10 rides in the last 12 months. I've got him in a cruddy wintec GP at the moment in short stirrups as that's all that fits him, and I find it near impossible to ride long in a GP!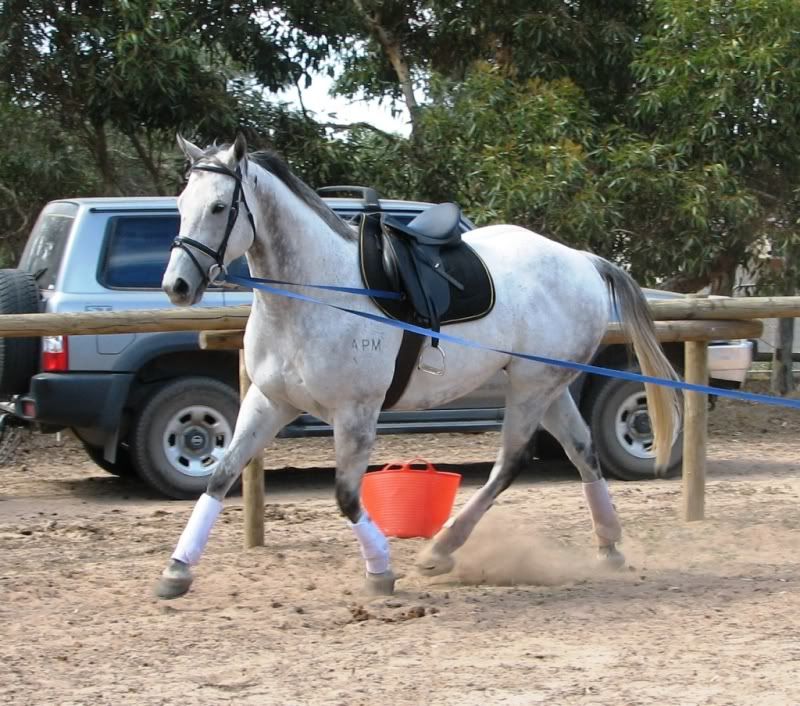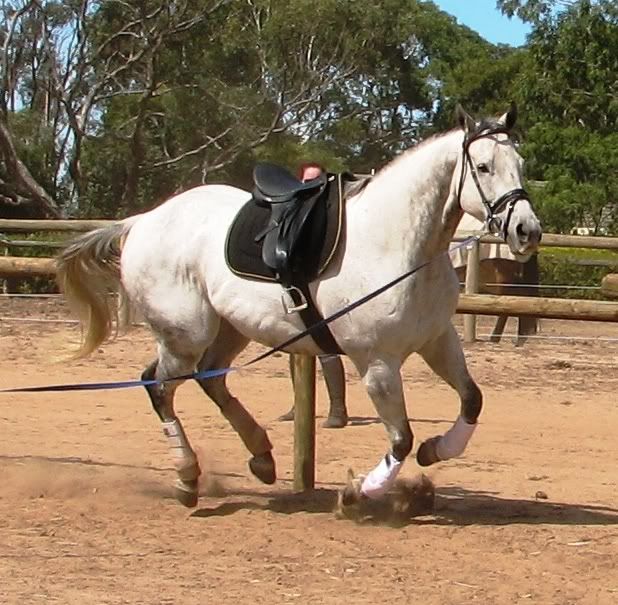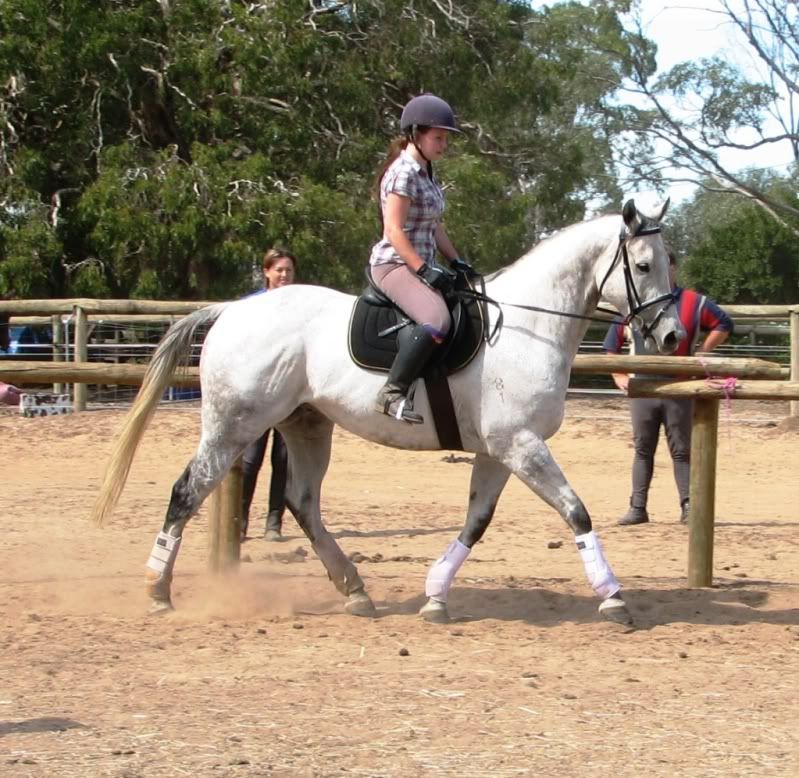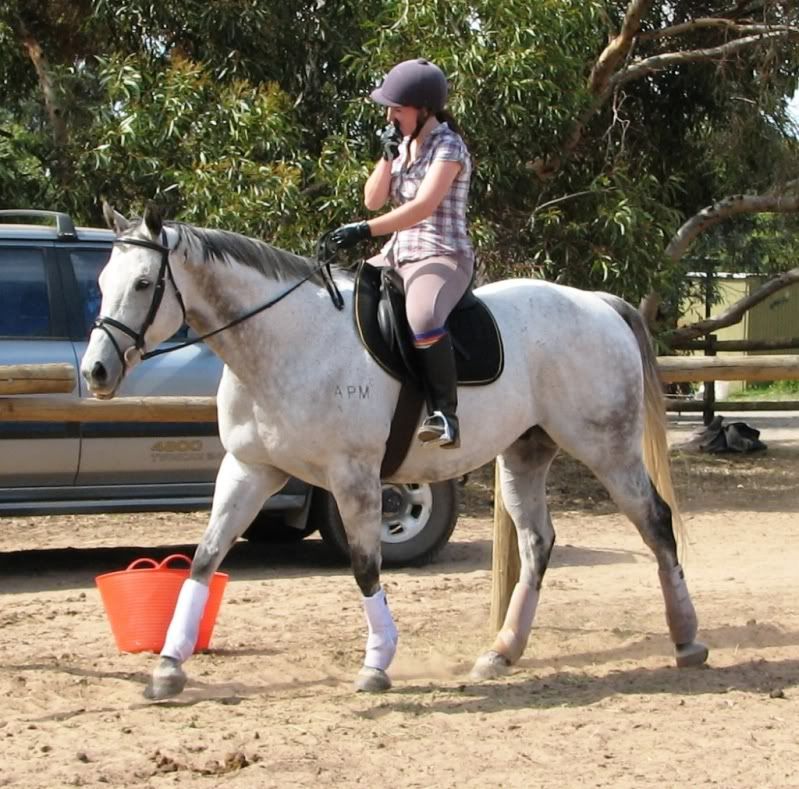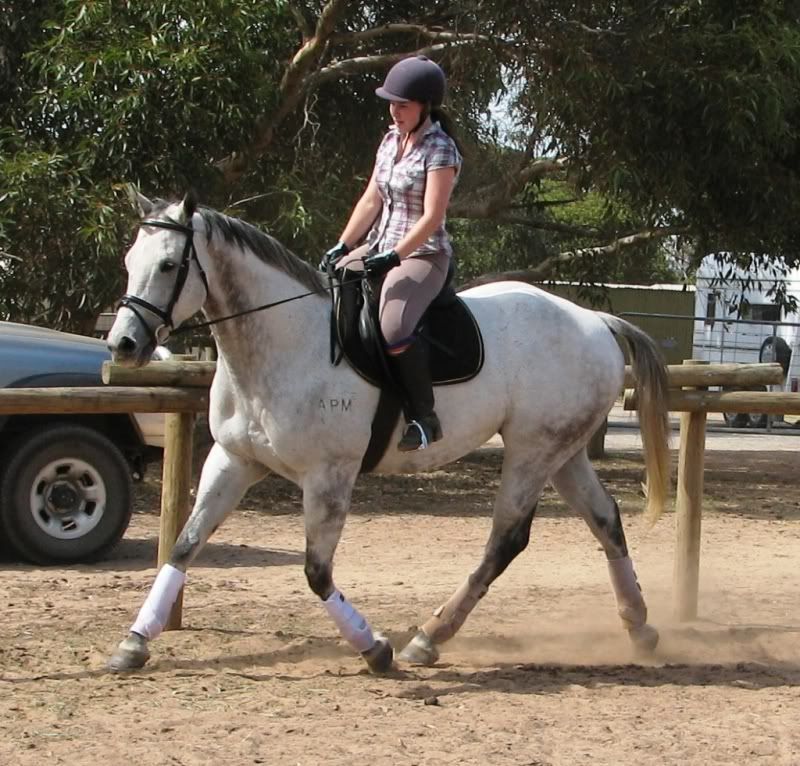 My maniac ottb in the arena for the first time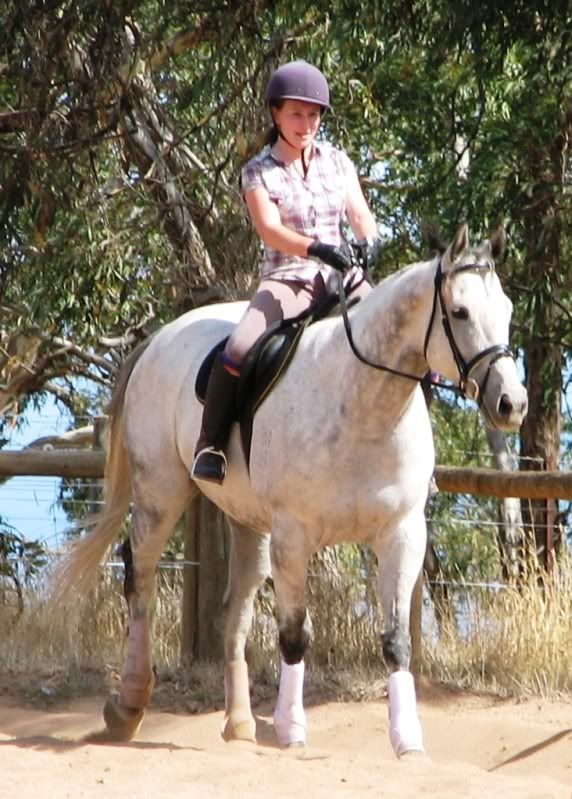 As you can see, my boy is slightly comatose!
Took him out again this morning to use my coach's arena. Was up there with my farrier and again, Hugo behaved impeccably. Lunged for only about 5 minutes each rein (changed rein every minute or so!) then hopped on in the dressage arena. Walked around the outside with no hesitation at all. Halted and walked on from voice and leg without a care in the world. He can even do straight lines across the diagonal :O
Trotted him around, again stayed on a straight line, so tested him a bit and rode him on the 2nd track, and again, straight line, stayed between my hand and leg and didn't give two hoots about what was going out outside the arena.
I had him doing 3 loop serpentines, changes of rein across the arena and a few steps of leg yield each direction and he took it all in his stride, all the while really starting to swing and come onto the bit.
This horse amazes me, His temperament is second to none and just so trainable!! Certainly the first horse I've had that I've actually been truly excited about :)
Will keep you posted
Beautiful boy! he's got like $83,000 prize money under his belt too niceee. Sorry I may have looked his brands up on the stud book, I'm a sticky beak! Haha

Spun me out, coz I have an OTTB named Hugo too, but he is a 17 year old Bay gelding, and believe me when I say he really is a maniac OTTB haha. Love him to bits though
---
Flirt-Hugo-Phoenix-Romance-Fanta-Nippa-Shiloh

Trojan 09.11.02 - 26.10.10 // Kody 01.09.89-25.06.12 // Rex 05.11.95-21.12.12

You two look so great together!! The first pic of you on him, he looks so gorgeous!! I'm getting an OTTB pretty shortly, so I hope my luck is as great as yours turned out to be!!
Love this boy, great looks and a great mind to go with it. Like the above poster I to am looking at getting an OTTB later this year. Hope I don't come home with a maniac either ;) I'll be following and cannot wait to watch your progress.
---
~Horses aren't a hobby, they are a lifestyle.
Website
His feet look better. Would like to see that right front one balanced a bit better still.

Just don't get too comfortable with him. I call this the 'honeymoon period' and most horses go through it AND THEN you start to begin to know what you have.

I think you got yourself a heck of a deal. This is an above average individual, and as I said in the earlier thread, there just isn't much to not like about him.
Wow he is beautiful.

For once I agree with Mercedes, this could just be the honeymoon period, I went through it with my TB, he was an angel during the 30 day trial I had on him, it was after that that he became a disaster. I really hope that your guy stays the same!
---
RH Queen O Anywhere "Sydney"
2009 Sugarbush draft
Weanling
Join Date: Jul 2009
Location: The great, white expanse of Maine...ugh!
Posts: 400
• Horses:
3
He's lovely! And huge (orrrr you're tiny haha!), and look at that movement! I'm in love :)
---
And now, the men of the Second Armored Division with their famous close-order swanning about.
Forgot to say...you lift your right shoulder and drop your left ear when you ride...you probably do it when you walk as well. You'll want to address that as you get back to regular riding. The other stuff I believe will be resolved when you're in a saddle that fits you.
ooh wow he's a looker, congrats! nicely built too - i'm too used to the american OTTBs that come off all super lean and tucked up blech.

are those brands on his shoulders??? looks interesting.