My poor out of shape pony :(
---
Intrested in what you guys think of Oliver, had three weeks off while I was away exploring Europe, he stayed out of trouble and had been a true gem ever since I got home. Now three rides back to work, tomorrow will be the 4th :)
Today we really worked on him sitting and getting back off the forehand and using his hind end as his engine! Got some amazing walk and trot work....I have a feeling I was working to hard but it was only he's third ride back and has been lazy all three rides... He still did a great job and came through as always.
So what do you guys think?
Any tips on getting him back into shape a bit faster? If that's possiable. I'm thinking of some trail work, hills and such, ground poles and trantsion work.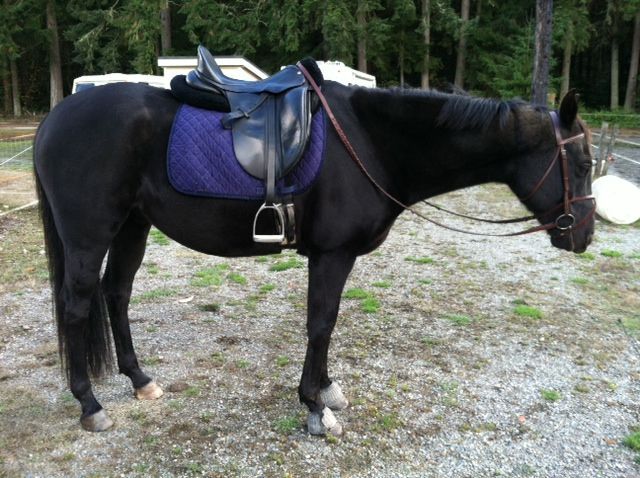 What are you getting him fit for?
Posted via Mobile Device
I'm not getting him, he's mine. He's my jumper and dressage horse. He's had a month from my vacation...
She asked what you are getting him fit for, not if you are getting him.. Like what your goals are with him.
Back into jumping and training level dressage work. Never mind.
Lots of half-halting and transitions between gaits to encourage HQ muscles. Work him hard for a few days, then schedule some play days in between them to keep him fresh. Do you have an Equi-Spirit ball? You could let him play with that, too.
I like the hill work. I would also lunge him over poles and cavaletti. If you have a friend you could also trail ride and do a little bit of "racing", just an 1/8 of a mile, and just for fun, again, to keep him fresh.
I am doing that now and feel like I'm working to hard, with my legs lol
With this picture what part/s of his body do you see me needing to focus on more then others and with that what exercises can I do to help build that up.
I have trails to do hill work, once a wee sound good? (depending on how wet it gets outside) I dont want to be sliding down hills!

For pole work, would working him on a large 20meter with a few ground poles help? If so how, many feet apart do I need to be placing them?

He's feeling stronger in the canter, trying to bet his stamina up to get that hind end stronger!

Sorry if I seemed off or pissy yesterday. Wast the best of days for me and I apologize for that!
I hope to get some video soon and get more help based on that!
Thanks!