My possible new 'play thing'
---
I wasn't actually intending to buy something, just lease and work other people's horses until my youngster is ready for breaking. I've been all over the place in the last few weeks with horses to ride, and have had lease offers coming out of my ears since I asked around with some friends to spread the word.
I have been eyeing off this lovely little warmblood for a while, he's been for sale for a few months, he's only 15.2hh, trained to elementary, won his young horse championship test as a 4 year old on 75% but hasn't been out since other than to clinics. He has fully imported blood lines, by Riverdance (imp) (Rubenstein) out of a Graf Landau x Gold Song mare (Gold Song is the dam of a very influential show jumping stallion in Australia that just passed away, but has multitudes of highly successful offspring).
So when they dropped his price recently, to a gobsmackingly low price (as in, absolutely ridiculous and you think something is wrong with the horse kind of price). Turns out the owner just needs to downsize due to medical reasons, and has asked this lady to sell him for 'whatever'.
I'd love to know what the forum members - preferably those who know something about dressage, hence dressage subforum - think of him.
I rode him yesterday and will be going back this afternoon to confirm purchase after a 2nd ride if I'm still happy. He has passed a vet check, sound as a bell, never had an injury in his life.
Under saddle, he has got the most AMAZING back. I've never felt anything like it, for a horse that has been out of work for some time, it was like sitting on a pillow, how a back should be. There's some good training in him, he gets a little muddled in the travers still but all other elementary work is established. He has an incredibly balanced canter with a hind leg that comes right under him and a trot with a huge amount of suspension and animation in the knees and hocks. With of course, a back that just swings along. With my short little legs and having been pretty well out of the saddle for the last 12 months, my sit trot currently leaves a lot to be desired. But I could sit on him with no dramas, even in a medium trot.
The goal is to work him for 12-18 months, get him out competing, establish travers, and get his changes going. Then sell him off once Billy is ready to come out and compete.
Anyway, photos for you :)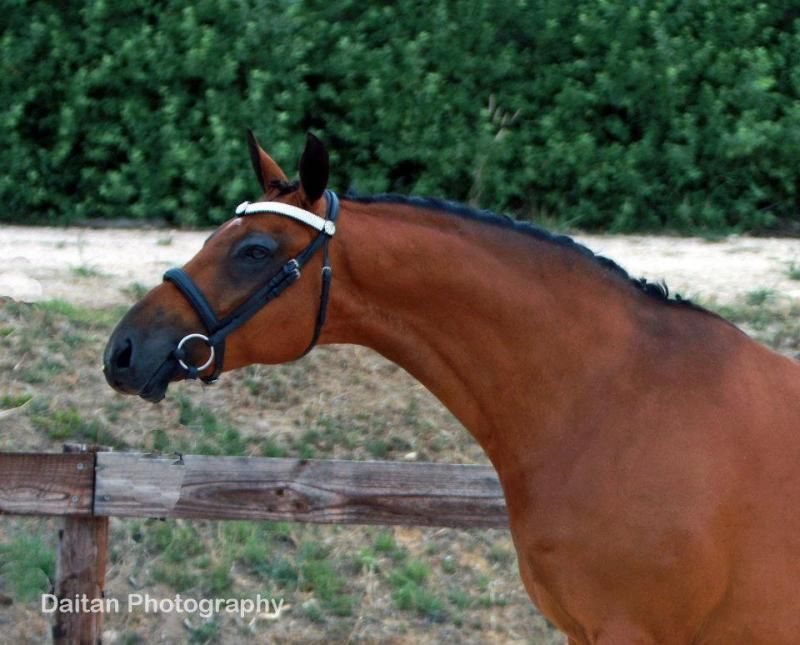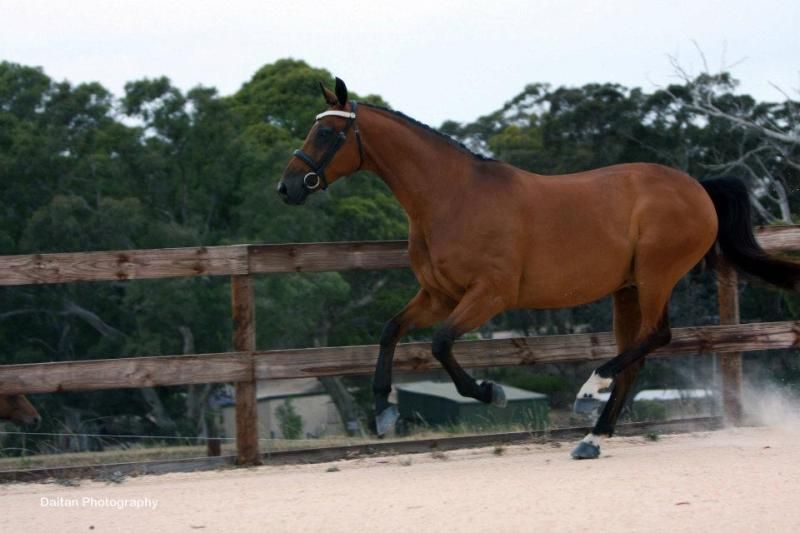 What do you think? For the money I really don't think I can go wrong, he's got two flaws - a bit of a spook in him when he's been out of work, for about a week he'll spook at his own shadow (though didn't get a single one yesterday when I rode), and two, he isn't so keen on being on his own. But both of those are manageable and don't worry me in the slightest.
That sounds like the perfect thing to me!! He's quite lovely and sounds like he's a great fit for you.
Posted via Mobile Device
holy trot suspension!! props for being able to sit his trot, he looks gorgeous!
---
My mare= My life <3
And a video for anyone interested in seeing him move

He looks perfect!!! I love all the suspension in his trot. What a gorgeous horse.
---
"The hand should be a filter, not a plug or an open faucet."
N.Oliveira
One word.....


****!!


LOL, in that first picture, he seriously looks like one of those little plastic model horses. He really does have a spectacular look to him.
---
Always remember that feeling of looking at a big, open country over the ears of a good horse, seeing a new trail unwind ahead of you, and that ever-spectacular view from the top of the ridge!!! Follow my training blog:
http://robertsontraining.blogspot.com/
Looks like an opportunity of a lifetime-hope you can seal the deal & have fun w/this lovely horse.
He is a good buy and re-sell prospect, but I can see why they are having trouble selling him in the first place... I won't say what I want to, but I would not want to have him around long term and would not expect a huge selling price a year from now either...

Good luck if you do decide to purchase and PM me :P
---
They say money doesn't buy happiness -- well happiness doesn't buy horses!
I think he has alot of potential! Nice trot, with a hell extension, registered, nice bloodlines etc..And if the price is right..SNAP HIM UP!
---
Cross Country- The act of hurling yourself and your equine partner at a stationary object with poise and grace while attempting to survive...

Thanks Anebel, have just PM'd you :)