Not Flexing at the Poll and Hollow :(... Ideas?
---
Today I rode Thumper in a dressage show, and some of the comments were "strung out" "stiff through ribs and poll" and "stiff through neck". I already knew that before I saw the test, but I really want to improve my test scores and just be able to ride him without him hollowing out and not flexing at the poll. He's not the most comfortable ride right now
. Here's some pictures of him when he's not hollowing out...
When he's all hollowed out...
On a more pleasant note, here's our pretty much square halt :)!
Anyway, does anyone have suggestions for flatwork exercises that I could do with him? I'm hopefully leasing him in a month or two so I would/will have tons of time to work with him
. I know that some of the problems are with me and my positioning, but I know what I'm doing wrong and have been working on my faults. I've been doing lots of work on a long rein, but the catch is that Thumper then wants to KEEP the long rein and gets upset when you pick the contact back up. I really want to work on this because when he hollows out like that he isn't relaxed, he isn't building up the correct muscles or developing a topline, and it's just not fun to ride- for either of us-, so any suggestions or ideas of exercises would be great! Thanks in advance
.
Relax your back and seat, a tense back/seat makes a tense horse= hollow back, stiff poll. What I would do is ride him in 20 meter circles w/t/c. Hold the outside rein contact and lift your inside rein up and out a bit (about a 6 inches higher than you usually would, although every horse is different so play around with how high). Make sure not to let go of the outside rein when you do this. Every once in a while, counter bend him on the circle. Then try going down the longside after he has been flexing nicely and you have good contact, it should be better. Also try to move your hands with him, especially at the walk. You are also trying to get him to reach forward and downward so he accepts the bit, so think of allowing him to go through your seat, don't block him with your seat. Try and think of getting his ears as far away from you as possible, you can do this by holding your reins lower and out a bit and 'jiggling' on the reins so to speak, even during the circle exercise.
---
Last edited by roro; 08-30-2009 at

08:11 PM

.
Thanks SO much! I'm probably riding tomorrow, so I'll try that with him. I'm debating whether or not to just walk and trot this, or to walk/trot/canter, because I'm still working on getting a balanced, rhythmic canter out of him :). Would it be a good idea to do lots of transitions, or should I just keep a trot, or walk, or canter or whatever? (or does it just depend on the horse)
I wouldn't canter for the first try, especially if it isn't ready yet. When I do that exercise I usually stay in that frame and don't do a lot of transitions, for good transitions you must have them on the bit and round. So if you feel that he is round, make a transition or two (try only only your seat, don't pull on the reins to do a down transition). The more balanced they become the better their transitions are. For example, if you have a hollow frame at the walk the horse will become even more hollow at the trot because your balance changes.
When he is hollow, it is because your hand is rigid and pulling. He is not coming round in the other pictures because his hindlegs are not engaged and your driving aids are not even encouraging them to do so.
The first thing you need to fix is your leg and hand. Shorten your stirrups a hole and bring your leg back, keeping in contact with his sides with the fronts of your calves. Then you need to bring your elbows to your hips and hold them there while softly keeping your hands infront of the saddle, you can even rest them on ither side of the withers. Keep a soft communication using only your fingers with his mouth and make sure your hands are closed on the reins. Also keep the reins a correct length. You should be able to feel his mouth every single stride he takes. Another thing that is going to help your hands become softer is by changing your hand position so that your hands are closed and your thumbs are ontop and pointing forward. Here is a good example of good hand/arm position: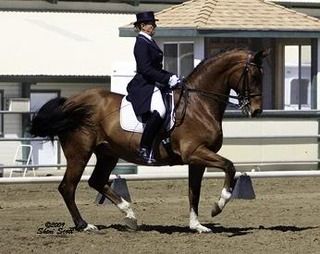 Once you have your position fixed and are effectively using your leg (by keeping it back and in contact with the horse) and are keeping a soft contact the horse should begin to relax into a better position.
Other things you need to keep in mind are keeping a very steady rhythm and doing lots of transitions.
Good luck!
Thanks! What do you guys think about doing some three-loop serpentines? Just at the walk and trot to encourage him to bend...
Look at your hand position in the two good pics and compare it to the ones in the two hollow pics. See how the straight line from elbow to bit is severely broken in the bottom two? Without that straight line, there's no soft contact for him to reach into and it's impossible for him to come through his back to the bit. I would fix the hand position first and then work on suppling exercises.

Flexion at the halt. Just bring his head around using an indirect rein enough to where you can see his inside eye. Switch sides a few times until he's softening to the contact consistently.

Shallow serpentines at the walk. Same concept as above only moving and using your inside leg and moving your inside seat bone forward.

Ride squares. Both at the walk and trot, straight line, half halt, clear aids to execute turn, straight again until next corner, repeat. This exercise really exaggerates the inside leg to outside rein effect you're going for.

Once you get him more supple, those reins could stand to be quite a bit shorter. Right now, there's no contact for him to reach into even in the good pics. Get your hands out in front of the pommel, a good 5 inches or so. With your elbows fully extended forming an actual straight line to the bit, you should be able to feel his mouth a little. If he wants to get away from that tiny amount of contact, he can flex at the poll to soften it, and then you'll be in business.
So I rode him today, and he was much better :). It's always a challenge riding him because he is a very, very, VERY smart horse (he also has a short attention span for one thing at a time) and unless you keep switching up what you're doing every time you sense that his attention is wandering (which is about every three minutes lol), he won't work with you. Our canter work sucked- he got really strong and unbalanced- transitions really need some work too, and the pictures didn't come out anyway. But I have some pictures of our walking and trotting, and it looks (and felt) much better than usual.
I look really awkward here but Thumper looks nice :)
He only got hollow and tense closer to the end when I was running out of ideas of different things to do and I think his internal work timer had gone off lol. I tried everything everyone said (except MyBoyPuck's ideas- I rode before I saw that and will try it when I ride next), and I think it helped. The "ears as far away as possible" helped me a lot :). One more thing I just thought of- Thumper doesn't really push from behind, he just "pulls" from his front end. Does anyone have any ideas for that? Someone at my barn suggested halt/trot transitions, but I'm not sure that we could manage those without getting rushed.
Hill work can really help a horse learn to push from behind rather than pull themselves along.
if he leans on the bit then you have to gently bump up with your hands. Looking at the pictures I see definite improvement!