thanks ! shes my favorite horse outside of the ones i own...i free leased her for 2 yrs
---
Gypsy & Scout <3
Everybody is a genius. But if you judge a fish by its ability to climb a tree it will live its whole life believing that it is stupid. ~Albert Einstein
All of your horses are lovely!
This is my boy Sary, oldish pics..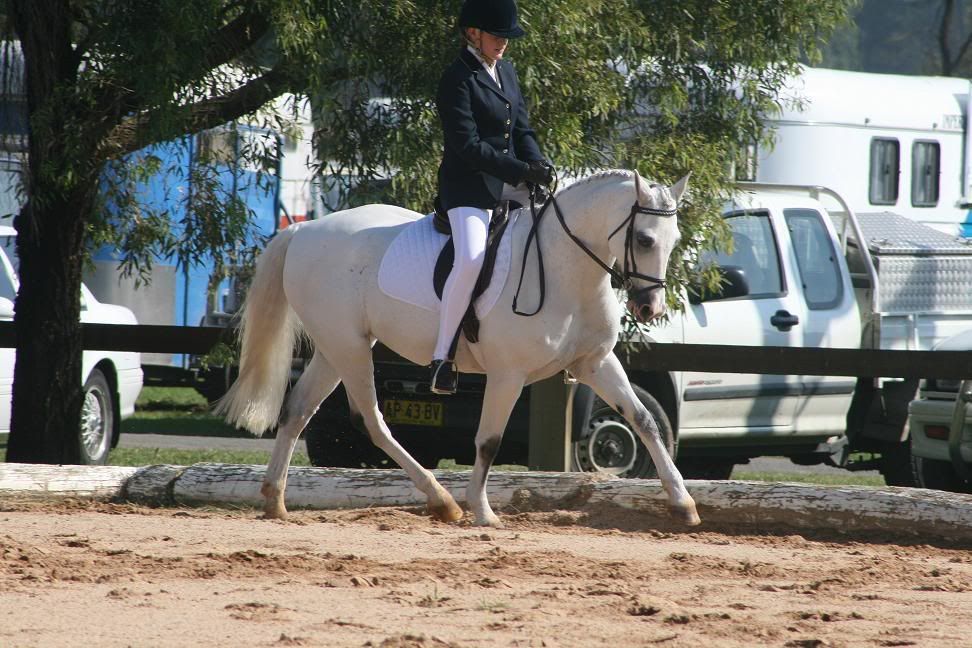 pony club ODE dressage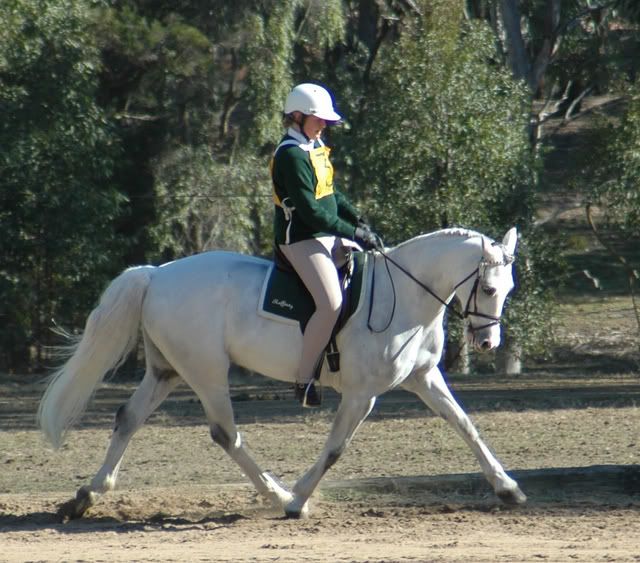 Interschool Dressage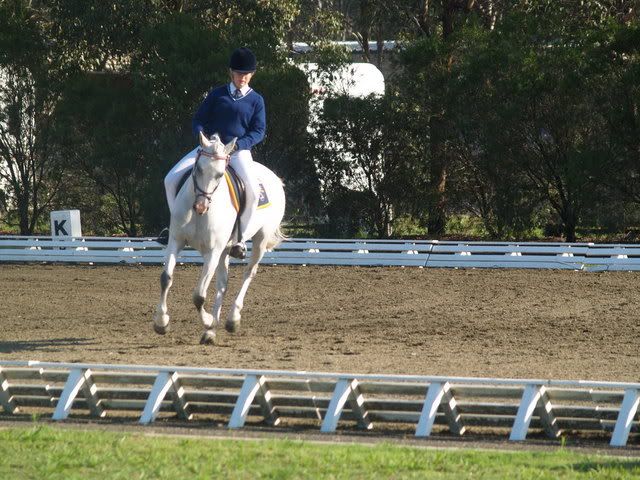 ---
Last edited by showpony@heart; 11-07-2009 at

03:11 AM

.
I haven't yet been out to compete yet, but here's a couple of me schooling before I shattered my leg in March...
My gelding Evo, who had been professionally schooled - this ride was my first session on him after the training :)
My mare Honey (who was only just learning how to come off the leg etc and consistency in her gaits etc)
I have a long way to go, but enjoy Dressage, so thought I'd share.
---
♥ Seoul Searchin' for the Lovebug ♥
---
Challenge
me,
dare
me, or even
defy
me. But do
not underestimate
me.
For on the back of my horse
anything is possible
.
Quote:
Originally Posted by
eventerwannabe
View Post
JustDressageIt:
H-O-L-Y - C-R-A-P... o.o
Denny is SO CUTE! He looks awesome for being off the track for a year. I mean, look at him undersaddle! And he is not conformaitonally challanged, my new guy sure is. He is still my best friend though and I love him just as much.
Attachment 14183
Attachment 14184
Attachment 14185
Attachment 14186
Attachment 14187
Attachment 14188
Sorry, I went a bit overload. :roll: Atleast I added a pictures of us doing dressage. If there are any problems with my pictures, please, feel free to ask me to take them down. (:
Disclaimer!!!
I have only had Bear for a mouth and a day. I got him as being skinny and having no muscle tone. He has already gained 100 lbs. in muscle and weight. Please no rude comments on his condition. Im not riding him until he has gotten more muscle and weight (explaining the side reins). (:
My mare looked just like that a year ago! Cause of an injury she was 6 months off work and she filled out. Now, she is quarterhorseish looking (shes an appendix QH) and she bends VERY nicely!
---
If you love something, set it free
If it comes back it's yours
If it doesn't, it never was
Proud Mama
---
This is my DWB baby Oliver (Jabari) at his first show. He is just a week past his 4th Birthday here. He was a pro. He got Potomac a week later and we missed most of the rest of the summer. The second photo is after he recovered and had only been back to work a month. You can tell he doesn't have the strength he had before in the 2nd photo, but he is gaining it back gradually. He still scored every well even weak!
I tend to brag about him as his mother rejected him at birth and I hand fed him every 2 hours from the day he was born until he finally was on real grain. He grew up on goats milk. At birth he was 97lbs, on his first b-day 16hh and 2nd birthday 17hh. Didn't stunt him a bit
BTW: No comments on how he grew to fast - I actually kept him on the thin side his whole baby life to try to slow him down!!
The black mare is a Rheinlander mare some frind let me show over the summer.
Final photos are my kids. Miah at 2 years old riding Oliver (he is NOT photogenic) and my Kyra, my 6 year old, riding my friends TB.
ollie.jpg
ollie2.jpg
croppedgracie1small.jpg
miahollie.jpg
kyrareggie2.jpg
so that last picture is so cute! when we have kids they are going to be little riders too!
---
:: Karley ::
Tucker WB/TB- 11 yr
Speedy QH/TB- 22 yr
Great photo's everyone!
---
Horseriding- The art of keeping a horse between you and the ground.
We still have alot to learn but we have both learnt HEAPS together and are coming along well =D
2de this weekend just been (was soo good considering his last test we got a 2 because he reared in middle of test! haha)
schooling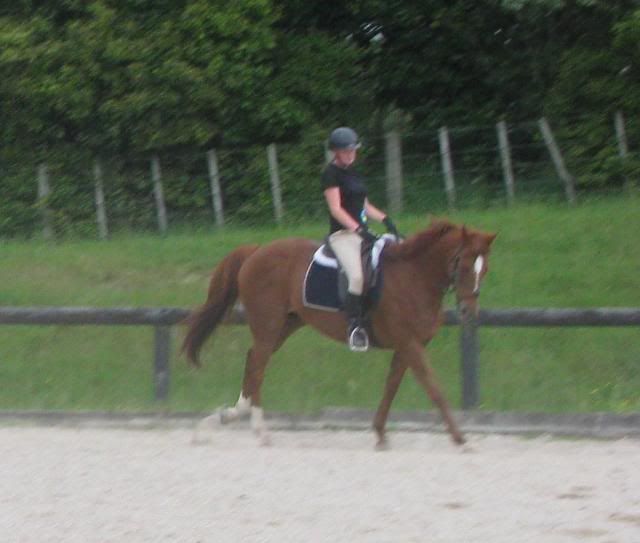 Halt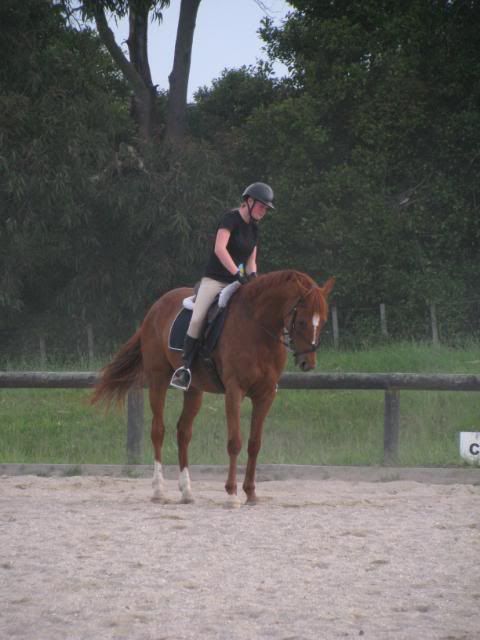 What it took to get halt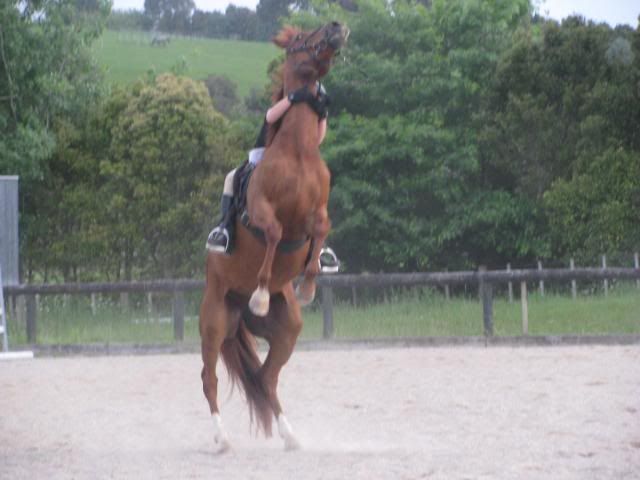 Dressage test we got a 2 in haha
---
R.I.P Red aka The Man Himself 1996-16.01.08
be prepared for the massive overload of pics- i also welcome critique- also i will mention things i notice in my pics so u know i know them etc.
extending/lengthening-piano hands and hunched
heels, hands, hunched
playing with piaffe
her first outting- at 4- i love this frame!
and more recently (not dressage- showing)
power collection- heels
another good collection shot
piano hands
shoulder-in
and lastly- the ultimate dressage pony- cranelli da vinci
sorry for the pic overload
---