Quote:
(The anticipation I mention is only an example, to me, of a thinking horse, not the absolute submission that, especially in youth competitions, is so admired. It's really not so hard to adjust the anticipation; but it's not so easy to get a horse eager and wanting to please, if he's dull.)
I honestly believe this view is a misunderstanding of personalities and interactions. Anticipation is not the same as an eagerness to please.
The most anticipatory horse I rode was a controllable runaway train. We had walk, and full throttle. There was eagerness to work, eagerness to move. The anticipation?
The barest signal was taken as the okay to leap into a run. The slightest bump of a leg or heel, the slightest weight tipped forward. The canter was a barely controlled hand gallop. The trot was a constant fight, a rocking carousel gait that meant each and every step was an attempt to leap into a run. I've ridden more than just a couple of horses like this. That is anticipation.
That is not exactly an eagerness to please your companion.
One horse I used to ride, he needed spurs to go faster than a walk. Every two steps was punctuated with a touch of the spurs to keep him at a consistent pace. He'd rather fight, stop or spook. Get that horse jumping though, and you had a full on charge work horse that would jump themselves. He even adjusted his own strides before a fence, in between fences, and changed leads as necessary after a fence. No rider input at all. You could jump him on a loose rein, he would carry himself over beautifully. I would never say he had any anticipation to work though.
Anticipation should never mean a horse thinks for himself; should never mean a horse moves without the input of his rider. It is a different, emotion, if you will and shouldn't be mistaken for something else.
---
Think of it not as a failure but as a success in how not to do it.

Don't look in a horses mouth for a gift.
I could be wrong, but don't a lot of the trainers like craig cameron (sorry I know i'm misspelling this), and other western trainers I've seen on RFDTV do exactly this, just not competitively but use it to improve a working horse?

The horse in the demo looks more natural moving than went you see in WP show pen, but certainly has a more "western" type movement even though he can perform more advance movements.
---
If your horse says no, you either asked the wrong question or asked the question wrong

And God took a handful of southerly wind, blew His breath over it and created the horse
That looks much better... This is what they have on their website.
That horse's mouth is constantly gaping. Even the guy in the video you posted is riding with a bit too tight a rein for my taste, considering he had the horse in a curb. But at least there the horse looks soft and isn't constantly opening his mouth to get away from the pressure.
Like I said, I think it can be a cool idea, as long as they mold it more to the western style of riding... But honestly photos like this don't really inspire much confidence.
Bear with me on the quoting; for some reason my school has blocked the "quote" button on horseforum so I'm making do.
Quote:
When people say to not let a horse "anticipate" while riding dressage, it's not about the horse not thinking. It's about the horse trying too hard to please the rider and anticipates the next movement, and usually will offer it too early. That's fine at home, but when you are riding a dressage test and need to have movements at very specific points, you don't want the horse to guess what you want three strides away.
Exactly. Not only this, but if your horse remembers a different test than the one you're riding, you're in for trouble.
Pam Grace has a western dressage saddle on the market. Looks different, I'll say!
Quote:
Pam Grace has a western dressage saddle on the market. Looks different, I'll say!
You mean this one?
It's definitely different that's for sure! Personally I like the looks of the one Lynn Palm designed with Harris a lot better.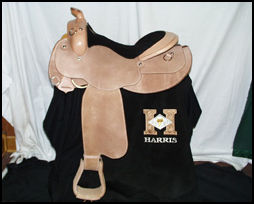 It doesn't have those bulky knee blocks. This is a work saddle obviously. They said they'll be making custom show ones, but I couldn't find any pictures. Looks like a reining saddle with the fenders set a little further back to me, but what do I know
---
Last edited by Ink; 06-04-2012 at

03:09 PM

. Reason: fixed a run on sentance.
I will just quote the paragraph that went with this photograph, as I cannot say it better.
"Love, love this Picture! This horse is engaged, proud, part of the partnership. Rider and horse focused together. Poll high, ahead of the vertical, open throat latch creating a beautiful upsided down u not a v shape, long beautiful neck. This horse can breathe!
Look at the position of the curb, something you hardly ever see anymore, usually it is fully engaged and horizontal with the ground even in walk.
Look at the tail not swishing but naturally raised in as proud an arc on the back end as the horse is on the front end, showing how the spine is fully engaged from the front to the back."
Now to compare a modern dressage photo:
I can see the differences.
What you see wrong in Western Dressage is just as obvious in USDF/FEI dressage. You just have to know what you're looking for.
I'm actually reminded of Anky can Grunsven, considered a top of the line (modern) dressage rider. She stepped into the reining world, and she gets bashed so hard on youtube and forums alike because she's suddenly considered unable to ride. Watching Anky rein, personally, I think she is very unbalanced and not at all precise. Now, when it comes to watching western riders, I pretty much only watch Clinton Anderson (whom takes dressage lessons, btw). To me, he's very balanced, his horses transitions are very smooth, his signals are clear and performed with precision.
I do seriously and honestly believe a horses performance is based on their rider and said riders ability to balance.
I would think that a good, balanced rider, and a good, balanced horse, should be able to transition between the different disciplines with very few problems and perform any maneuver at any time, no matter what tack they may be wearing.
---
Think of it not as a failure but as a success in how not to do it.

Don't look in a horses mouth for a gift.
Green Broke
Join Date: Aug 2011
Location: Middle of Nowhere, Saskatchewan
Posts: 2,642
• Horses:
5
My thoughts on the topic: If you want to ride western, ride western, and if you want to ride Dressage, buy a dressage saddle and ride dressage. Western has been known for draped reins, smooth jogs and rocking-horse like lopes. English has been known for the floaty trots and whatever else comes to mind when we think English (I'm stuck... not enough sleep for this post), and I'd rather keep the two English and Western instead of this gray area of Western Dressage.
---
For me Western dressage may be the best of both worlds. Where Im from everybody rides western. I personally want to throw red paint on anybody that walks in to a WP because their poor defeated horses are afraid to move. But thats a whole-nother box o worms.

Western Dressage may offer a way for my non-typey horse to compete. He's not quite a hunter or saddleseat or western nor gaming. I enjoy using dressage techniques with my horse but I would never compete in a actual dressage show because Im not "profesionally trained" and would be laughed off the face of the planet (I just go off of how he looks and how supple he is to my hand/postition)
-But after reading the rules and regulations I feel as though I could join a basic class and place well. simply because I can use two hands, my horses neck can be arched- of which he needs to canter-with of course contact with the bit is included- He doesnt have to look at certain way- which kills me everytime. He may have "won the class" but just because he carries his head like NSH should- he wont place against the nose dragging QH.

or maybe thats just where I live- Saddle-type people will feel my pain-
---
The Truth Harsher Than One Would Think