Western rider wanting to switch... (prospective horse)
---
I'm sure there are plenty of threads about a Western rider switching over to dressage, so I'll browse those in a bit.
By way of quick background, I've owned/worked with/trained horses for over 20 years. I've ridden Western (mostly just trail and pleasure riding) my whole life, although I have ridden on an English saddle and an endurance saddle on my Arab (in the search for a saddle that would fit him best). The thing that struck me most about riding in an English saddle was how much more "in tune" I felt with the horse.
Ideally I'll take some lessons, etc. in dressage before investing in a dressage horse for me, but I happened to stumble across this mare and was wondering what some of the experienced dressage people thought of her:
StormyRide - YouTube
StormyRide2 - YouTube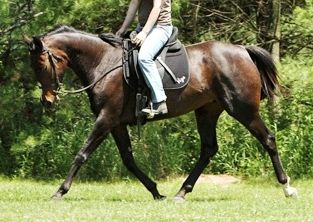 She's apparently done some 2nd level showing. She's an 11 year old Anglo-Arab.
Dressage is an addicting discipline...beware!
If you have a horse already there's no reason you cannot do dressage lessons on him/her. This is, unless you want to keep him/her strictly western. Two of my horses were started western, one made second level before injury and the other made fouth. So don't think you
need
to invest in a "dressage" horse (unless you want to...new horses are always fun!!).
What I see off the bat is a horse with no connection to the bit. If she is truly a second level horse her connection should be much more solid and steady, in my opinion. It also appears that she doesn't track up and if she is it is barely noticable (which could be/likely is the root of her connection instability). She looks to be travelling on her forehand. I'm not sure where you are but, in Canada, the second level tests are to show the horse has begun to develop uphill tendancies, more collection onto the hindquarters, and is reliably on the bit, basically. Personally, I feel that if you were to look at her scores from the second level showing she is said to have done that you would find some fairly unimpressive scores.
She looks to be steady in her general way of going which is good. I think a lot of the things I see off the bat (tracking up, connection etc. The connection will come once she engages her hind end and uses her body better) are definitely improvable. She is super cute but as a horse that is supposed to be "second level" I feel you can find something a bit more confirmed at the level. Also, those videos aren't the best. It would be nice to see her go in a square arena. I would ask for a video about seeing her go outside of a roundpen before I went to see her.
Good luck in your dressage endeavors!
---
Last edited by Tigo; 08-14-2012 at

06:51 PM

.
Thank you for your response! I think my Arab would've made a fantastic dressage horse but he's almost 30 and enjoying retirement. My QH is only 22 but has battled back and feet issues his whole life so I retired him, too. Plus, like you said, new horses are fun!

This girl is actually at a nearby rescue... I was surprised to find her there and even more surprised she hasn't been adopted yet! Her adoption fee is very reasonable and if there aren't any glaring issues, I might take a chance on her. The rescue said she was trained to first level and had gone to a couple of level two shows.
Posted via Mobile Device
Sounds like a new horse is in the books for you, hey? I'm just in the process of looking for a new one too!
I wasn't expecting you to say rescue! That surprised me as well. I don't see anything glaringly wrong at all from the pictures. She is super cute, looks to be pretty well put together conformationally (her neck is set a little low for my tastes), and all the undersaddle stuff can be improved with good riding! I don't see why she wouldn't do well in lower level dressage. I love her colour too, it's super unique! Sounds like a pretty good deal to me. If you go take a look let us know how it goes!!
To be honest, I would not pick that horse.
Quote:
Originally Posted by
RhinestoneCowgirl03
View Post
To be honest, I would not pick that horse.
Can you offer me your reasons as to why? I really have no idea what to look for in a dressage horse.
Well she doesn't scream "dressage prospect" that's for sure. IMO second level is likely her max if you still want to be getting decent scores. If you're happy with 50% at third level and up then she could probably do that.
Very upright shoulder, almost ewe necked, low set neck, downhill impression and built very out behind with a bit of a weak looking gaskin/stifle area, long hind cannons.
The only thing I do like about her is her hip looks to be Ok, but I don't know if that can make up for all the other "stuff" and end up with a collected horse.

Also judging by that picture, I'm sorry but the horse is not doing second level. Second level worth a 40% maybe, but not second level to a decent standard. As was stated before a second level horse should be able to have a contact and not trot around with the front end shoveled into the ground. And a Wintec? Really?

She might be a nice pleasure/low level dressage mount if you're looking to just have fun and learn (vet check before purchase please!) - but if you are ambitious and want to show above first level comfortably then I would keep looking.
Good luck!
---
They say money doesn't buy happiness -- well happiness doesn't buy horses!
Here's my take on the situation. You are just beginning. I doubt that you plan to ride third level for quite a while. And, am I wrong to think that you may be on a limited budget? If you can't afford a schoolmaster, what you need is a good tempered willing horse that you can learn along with. She looked willing and sweet tempered. BUT, to do this you will need a good instructor to keep you from making crutial mistakes in her training.

I see a horse that has never really been ridden very forward or with much impulsion. That is easily remedied. So much easier than to try to bring back a horse who has been "cranked up".

The first photo made her look like she had an inverted neck with too much muscling under the neck instead of along the topline. But, the video showed it wasn't that bad.

Is she true upper level material? Not really. But, there is no reason you can't learn on her, bring her along, and when you outgrow her abilities in several years, pass her on to someone else. The price is right and there is no reason you can't have fun with her.
Anebell: Did you miss the part about her being at a rescue?
I don't think rescues can afford to be picky about the brands of saddles they use. (And, frankly, if this is an indication that people are going to look down on me because I can't afford an expensive saddle, not sure I want to get involved in the showing aspect if the discipline). Most likely, I will just have fun and learn. :) Thank you for your input.
Posted via Mobile Device
---
Last edited by nikelodeon79; 08-15-2012 at

12:26 AM

.
Allison: you're spot on. The barn I'm planning to board at is a dressage barn. The BO is experienced enough to give me lessons to get me started in the lower levels. She also has a dressage instructor in a few times per year for clinics and things.

Thanks foryour response.
Posted via Mobile Device
---
Last edited by nikelodeon79; 08-15-2012 at

12:27 AM

.