I like to rosette braid, is that the same as button braid?? i never do any other braid, but for eventing i just leave the mane out as my horse is SHOCKING to plait (not exaggerating it takes an hour and a half because he fidgets so much. My little pony takes 20 minutes-half an hour.) but really do whatever looks clean and neat that shows off the natural arch of your horses neck, and the top line you've been working on!! Because plaits traditionally are just to show off your horses neck, not as an "in" thing.
---
live for the good times,, forget all the bad,, love him forever and you'll be always glad!! So hug like you mean it,, and kiss in the night,, smile when they cant see and never ever fight!!
For schooling shows/clinics I just leave the mane down, as long as it's neatly pulled. For a rated/recognized show I do button braids with yarn or bands, depending on how much time I have. If the horse has a long mane I just put a running braid and weave the extra hair back through the braid and plait the forelock.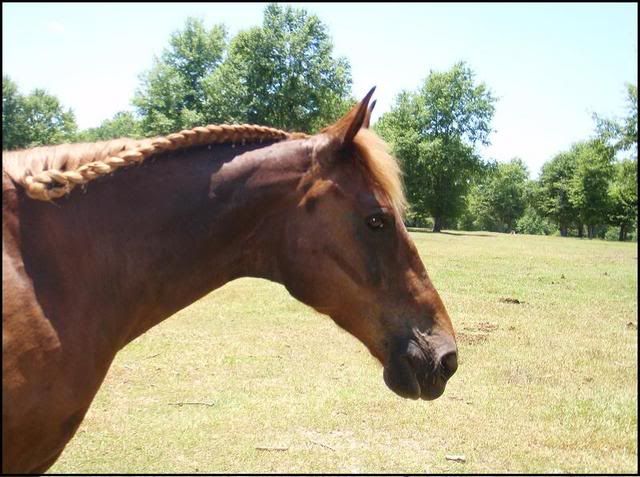 That's one I did to keep the hair off his neck, but I make them much tighter and neater in shows.
---
In the early days of the Indian Territory, there were no such things as birth certificates. You being there was certificate enough. -Will rogers
I will prolly try the diamond weave first, I don't know if I am talented enough to try a running braid.
Roaching
---
Quote:
You know, the more and more I think about roaching Nelson's mane, the more and more I like the idea :)

You are ingenious Spyder! I get tired of meticulously weaving yarn into Nelson's mane, just to do Button Braids for 1 show. Blah.....
I always think these horses look like the have come out of a concentration camp:)
Quote:
I always think these horses look like the have come out of a concentration camp:)
Hmmmmmmmmmm
I don't think so.
I just do the regular plaits with bands, as i am totally untalented with thread xD

I think hogging looks good, though depends on the horses build too eh
i loathe braiding. the one horse here is an appy that has a mane that grows straight up so we keep it roached and my student that shows him loves it of course lol!

my tb has a lovely long flowing mane, and i'm completely non-traditional so i keep it long and flowing and loose, though we mostly do jumper shows, so anything goes. i DO keep it well groomed and what not, but it just looks awesome on him imo.

my clyde cross has mane from hell - it parts on both sides and no amount of work wil fix that. so i pull, thin, razor comb, thin some more, pull some more, clip, pull, etc... if i don't keep it pulled year round it's even worse. and for shows, its just never staying in braids so i gel the poo out of it and make it lay flat (even on both sides...*sigh*).

my arab well he's an arab :)

and that running braid someone posted a pic of is VERY nicely done! :)
I like the look of a roaching, but you have to keep ontop of it or it starts to look funny. There was an appy at the barn that only grew threads or a mane so they kept him roached year around and he looked really nice. I would feel bad for roaching Rocket since he gets nailed by flies more than any horse I have ever ridden for some reason and I hope that his mane gives his neck some relief.

I might try thinning his mane some today, think that will help it lay on one side? I tried using the braid it all on one side technique and he started itching his neck on the shelter and has some nice uneven spots now, ugh.