me and gypsy are working on beginner novice test A right now. our first event of the season is next weekend !
---
Gypsy & Scout <3
Everybody is a genius. But if you judge a fish by its ability to climb a tree it will live its whole life believing that it is stupid. ~Albert Einstein
Aaargh!! So okay- diligently working on my horses back as per physios rec. 20min longing in a pessoa 2x daily, hot compress pre-work and massage/ stretch postwork. Rode him today for the first time after 1 week of doing this. Pessoa am. Ride pm.
Results-
Good: he's like riding a slinky now. Swinging and loose, tempo improved. Not as spooky or sharp.
Not so Good: It took me 25mins to get him anywhere near 'up'. And by this I am only talking an elem frame. Completely dead to ride- like he was comatose.
Did 'legs away'- eg. keep leg off him and try to make him more reactive to their use, backed up on occasion by the whip. Loads of trans between gaits and then within the pace. Nothing smaller than a 20m circle. Then laterals. Then canter 6 strides trot 6 etc.
Any other suggestions???
I should say that this was his modus operandi when I first got him as he'd been ridden in rollkur and as he is 17.3 and 7ft long he can be a bit big to 'ride together' if he isn't feeling too obliging'. Had initially 'fixed' the problem by riding him hollow and FORWARD. Now the back is at him again, I'm loathe to ride him hollow and FORWARD isn't happening.
Help.
Just got home from todays competition, and feeling ecstatic!!!

Novice was first, so a lot of pressure on the poor boy who I thought might blow his brain at this particular grounds. But it ended up being me letting the team down, stupid stupid stupid - muddled my medium canter with my canter loop, did them back to front so got an EOC, then just didn't drive enough in my second loop and he broke, corrected it but got a 3 for a movement with a coefficient. Bugger!!
Ended up equal 8th of 22 with a professional rider - and would have been 5th if I hadn't mucked up what I did!!

Prelim I ended up 3rd of 15 riders, again very very very happy with how he went and to place that well in a very strong field of many professionals and stallions, I could not be happier. Considering he's got a heck of a lot more fuel in the tank yet, I think we are very much on our way!
---
Last edited by Kayty; 06-10-2012 at

06:30 AM

.
Well that's still very impressive, congrats!!!!
---
"Strength is the ability to use a muscle without tension"

My little guy at dressage today :) So proud of him!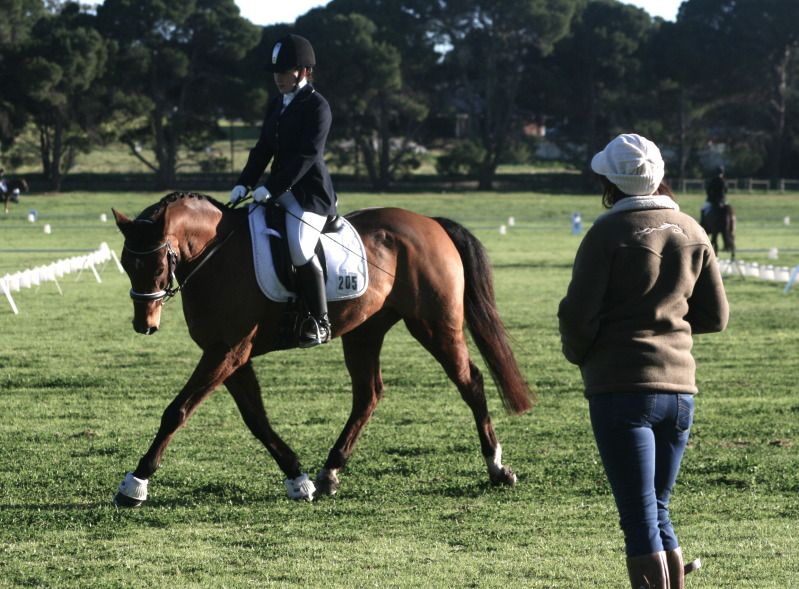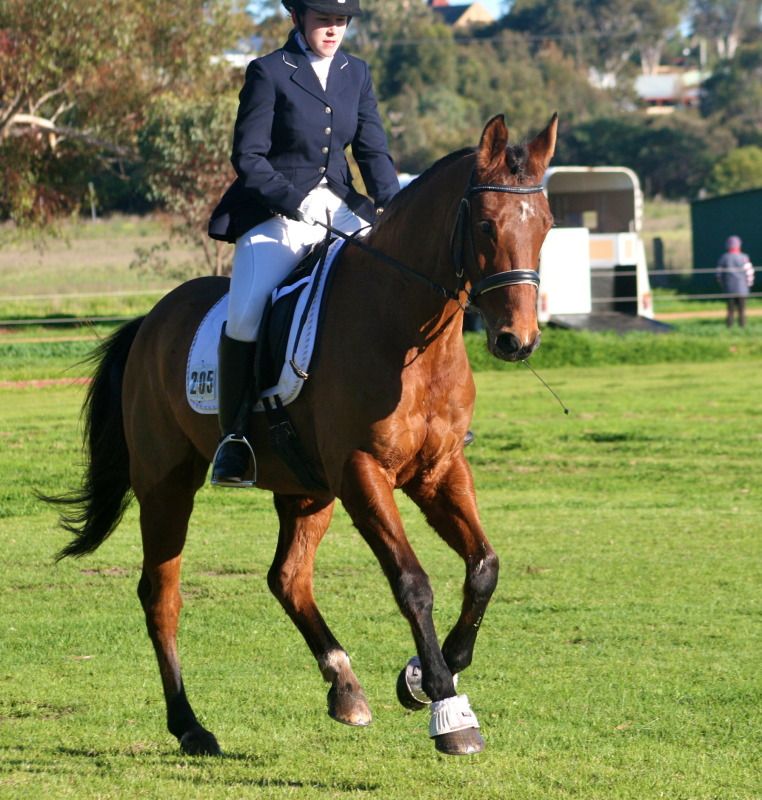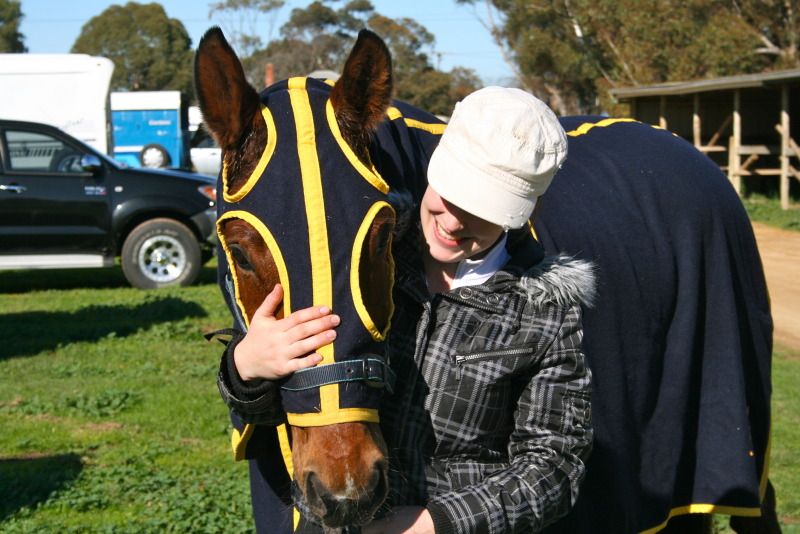 Well done Kayty!!
Lovely pics of your boy.
Much happier today as the ride this pm was better. Not 'diving' onto the contact so much, stepping through an swinging- and even started to come up of his own accord. So panic was permature. Just have to keep thinking strong core, and scales of training. Physio said no laterals for another fortnight, so just lots of circles and serpentines til then. At least I feel we're back on the road. May have to forgo the next show, but will aim for both Novices for the the next 2 and then back up to Elem!! Hurrah!!
From last week, but a short vid of work on our flying changes. Unfortunately only this one was filmed, he lost balance a little into the change and kicked out. Left to right change he came straight through with no problems at all.
He'll get a few days off as he was pretty worn out after competing yesterday.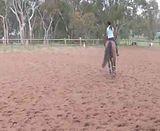 Trained
Join Date: Sep 2011
Location: Germany- but not German =D
Posts: 5,151
• Horses:
2
LOL Kayty he looks like batman!!

I am currently working on... getting a horse fml.
Well.. kinda.. started a new thread in dressage with video's of one I am having vet checked on friday.. I can barely sleep from excitement!!!
Green Broke
Join Date: Oct 2010
Location: Some times Llanelian - North wales, sometimes Hull in East Yorkshire (UK)
Posts: 3,679
• Horses:
5
lovely kayty, unfortunatly it is not wonderful news for my baby boy. i've put a post about it here:
Reeco's scan results.
---
RIDE your horse FORWARDS and keep him STRAIGHT


Oh no Faye :( That's terrible news, sending lots of positive vibes across the ocean to you and the beautiful Reeco xx