Kitty and I have been having really good rides lately! She's just trying so hard. I went out yesterday before work and lunged her. She was super good
We did transitions transitions transitions. I'm very pleased with her. Rio 2016 here we come!
Posted via Mobile Device
*does happy dance*
Competed today - Spigh's been back in light work for only around 2 weeks, and has not been ridden for 4 days as I have been sick.
Came home with two seconds, a 64% and a 68% in a field of close to 30 horses - many of which were stallions, imported or professional riders on board.
I could not have been happier, those scores will easily get us in to qualify for the Spring Championships in October. I'm grinning ear to ear that my unfit, out of work horse with me sitting on top coughing, sneezing, and popping paracetamol, has gone out and kicked butt ;D
*another happy dance* I just love this little horse so much. He was intended to be a project, to keep me busy while my youngster matured and then to sell on... but at this rate I don't think I'll be selling him for a while yet!

Had a lovely ride this morning, started out a bit stuck, wanting to use his neck to balance, quarters pushing out to the left. But got that sorted out quite quickly and found a new gear in both his trot and canter. Really starting to establish a solid contact in the trot work, canter does need a lot more work though before the contact will be quite as consistent as in the trot.
However we did finally get some very good steps of him sitting in the canter, riding forward to medium canter, then coming back onto a 10m circle, back out to medium etc. I asked for just a little more carrying capacity behind, and much to my surprise, he gave it to me, to the point where I felt I could have slid my outside leg back and gotten some pirouette steps.

Left the ride at that as I was so chuffed :)

Lots of comps coming up, I have my local club championships in mid August, then another official/FEI day, and then Spring Championships. A clinic this weekend to put a bit of a rocket up our backsides will be useful as well!
Go Kayty!!!
---
"Strength is the ability to use a muscle without tension"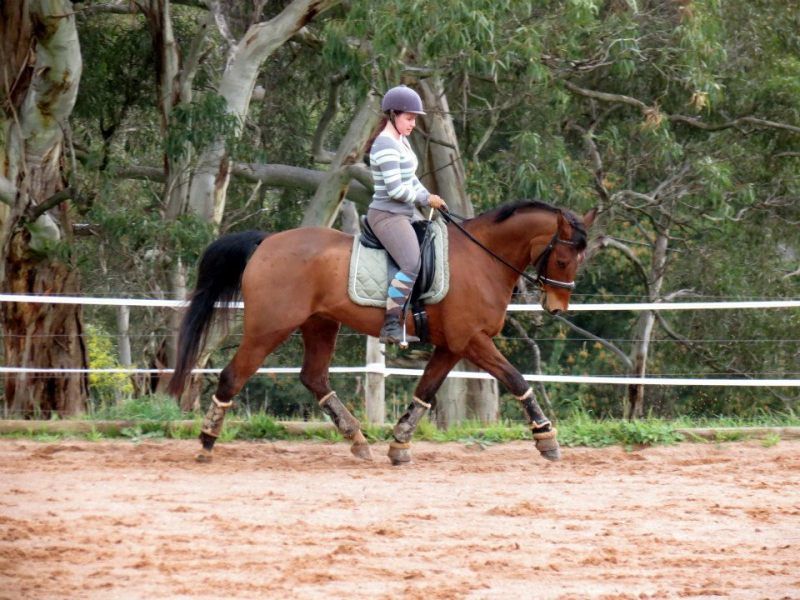 Half halt that FINALLY put him on his hind legs - with a grumpy face of course, but as long as those stubborn hind legs are doing something, we can work on the facials later :P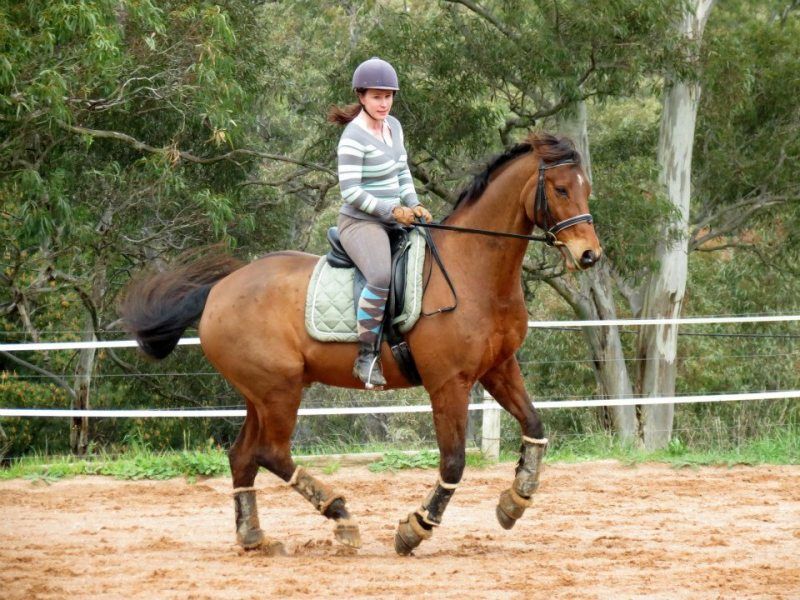 As of four days ago on Tess I was working on softening her back and also preventing her from rolling up her neck... Way more annoying than it sounds... But now I have Meg back I have to work on softening her jaw and half halting her back onto her hocks in canter... I'll get through these problems soon enough then find five more.
I just returned from a fantastic two day clinic with a national Grand Prix rider, who regularly trains with Steffen Peters in the US.
It was a great learning experience, and I got so much out of it that I'll definitely be booking in regularly when she is here for clinics hopefully every 4-6 weeks.
She picked a lot that I hadn't noticed, I've been focusing so much on trying to straighten the right hind that I didn't even follow my rule of straightening the shoulders in front of the quarters *smacks head with palm*. He was very much on his right shoulder, and encouraging me to lighten my seat and allow him to fall on that shoulder. Because he's so lovely to sit on, I haven't made a big deal of it. It made me realise how complacement I have been with him!
First lesson was based around that aspect, getting him upright, and keeping the poll as the highest point as he wants to drop the poll and load his shoulder constantly.
Second lesson he must have been studying overnight, as was I! As he wsa much, much better, more willing to stay up in the poll and straight. We started a bit of work in the half pass, encouraging the half pass bend through his neck while maintaining straightness in the body, and some work towards the half steps, and canter pirouettes.
I was nervous the whole clinic, that she would not like my horse, as he's not an enormous, spectacular mover with world beating conformation. But at the end of the clinic she told me that he would not shine at prelim/novice level, and that I am hereby banned from competing him in the low levels as he is ready to go out medium, and strong enough in the back at present to go advanced. She felt that she could get on him and ride some of the PSG, and said he had a great talent for the collected work, had excellent trainability and that I would do well to start riding him now like an FEI horse rather than a prelim/novice horse.
That certainlybumped up my confidence, it makes me very happy to hear that its me letting down the team and not my horse!!!!! Now that I've had that put in my head, that HES got the ability to be up there, I'll definitely be pulling my head in and stop fluffing around with him.
Next clinic is already booked in for the end of September, so I've got lots to work on between now and then.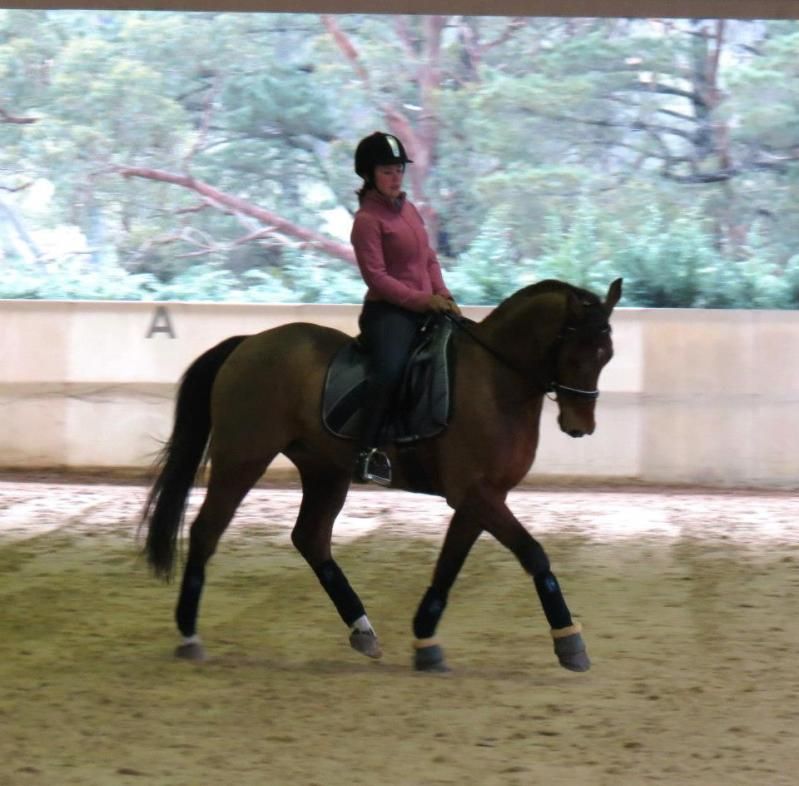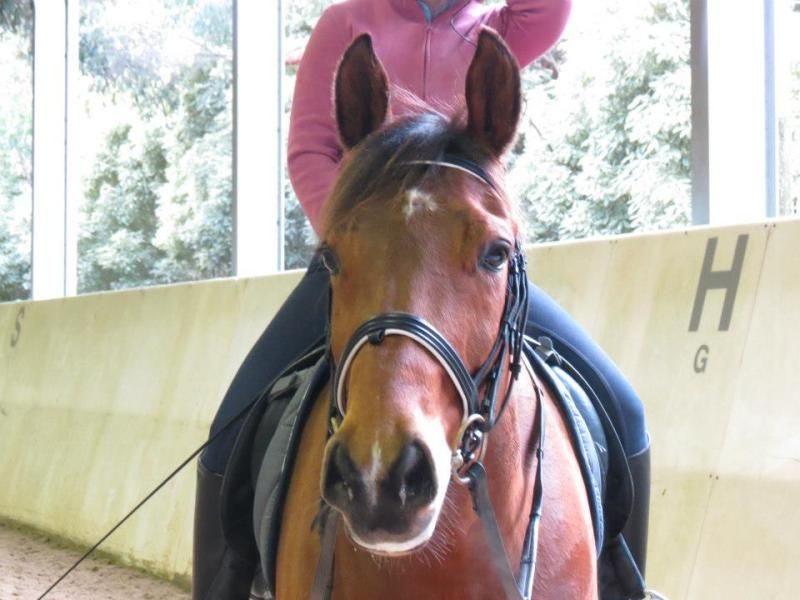 Kayty, that is so wonderful!

I'm so glad you purchased him and are thrilled with how he is preforming. He's a lovely boy and you two seem to work very well together. A purely natural chemistry.
---
"The greatest pleasure of a dog is that you may make a fool of yourself with
him and not only will he not scold you, but he will make a fool of himself too."
-Samuel Butler
Thank you, I'm sure there'll be a few people kicking themselves for not getting in straight away to buy him!
I've had a lot of comments on our compatibility as well... so much for my intention to train him up a bit and sell him on! It would be lovely to have him working at FEI while Billy is a breaker, having two horses at different levels is ideal. It's just a matter of time and money so I'll see how we go.
I don't have my own horse (one day!) but I'm working on extended trot in my lessons. This week I began to feel the difference between a working and slightly extended (lengthened?) trot so I saw that as an epic success. What I find the most challenging is getting "in sync" and figuring out how long to rise out of the saddle :P I felt like a sack of potatoes! Then again I felt like a sack of spuds when leaning to sit trot so all on good time.

I'm also starting to properly understand the purpose of all the exercises and movements. I feel like I'm starting to understand everything and not just improve my riding skills.
Posted via Mobile Device