We are working on getting a more balanced canter going counter clockwise; it's come along massively from the cross cantering bucking freakish mess it was a while back
Clockwise isn't so great, he's still having issues getting a good strike off on the correct leg, the cross canter still appears every now and again and when he actually gets into canter it's choppy and uncomfortable. The plan this winter is to get the canter in both directions equal and balanced.
Aside from that i'l be working on leg yields at the trot.
This is a really good thread. I'm learning a lot just reading it. I only ride in lessons. We are working on counter canter. I really want to sit to that big trot. Someone suggested that I need to open up the hip area so don't laugh, but I am taking zumba classes. It seems to help! Also, something different today-we were working on walk to canter transition and the horse went into haunches in. Had a little bit of a time straightening her out. So I guess my cues still need a lot of work. Just love where I am riding. I know I need to ride more and get my core better.
Green Broke
Join Date: Oct 2010
Location: Some times Llanelian - North wales, sometimes Hull in East Yorkshire (UK)
Posts: 3,679
• Horses:
5
Dressage clinic with Reeco went very very well today.
I explained he is primarily a show horse, that he has a difficult past, can be extremely difficult to ride/easily paniced, I also explained what our goals were (using dressage to improve his showing ride marks, doing well in the prelim test at CHAPS champs next year and maybe entering the novice class) and a bit of what I had been doing with him.

She asked to see him in walk, trot and canter. We worked for ages on leg yielding, getting his hind leg activated, getting his back rounded, straightening him (he can be quite crooked) and getting decent bend on the left rein.

I'm shattered I'm amazed I could drive the lorry back, I think i've lost half a stone in weight. Pony is so shattered that he almost fell up the ramp of the lorry but we achieved a lot!
Got a lot of compliments on how well I had done so far with him, got told off many many times about my position. Got told he had 3 lovely paces, a fantastic trot, a good canter and the walk has potential but shows up his schooling flaws big time.

WE are going back in 3 weeks time (next clinic she is doing) and the trainer said she would like to ride him then as she wants to see how much of his disasterous canter transitions is my crappy riding and how much is his fear of canter (although she put it a bit more diplomaticly!)

Will put full report up with pictures and video's later but now I'm going to take a nap if I can get my creaking body out of this chair.
---
RIDE your horse FORWARDS and keep him STRAIGHT


Wow Faye, sounds like you've found a great coach there!
I dropped my 'baby' off to the breakers this morning! He hadn't been on a float for a year, and never done more than 45 mins travel. He walked straight on like a little pro, and stood quietly the whole 1.5hr trip. No sweating either like last time he travelled. Only his 4th time ever. I am very happy with him.
Hopped off the float and had a little look around but no skitzing out. My breaker was very happy with his temperament, I'm already itching to see him under saddle!!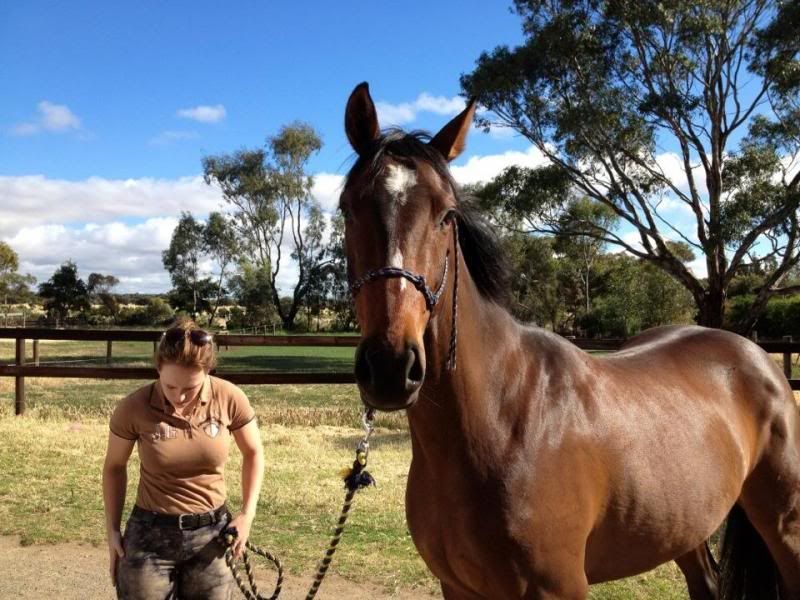 Green Broke
Join Date: Oct 2010
Location: Some times Llanelian - North wales, sometimes Hull in East Yorkshire (UK)
Posts: 3,679
• Horses:
5
A few photos of Reeco and I at a dressage clinic!
warming up
floppy eared happy pony
concentrating hard on (look at that hind leg)
POWER!!!
Pretty trot
OMG the leaf is going to eat me, i must go sideways.
---
RIDE your horse FORWARDS and keep him STRAIGHT


We've been working on achieving the correct amount of bend on circles. Apparently I have a tendency to overbend him to the inside which throws off his balance. So today we tried trotting in a circle while flexing to the outside. That was interesting.
Working on getting ones confirmed on my big kiddo, and building strength in the P/P. Decided to chip away at the GP even though he's FS and have been pleasantly surprised! He has quite an expressive passage coming and is close to having 11 ones :)
Little kiddo is also working on his P-P, and getting the changes firmed up clean. Preparing him for third level tests, and then to fourth asap :)

Very exciting!
Posted via Mobile Device
Just moved Cloud to a new barn- with an enormous indoor! Rode him the last 2 days in it, and it's just wonderful being inside for a change :)

We're working on rounding up, I can sense SO much change already from doing frequent bending work, leg yields and transitions. He moves so much more forward and our rides are much more productive now that we have a cooperating hind end ;D
Getting back into lessons which has been motivating me a lot lately, despite the lack of sunshine and chill!

Every few strides my gal seems to get distracted and will shoot her head up to the sky, loose rhythm and softness. I think this is more of a matter of riding more frequently and keeping her attention on me and what we are doing. She seems to get bored easily!

Working on keeping soft throughout riding session, making the canter slower and more rhythmic, and keeping rhythm at the trot.

Just on my second lesson with a good instructor, but may still send my Dorymare to a trainer in the next month or so to give her an extra push.
---
Horse, thou art truly a creature without equal, for thou fliest without wings and conquerest without sword. - The Qu'ran