Well, I'm not working on anything with Key. Went to my comp weekend before last, loaded up in the freezing cold and dark, drove 2 hours, unloaded, plaited up (my best ever effort too), went to pick out Key's feet and found a hot, puffy leg. Had to withdraw from the comp.

Fast forward to today, leg looks normal so I take her to our lesson, only to find that she's still not right. So we are off to the vet to get to the bottom of it. Not feeling particularly optimistic about it to be honest. I have a sinking feeling that she's done a suspensory.

Rhett on the other hand is rehabbing brilliantly, all back issues seem to have resolved and his hind quarters is much more even. So we are allowed to canter in straight lines, and we can add shallow loops and 20m circles in trot. Might not sound like much, but for the last 2 months or more all I've been able to do with him is straight lines in walk and trot. He feels like he has 7 legs in canter, but it will improve as he remembers how his legs go :)

I'm hoping by the end of august I can have him out doing a prelim test.

Clava, I'm not really a fan of hairy horses (I ride a friesian though, go figure lol), but Gilda is lovely! I love how white her mane and tail is!
We are making progress
---
Ana and I have learned a lot in our 6 month journey. Here is picture from Tuesday's lesson. I'm trying to mix things up and between arena work, trail work and lunge work as she gets bored easily. My trainer said although she's doing well we've kind of plateaued because I'm not pushing her hard enough. She got on her and rode her...OMG, my horse can move like a real Dressage horse. She really pushed her though, almost to the point of rearing, but I'm not sure that I'm ready to push her that hard.

So that's where I'm kind of stuck at - trying to keep it interesting and fun for her, while at the same time pushing her to the next level without making her ring sour.
Green Broke
Join Date: Oct 2010
Location: Some times Llanelian - North wales, sometimes Hull in East Yorkshire (UK)
Posts: 3,679
• Horses:
5
wheeeee! love my pony!
His trot is crap but we are working on it!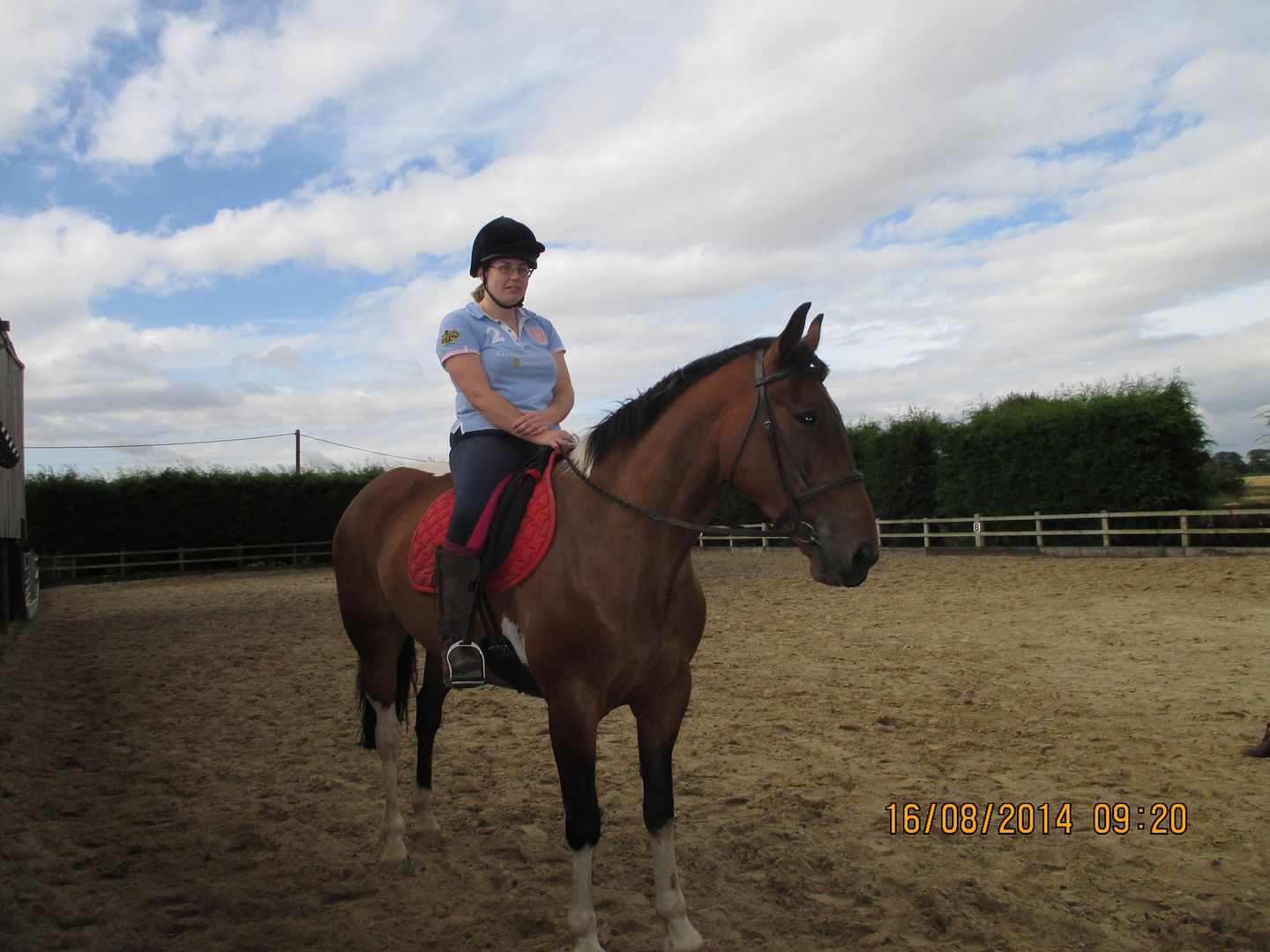 ---
RIDE your horse FORWARDS and keep him STRAIGHT


Green Broke
Join Date: Oct 2010
Location: Some times Llanelian - North wales, sometimes Hull in East Yorkshire (UK)
Posts: 3,679
• Horses:
5
Lenny and I went for our first solo hack this evening! he was awsome.
---
RIDE your horse FORWARDS and keep him STRAIGHT


Working on shortening my horses stride when I'm jumping as he's naturally a very big striding lad. On a standard 3 stride double he can lengthen to get 1.5 or 2! We've got him short enough to fit 5 strides in now but my trainer wants us to get 7 as we do trailblazers so the indoor arenas are quite tight and the courses can be super twisty and tight as well, and to set him up I just need to shorten him enough! So any tips would ne great as ive not got very long legs on him and hes very excitable when a jumps coming up!
Posted via Mobile Device
I'm still not working on anything.

Took Key to the vet and she's got a suspensory injury, so she's off to my friend to be a broodmare for a season. Vet figures it will be ok, she's not the type to gallop around and the injury should be resolved by the time she's carrying any sort of weight that will have any possible impact on it.

Rhett has managed to break himself as well. Really bad overreach, 4 weeks in at Murdoch vet hospital with a cast on his foot, only to have him come home and split it open again.

I do have a replacement pony coming when Key goes off to have her foal. The stud where she's going to have a nice 6 year old ASH mare that they've had on the market for a while, so she's coming back with me to put some education into it and sell for them. Only 3 weeks until I will be back in the saddle!
Well, before my horse had a quick bout with some lameness, we were working on our last score for championships (Training level) and my equitation at the canter since I was going to do the rider test! I tend to get too quiet in my hands, and they do nothing at the canter, and I sit too far back and do not engage my core enough.

We worked hard on calm canter transitions too.

Note: I have reallly bad scoliosis, so I am well aware of my crookedness. ;)


Faye--He is gorgeous :O! /offtopic
---
The sensitivity of the internet baffles me.
Billy has spelled over winter and is ready to come back into work, he'll be 4 at the end of October and is definitely ready to do something!!

I have also just been given an ottb to work with from my old TB, Hugo's, breeder. He's a 12 yr old 16.2hh bay gelding. Has done nothing since facing 6 yrs ago but is very sweet and a quick learner. I'm hoping that he will be suited to my beginner rider partner partner after a few months of work.
Posted via Mobile Device
Billy is 4 already?? They grow up so fast.
---
You just have to see your distance...you don't have to like it.