Oh...forgot to say that IMHO the overcheck rein isn't that big a deal. You don't have it tight to pull his head way up. Just keep it as loose as you can and don't sweat it. I had a mare trained by a guy who drove a LOT of horses and he just had me leave the check rein on my driving harness as loose as it would go.
I don't see a shaft loop attached to the saddle. the shaft loop will have a strap on the bottom that the hanging buckles (that loose strap under him) connect to. The britchen is too low on his rump. The wide band should be about where the buckles are. It also needs to move forward to where the rings are even with the point of his hips. The strap that you have buckled from the britchen to the saddle low does not go there. It connects to the cart. Undo that than you can adjust the back end. Put the breast plate on him and take more pixs.
With the throat strap you should be able to easily get to fingers under there. With the belly band, 3 fingers, otherwise it will make him sore. When you have your chest strap on place it do the top of it is at the V in his neck. When you step back and look at his side the harness should create a straight line from front to rear parallel to the ground. The harness works on opposing forces. If a strap holds something up, another will hold it down. The chest strap pulls for forward movement, the breeching opposes this by not letting the cart get too close to his hindquarters. The shafts need to be able to move with the horse's body and not be rigid. Since ponies are notorious for wanting to snatch grass, adjust the check rein so his nose can reach his knees but no farther. Have fun.
I tend to agree with michael on maybe getting another harness. The nylon ones are cheaper but in harnesses it seems you get what you pay for a lot of the time. I don't want to sound mean but you want your horse to be as comfortable as possible. If you keep the harness I would really look into getting a new bridle at least.

Good luck with your driving!
---
Riding: The art of keeping a horse between you and the ground. ~Author Unknown
Ok So I'm on the search for new bit. I took the over check off as it caused to much issues interfering with the bridle. Here are some new pics with adjustments.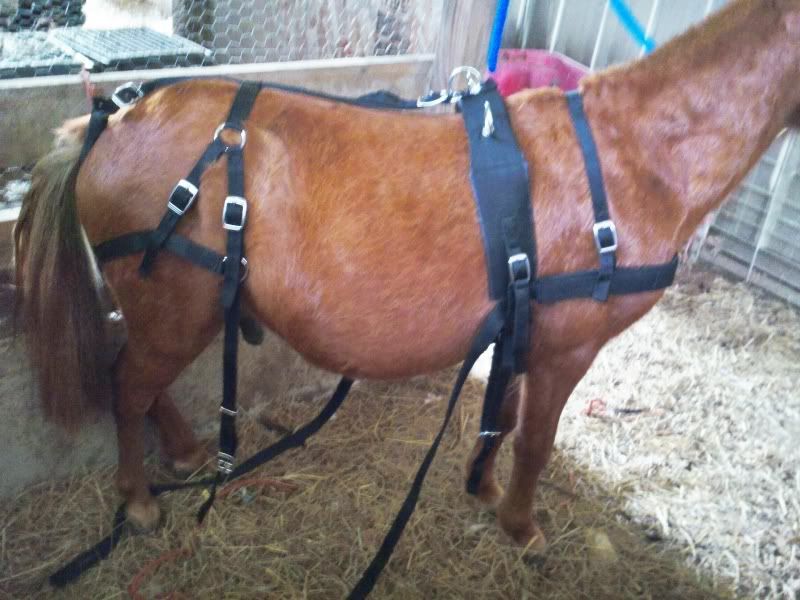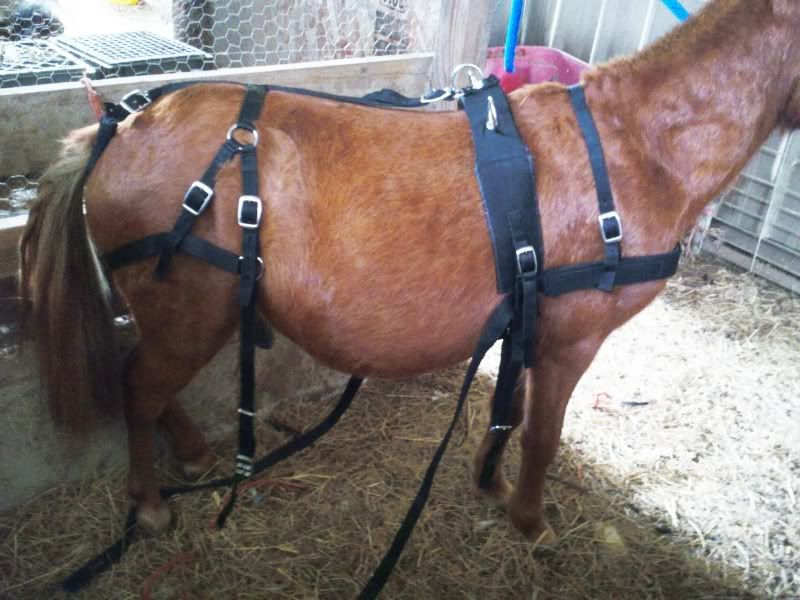 harness
---
Quote:
Ok So I'm on the search for new bit. I took the over check off as it caused to much issues interfering with the bridle. Here are some new pics with adjustments.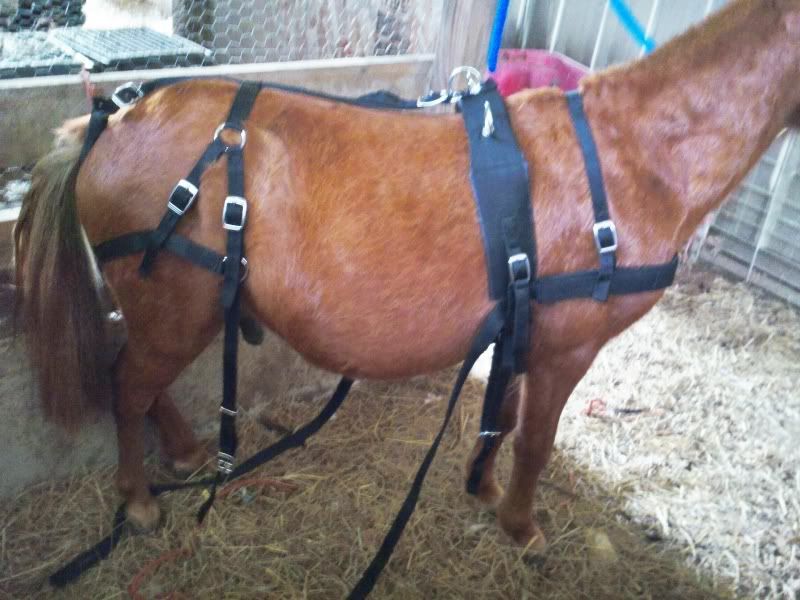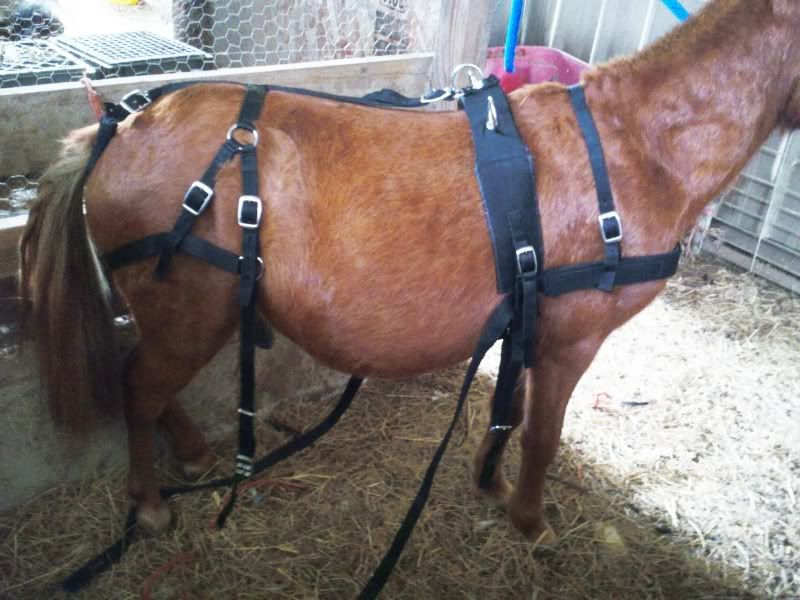 hiya i have had a look for you.
your breeaching needs to be lower on the rear buckle.
your breeaching is your brake.
your neck strap on your collar has no rein ds and lacking in padding i think that would rub on your ponys neck when he sweats.
your crupper is lose and needs to be titened up rule of thumb dont trap no tail hairs follow a thinger through to make sure there are none traped or the pony could buck.
the tugs seems like there is no back band as no independent movement and the driveing saddle pad may move and rub the withers and the girth will rub as well.
the breast collar hight looks ok have a check with your hand as you dont want to pipe your pony (restrict the windpipe).
if you use the over check have it lose the buckles to the bit seem bulkey you can use it as a dasy rein as one member stated i think replace it with a nose band.
i hope this has given you some idears and i hope i have not been critical of your harness i have your self and your ponys best intrests at hart and would like you both to have great driveing times togeather.
many thanks michael.