Help with ground driving, there is no moving forward.. literally
---
So... I tried ground driving a few weeks ago. It did not go nearly as well as I thought it would. I expected Moe to at least move a few steps forward, but that was not at all the case.

Moe has been ground driven before, but since then we have him very well trained on the ground with Parelli Natural Horsemanship methods. It pretty much goes against what ground driving is. He will either try and pivot away, or back up into me. I was just using a halter, then to leadropes that were long enough to stand a few feet behind him with. I also had a bareback pad to hang the excess rope through so it wouldn't drag on the ground. But he did not take one step forward, just kept on shimmying around in confusion. Obviously he has forgot his ground driving training, but I can't blame him seeing as it was 4 years since the last time.

Any tips? I've tried all sorts of things, some with a theory behind it, some stupid. But I just can't seem to get him to go forward. There will be no progress updates as another snow storm just blew threw and left another gift for us. -.- He does not listen to clucking, just silence and body signals for the most part. Pretty much it takes me walking forward and him following me is the only way to get him to go forward other than lunging. I've tried pushing on his butt, and that didn't even work. He either stood their or side stepped. Bless his heart for not kicking me in the face, but I am having an issue with this, because I would really like to train him to at least ground drive. If he doesn't work with that then I can promise you all I will not hook him up to a cart. I may be a little stupid, but I wouldn't hook an untrained horse up to a cart.

I really would rather not beat the crap out of him to make him go forward.. Actually, I'm not going to at all. Any help is greatly appreciated. I know I am probably doing alot wrong, but I just need to hear what I should do, not what I did wrong.
Could you possibly start by ground driving him in a circle around you, and then slowly moving back behind him until you are in the 'driving' position? With my 2yo I started the basics of ground driving when she was a yearling and this is how I got her used to me being behind her. She was confused to, she couldn't figure out why I wouldn't let her turn to get a face rub lol.
I have done some natural horsemanship and my horses ground drive. It sounds like you need instruction and if you do not have proper equipment that will add to the confusion. I would try it with thye lines through the stirrups 1st over a bareback pad. Longer lines would help also instead of being so close to your horse
Ground-Driving Training Technique | MyHorse.com
First off, don't even attempt it until you have the proper equipment to ground drive him. You need lines that are at least 20' long to keep yourself safe and not give conflicting cues. The bareback pad will work fine as a sircingle substitute. Halter is fine. Whip is mandatory. Run your lines fron the halter through the stirrups to help keep them orderly. Put him along side an arena fence, step to the inside so you are out of his blind spot and he can see you. Step back far enough to be out of range. You need to be able to touch is butt with the whip so you're normally 3-4 steps behind him. Give him the walk off cue and reinforce it with the whip. You're not striking him, just a firm tap. If he doesn't get it, make it stronger. Be precise with what you want of him. Don't pick at him with the whip (tap, tap, tap) or he'll tune you out. You'll probably have to whack him once to get his attention. Be ready to go with him so you're not pulling on the reins with the first step off. You have to communitate with your lines, voice and whip so use them. I tend to carry the whip in the outside hand when starting. When you start working on turns, I find it helpful to drive the outside hip.
fascinating stuff. i intend to do some basic ground driving stuff with my coming yearling this summer so these are handy tips to start. we also have a burro that we want to start ground driving. i assume (maybe wrongfully) that training the burro will be similar?
I have a TB that has learned to ground drive, and I agree you need longer lines. You need to be able to stand several feet back. The bareback pad is fine as a temporary surcingle. It helps too if the lines are a little on the heavier side.

You need to stand directly behind him - far enough back that he CAN'T kick you.

If he insists on spinning to face you, have a buddy hold him until you get behind him. When you're set to go, have the buddy let him go and let him stand for a moment. Standing is good.

Now cue him. either say "walk on" or kiss or whatever you want for the cue to be.

He probably won't move out on this. So here comes the fun part. start wiggling your reins, just like you would in the yo-yo game, but wiggle so that they are tapping both sides of his butt. Just like the yo-yo game, wiggle harder and harder UNTIL he steps forward. And he will at some point. He'll want to figure out a way to make you stop wiggling.

As soon as he so much as steps forward, stop wiggling and praise him. Even if he just lifts his foot. Don't let him turn around though. Use that friend again to hold him if need be.

Important! if he starts to back up do not stop wiggling! he must not find release from backing up, only going forward at this point.

Once he has been rewarded for this small step, ask again. Don't ask him to take five steps forward, but rather ask him for a single step five times.

As soon as you feel he has begun to understand the meaning of your 'go' cue, stop for the day. Do something else, love on him, give him treats. You can come back to ground driving later in the day or tomorrow.

And the next time you go to ground drive, do these same steps. Only, and I do mean ONLY when he steps forward faithfully every time on your cue with very minimal wiggling, you can start asking for more than a step. Ask for three steps. He'll want to stop after the first, but give your cue again BEFORE he stops (when you feel him hesitating) and wiggle (lightly to harder as needed). When he's taken a couple steps YOU ask him to stop.

This will start the understanding up I walk until you ask me to.

Once this is accomplished, it's just a matter of practicing it. And he'll get better every time
---
A canter is a cure for every evil. ~Benjamin Disraeli
Not to disagree with Perch but no way would I shake the lines. This is what a whip is for and the lines are for contact, steering and stopping. If you are using a halter and shaking from behind I would think the pressure on the nose would tell me to back up. If you use a bit that is way to much feel on there mouth
Quote:
Not to disagree with Perch but no way would I shake the lines. This is what a whip is for and the lines are for contact, steering and stopping. If you are using a halter and shaking from behind I would think the pressure on the nose would tell me to back up. If you use a bit that is way to much feel on there mouth
Agree. The shaking the line is a backup cue under halter. Also, when you shake the line, you loose contact with the mouth. You always want soft fluid contact on both sides. Also standing right behing him is not the place to be. You are standing in his blind spot and I want him to see me out of the corner of his eye until he is comfortable with me back there. When you are right behind him, you also have the least amount of strength when the lines are straight. If you've ever had a horse bolt on you, you know that once they get facing away from you they're gone. If you can break that line (through the terrets) you will have much more leverage.
I've used this method on several horses successfully, and all of those horses have been intelligent enough to differentiate between a wiggle under the halter meaning back up and a wiggle against his rump meaning step forward.
The barn I've learned to drive at has never used whips for driving. We just don't and all the horses are sane, level headed horses who are easy to handle and work with. Small children can drive every one of them.
Understand too that when I start a horse I actual don't want contact on the mouth to start with. Maybe it's the western background, but I'd rather the horse be relaxed while driving for the first few times. Only after the horse has mastered his stop, start, left and right do I begin asking for him to work with contact on his mouth.
Now I won't judge anyone who trains differently. I understand there are many ways to train a horse that will produce similar results.
Do remember though, to avoid bolting issues you MUST desensitize the horse to the reins. He must be 100% okay with feeling them against him, near his legs, and I like to thred them under his belly too just incase something happens and I drop one or he does manage to get loose some day it doesn't become a big surprise for him. And if you're calm, he'll be calm. I'm assuming if you're comfortable working in a halter that he's not a nutcase to start with.
Should a bolt happen, even from behind a horse, you can alter his direction and get him going in a circle around you. Let the bolt run itself out, and address the cause of the bolt.
Also, because you say you're working in halter and the horse isn't wearing blinders, he will be able to turn his head and see you there. It's okay if he looks. It's not okay for him to turn around. And please stand far enough back that it is IMPOSSIBLE to kick you.
You don't have to agree with my techniques, everyone has techniques that work better for themselves. I have found this one to work best for me. Good luck all the same.
Nikki: my ottb in harness with his Standardbred cart:
Jessie: my bf's horse driving in halter: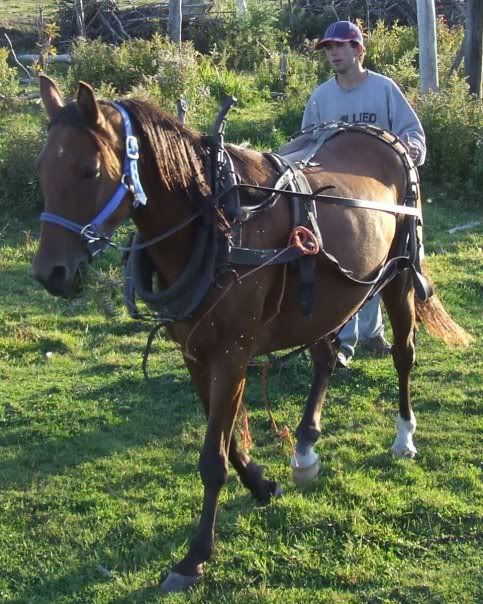 Chalupa: a beautiful gelding who had similar issues with wanting to spin around:
---
A canter is a cure for every evil. ~Benjamin Disraeli
Perch,

There are so many things wrong with your photo's that I would suggest you taking some proper lessons. Your harness or lack of one of doesn't fit. Your blinders are not centered on his eyes. Your breast collar is a mess, your shafts are way too high, your bit is too low, and your horse looks very unhealthy