Katy Rodeo Parade - HUGE SUCCESS!
---
I'm seriously about to burst with pride for my little mare, Sour right now. We've overcome obstacle after obstacle in the four years that I've known her, and at last, we have accomplished my final goal. Participate in a parade and not kill anyone!
Not only has my little gal not killed anyone, she did darned good and captured the admiration of just about everyone at the parade, including the judges. They all loved her pink 'outfit' and she took every single thing in stride. She loaded from the farm into the trailer well (even though she's only been in a two horse slant, never a stock trailer before), trailered over, unloaded, and just sort of glanced around, found a hay bag, and quietly munched away while I rushed to tack her up. She even stood very well for the hour and a half wait in parade line up without a hitch, with the exception of deciding that a gigantic 1500 lb belgian gelding (who was also hitched to a very nice carriage) was her new best friend and having a lengthy conversation with him. She ended up dozing off while we were waiting and I had to wake her up to move. LOL.
Walked through the parade great, didn't flinch when the kids ran close to her to grab candy, didn't even bat an eyelash at the loud engines revving, music blaring, people screaming, and sirens going off, didn't bother to look twice at a Great Dane that got loose even though it was bigger than her, and handled walking over the railroad and speed bumps like a pro. The only time she spooked was when a very nervous gelding almost ran into her, and she quieted quickly. A little bit of jigging and wanting to trot to keep up with her friends here and there, but over all I think it was a VERY sucessful trip, dispite everyone worrying that she'd act up. Not bad for a four year old!
Ok, I'm done blabbing. On to the pictures!
This one's color was totally weird for some reason, which is sad. It would have been an amazing picture. Getting ready to line up! What do you guys think of her polo wraps? I made them myself!
fuzzy pony butt.
Giant, loud go-cart and tons of kids right by me? Pff, no problems mom.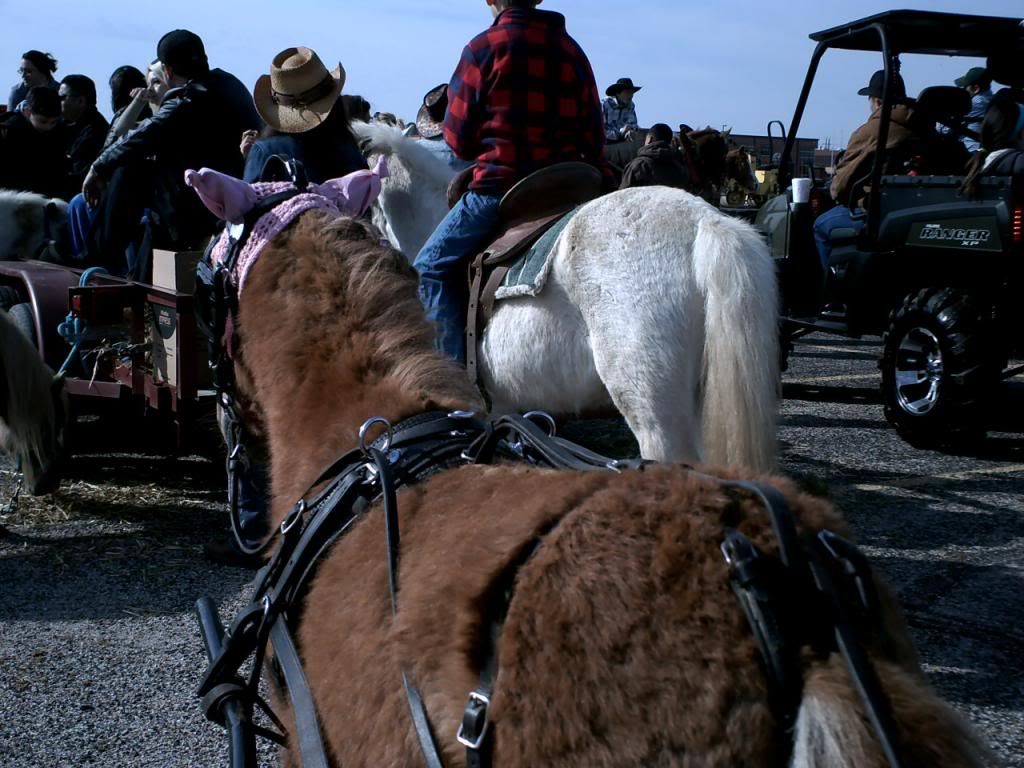 Yo lady, you got any cookies back there? Look how GOOD I am!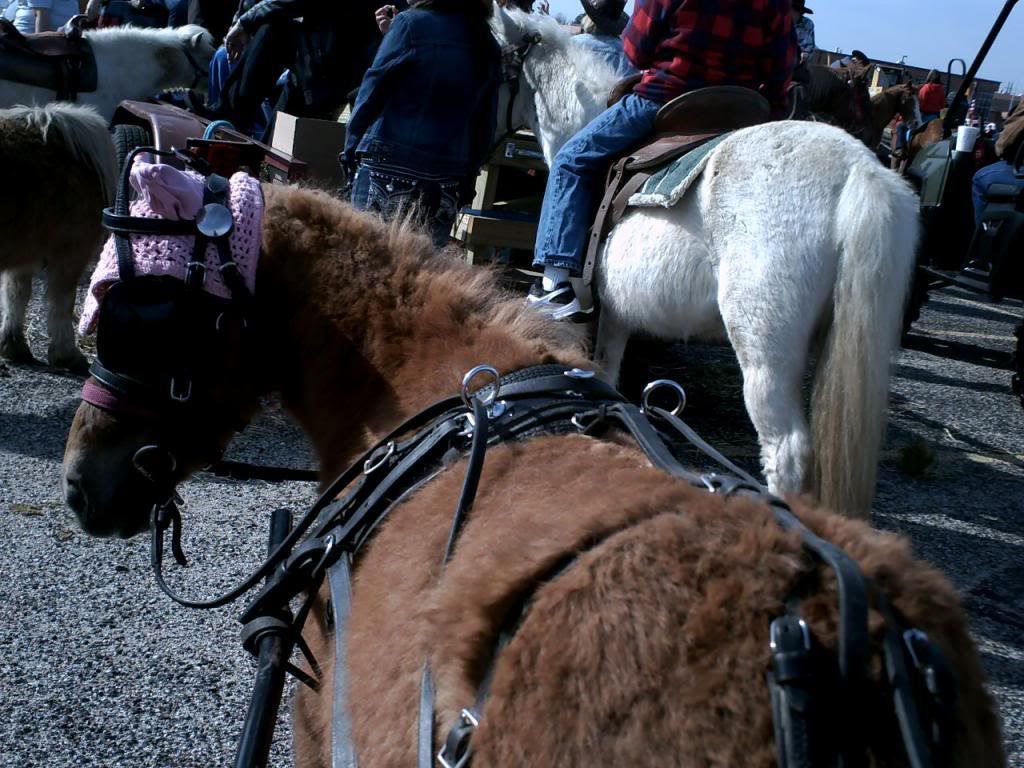 Just got the Belgian's number ;) we all know I'm sexy in pink.
The beads didnt QUITE work out, but I lost my ribbon so I improvised :(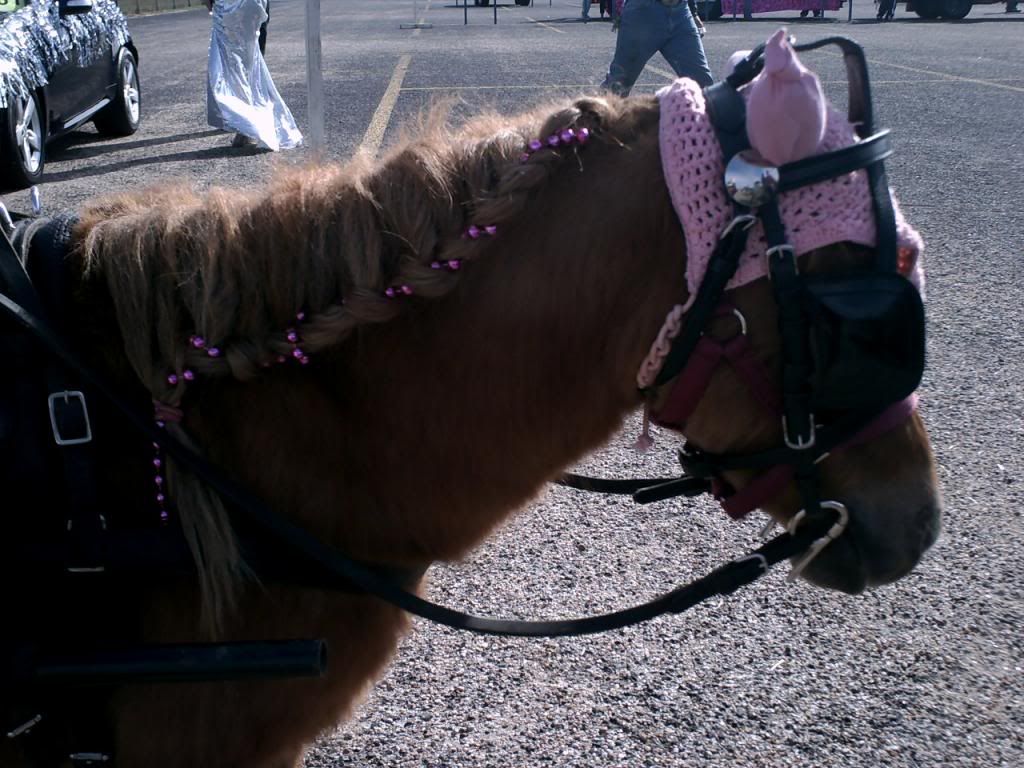 Off we go! Thanks to my trainer for making the long trek back down here to walk in the parade with me ;) (lady by Sour's head. She's amazing!)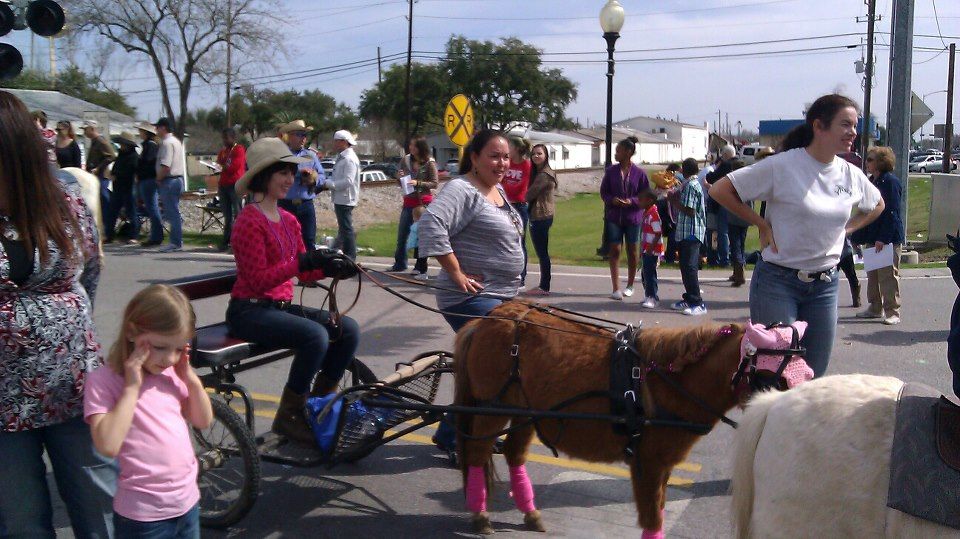 Are you getting my good side?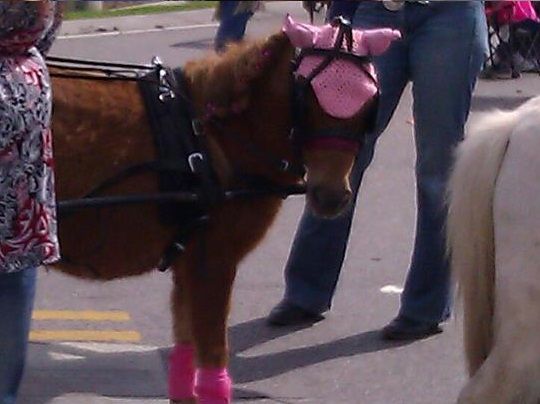 Paradin' around like a boss ;) the crowd loved her!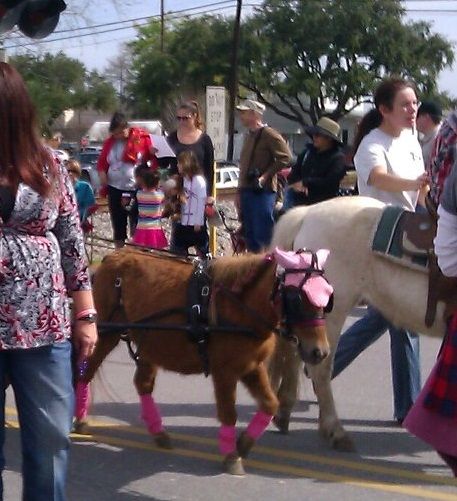 I don't see her in pictures like this often, but its times like this when I realize how horrifying her conformation is. Doesn't seem to bother her one bit though, thank goodness, and I still think she's one might fine looking mare ;) She's fat and lacking muscle too, thanks to her 3 months break...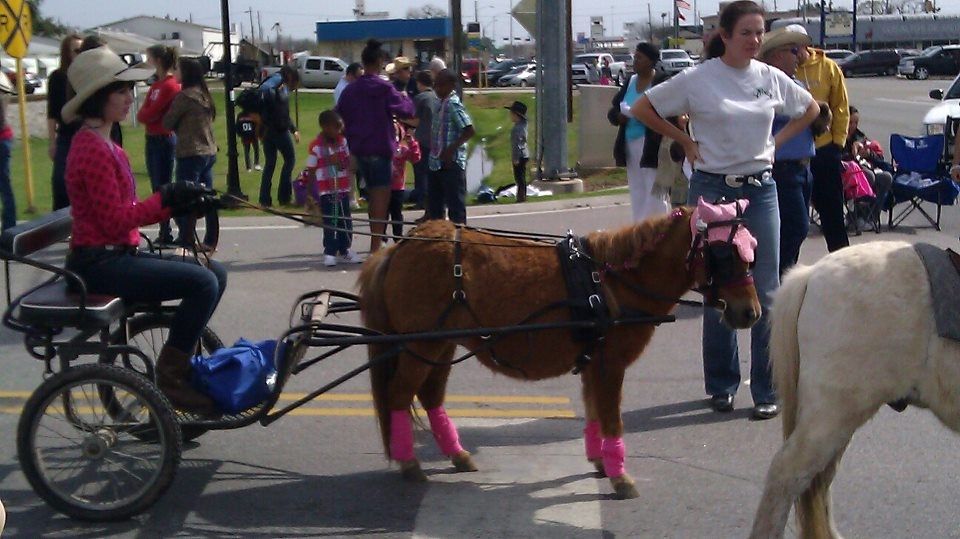 All finished! Untacked and waiting for her ride back to the farm :)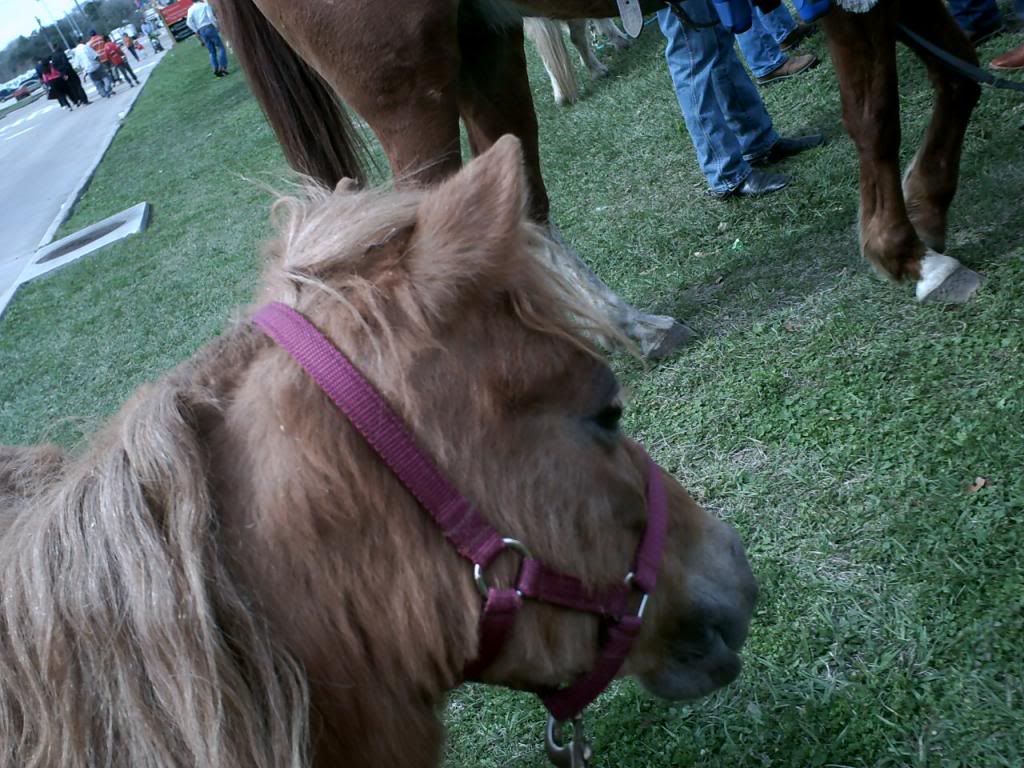 I'm so proud of my baby girl! We've come so far <3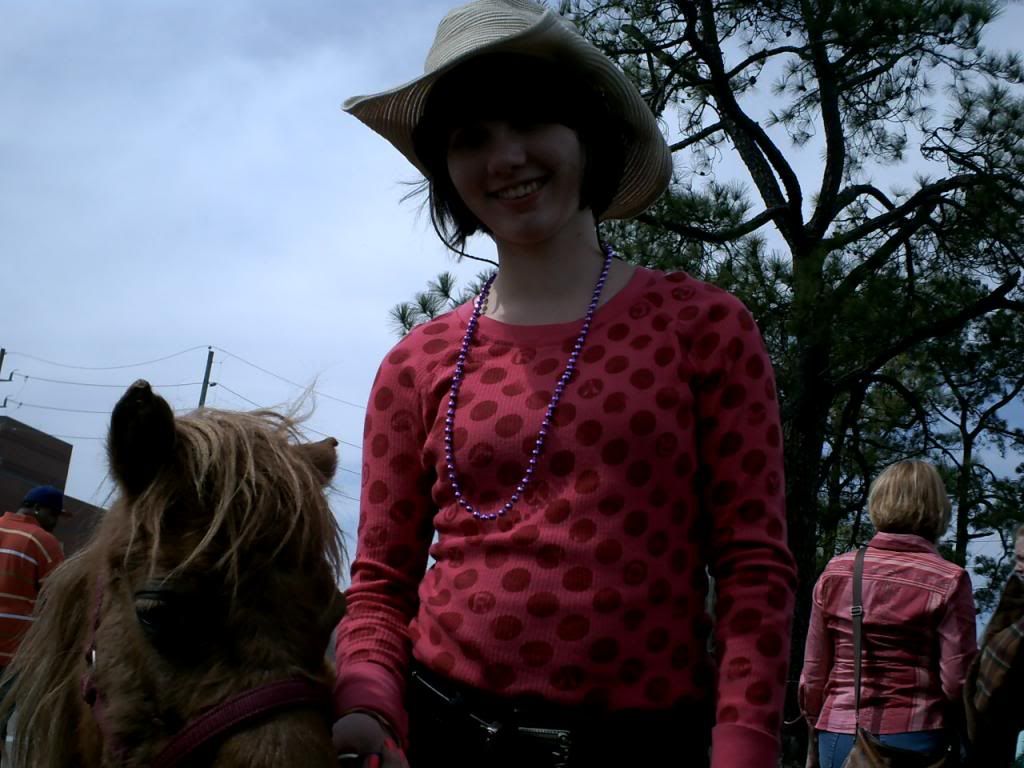 There may be more pictures later, my friends were taking pictures too. I just don't have them yet. Thanks for looking!
---
Everyone in your life is meant to
be in your journey, but not all of
them are meant to stay till the end.
She looked just fine-parade watchers are not going to be picking her apart. Goos behavior counts for a lot!
She is amazing for any age much more for a four year old!!
She is darling in pink.
Oh my all those people and she didn't bat an eye, except at the Belgian's of course.
You look great, nice posture, the cart looks great.
I would not even take Pilgrim to a parade, he would have killed me or worse someone else.
More photos of the
Pony of the Month
Thanks! I'm really lucky to have use of this cart. Its a bit banged up since its stored outside-ish, but its definitely functional and has served its purpose well.
I'm going to be honest, I was prepared for a full Sour-blow out xD I had her halter on under her bridle and a lead line in my bag, just in case- but she proved that I worried for nothing! She behaved better than even some of our parade vetrans!
I'm excited to see the rest of the pictures, and they'll definitely be posted as soon as I get them <3
---
Everyone in your life is meant to
be in your journey, but not all of
them are meant to stay till the end.
Showing
Join Date: Jun 2011
Location: Cariboo, British Columbia
Posts: 11,776
• Horses:
3
Well done, both of you!
---
Life is like a camera. Focus on what's important, Capture the good times, Develop from the negatives and if things don't work out, Take another shot.
Congrats, what an awesome experience. I love the "did you get my good side" picture. What a sweet face- no fire-breathing killer pony there!! You two look great together.
Posted via Mobile Device
haha, thanks everyone! I think the only thing that would have made it better is if I hadn't drank an entire snapple tea can right before line up. I had to pee SO badly from line up at 8 am until 11:30 when it ended. Talk about painful, especially in a cart with no shocks! LOL.
---
Everyone in your life is meant to
be in your journey, but not all of
them are meant to stay till the end.
She looked adorable! Too bad I actually could've made it since Henny's appointment was moved to 2:15. He was too busy getting loved on at the vet's anyways haha, he gets absolutely spoiled there. How crowded was it? I'd love to make it next year!
Posted via Mobile Device
Looks like you two had a great time. Sour looks adorable and so well behaved!!
I hope you don't mind, I took the liberty of messing around a bit with that first picture and I thiiiiink I got it to behave a bit better for you. Not 100% but somewhat better! Sassy cameras!
---
Fabio - 13 year old Arabian/Lipizzan gelding

~
Rest peacefully, Lacey.