Lets see some videos of your horse driving!
---
Well, the driving section here seems to be a little slow. Lets kick it up by sharing videos of our horses driving. Here is a view from the cart while driving Cliff.








---
Last edited by LauraB; 12-28-2008 at

07:57 PM

.
Wow, that's either a really loud cart or a really gravelly road.
Yep, the cart is loud. It is about 100 years old and still has the original steel rimmed wheels. It was one of my great ebay finds. I don't show in it but it has made a great work cart.
watching that makes me want to go out and drive now... I will post a movie in the next few days
---

It's not the will to win, but the will to prepare to win that makes the difference.
- Paul "Bear" Bryant (Former college football coach)
Nice video! I haven't driven for a few years (only jogged race horses since then.)
The cart in my video was on ebay but we had to go central Indiana to get it. I bought my show cart from my mother in law who picked it up at a tack swap she went to. They were both pretty good deals. You can also find carts in tack classifieds.
---
Someone stole my %&#*@&% Carrot!
Foal
Join Date: Jan 2009
Location: In the Confedrate states of America
Posts: 106
• Horses:
1
Is driving a cart hard? I do not own one and I never even riden in one.
---
RIDE LIKE THERE NO TOMARROW
It is not really hard but you do need to learn to balance yourself in the cart.
---
Someone stole my %&#*@&% Carrot!
Let me see what I have online...
This was Chili and I back in July of 07. Must've been a bad day, one of the very few times we've knocked a cone!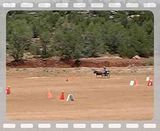 Ah yes, now that I see the dressage, I do recall that being a bad day! And sorry it's shaky a bit, hubby took this while holding his own horse, not easy ;)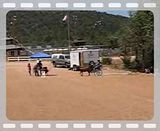 Hubby's dressage test. Not so good for him, either. And the cam quite on me just a bit too soon.
That's all I have. We normally stick to photos.
Jessi