Quote:
Where did you get the larger tire and rims? Kingston won't sell outside mainland US. They seem to work much better. When I had a similar version cart for my 14.2hh I was looking directly at his pooper, not the nicest view. I didn't know bigger wheels were available.
From Kingston. Sorry.
I know what you mean though! I got the extended seat brackets too which are 2" higher. Instead of looking at this:
I'm looking at this: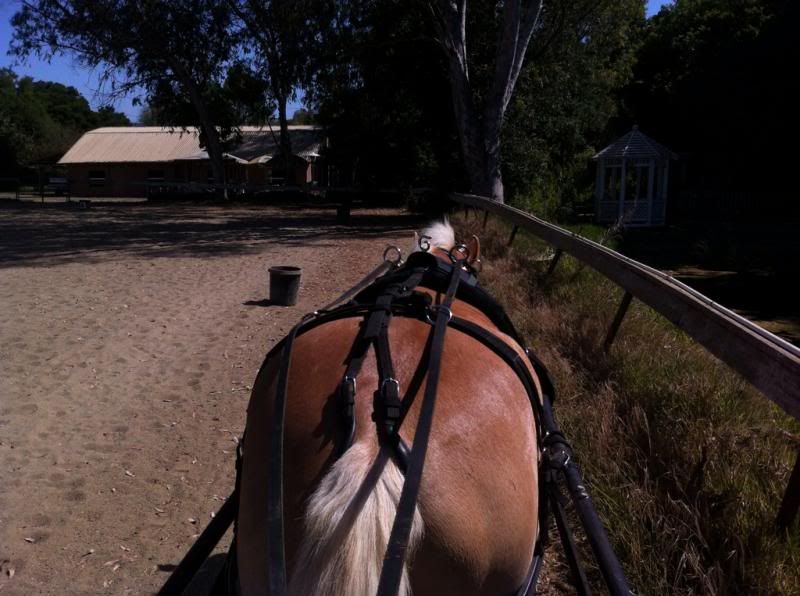 More back, less butt.
Quote:
Originally Posted by
CaliforniaDreaming
View Post
More back, less butt.
I think this might be my new mantra for 2014.
Dreaming, what hub size did you get? I'm thinking of, for now, enquiring if my old cart may be up for sale. The people who bo' it but didn't use it. It's been sitting outside a long time so I would even consider using the original wheels. The best part is they're only an hour away but frequently drive within a mi. of my place.
I've been in contact with Todd Frey. Shipping will run about $375 to the Cdn border. I'm facing a two hour drive to fetch it. If I want the one in stock there is an additional crating charge of $250. If I wait until their own truck is heading west, there's no crating fee. On a $3000 cart I will also get hit with Canadian taxes of 13%. The $3000 cart is quickly becoming a $4000 cart. I'm having second thoughts because I won't be competing as there's not enough interest around here or even close except for minis. NB I see a boo boo in my previous post. It should read "I wouldn't even consider using the original wheels."
Saddlebag, that is such a tough call.
I know what you are going through, they don't nickle and dime you to death, they $100 you to death.
All I can say is, it is sort of like my trailer shopping, I find something close to what I want, but for a little more I can get exactly what I want. I tell my hubby that if we get into a pinch, I will sell it. My horse trailer is $1000ing me to death!
The sprints are nice, plenty of room for two big adults or an adult and two children, I really like the size of the seat.
Those Frey Sprints will break your heart. They're such delightfully lovely carts, but oh, the expense. Driving sure can be an expensive aspect of the horse world, you can obviously get saddles that range from $10-$1000+, but with driving, you have to get a cart and a harness and oh the money needed! I'm dearly madly in love with the Frey Stingrays. I love how they look, but if I ever had enough money, I'd hardly be able to use it.
I guess the easiest thing for me is to just upgrade what I have and be happy with that for now. I saw a nifty thing about an add-on suspension system for the easy entry carts that I'll look into more, and someday, with some curved shafts, I might just get closer to having something that kind of sort of looks like a Frey. Like having a Sorny instead of a Sony.
The hubs on my monster motorcycle wheels are 5". I think. I'd have to measure to be sure.
The greatest appeal is the better view, above the horse's back instead of it's butt. To drive to Madison and return would be an overnighter, probably before picking up the cart so to eliminate at least one worry. All the gas, meals and motel $$$$. I'm beginning to feel I can't win for losing. CD, I meant the diameter of the spindle they slide on to.
Lots of people have used u-ship to move carriages.
California--But it's such a pretty butt ;D

Taffy--I can't say enough good things about uship.
---
The sensitivity of the internet baffles me.
Quote:
Those tires do make me nervous. And for the cost of replacing or upgrading the tires, I might as well buy something better. From the limited research I have done, replacing the tires with motorcycle wheels would be about $200. Does that sound about right?
What do you think of this one?
Kingston Saddlery Supply
I'm not sure what I think about the adjustable shafts though...
That 1st cart is not heavy duty enough to use a heavier
Wheel and tire. The cart that you're looking at is not much more expensive to buy a new G&S and Iowa builds a heavier duty or one for a few hundred dollars more
Posted via Mobile Device
---
Last edited by churumbeque; 01-11-2014 at

07:02 PM

.