After hearing the stories from Canadian friends about wild Moose and problems they can cause, it is sure weird looking at these photos of Moose hitched up.

In their area, the Moose are just bad news for all creatures living around them. Mother Moose with calves with HUNT DOWN other animals and attack them!! One friend was chased by a bull Moose, and only escaped because his horse had been chased by Moose before! Horse knew what to do, and rider was "taken for the ride of his life!!" but they were unhurt by the Moose who chase them FIVE MILES! Horse ran thru the trees, uphill, kept in the tight areas where Moose couldn't get up any speed. Paul lost his glasses, had most of his shirt ripped off, but no serious injuries. We saw some cattle the Moose had chased with big scars from striking hooves ripping their skin open. Usually the cattle are so injured they die or get put them down when the guys find them with huge infected or fly-blown wounds.

We were up there and bought that horse from him along with two others. We got questioned in the nearest store where we bought fuel for the truck. "You the folks that bought Bug? Helluva horse, outran that Moose that was after him and Paul. You take good care of that horse, he is pretty special! Not many horses get away from a mad Moose, unhurt." Quite the local Celebrity horse. He was a wonderful horse for us as well. He didn't save us from any Moose, but was one of the best horses anyone could want for all our needs.

I have just never looked at Moose the same, after hearing how they are actually the worst predator to injure animals or people in that neck of the woods. Bears don't even come close to causing damage to cattle that the Moose do.
This is the most interesting and educating thread I've stumbled across in a while. Thanks for the good reading, everyone
---
"The problem with quotes on the internet is that many are not genuine." -Abraham Lincoln
A few years ago, my family were on a tram going though the tour at a wild animal park. We had the bad forture of going during rutting season. The bull moose took exception to the tram and threw it off the road. Luckily he stopped after about ten feet and looked for something with some challange to it.

It was exciting....
I want a moose!!!!!!
---
The hills were bathed in moonlight, the shadows not so stark;
Silver light reflected off his brown hide as he held me in the dark
– I love you, Mudpie!
Green Broke
Join Date: Oct 2009
Location: Outside of Oklahoma City
Posts: 2,653
• Horses:
6
Quote:
Originally Posted by
DraftyAiresMum
View Post
I believe this is the pic you're referring to?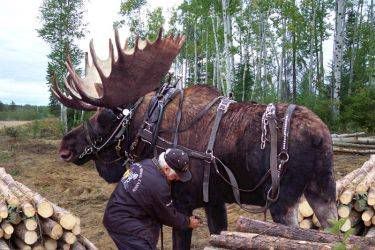 That looks SO photoshopped! lol
---
Be wary of the horse with a sense of humour. - Pam Brown
You do know that moose photo was photoshopped don't you?

It did the rounds about 5 years ago as a spoof photo
Started
Join Date: Mar 2009
Location: Middle-of-Nowhere, Illinois
Posts: 2,225
• Horses:
1
Next to elephants, draft horses are the strongest land animals in the world. It's no wonder they're used as work animals.
In case anyone wanted to know that bit of trivia.
---
"A musician must make music, an artist must paint, a poet must write, if he is ultimately to be at peace with himself.
What a man can be, he must be." Abraham Maslow, 1968

Quote:
oxen powered the westward expansion not horses. Wagon trains werent pulled by horses that's hollywood stuff.
This was bc oxen could maintain their weight while crossing the "western desert" on the Oregon trail (and other routes), while horses could not. Plus, you could eat them when you got there...or before. In Michener's "Centennial" (book and mini-series) the character Levi Zendt drives his 6 Percherons west from PA, but when he gets to St. Louis wiser heads prevail and they push him to sell them his horses there and replace them with oxen. They reason (above, and) that in the early 19th century there were local farms and a good market for his horses, so he'd get good $ for them, too.
Horses have
always
been more valuable as driving animals. Look at Wilder's
Farmer Boy
. Alonzo wasn't allowed to train young horses to drive the first time. His father didn't want them ruined. Instead, he was given weaned calves.
We have a friend in CW Reenacting who has been driving oxen for decades. He drives them exclusively with his voice. He did the same with a pair of Appalousas about 20 years ago--voice only. His horses would pull ANYTHING for him.
...I gotta find some pics of him to post...
---
Last edited by Corporal; 02-10-2012 at

01:46 PM

.