Phantomhorse13 that is GORGEOUS. But brr!
Still having a few chilly days but it's slowly but surely getting warmer out, which is a good thing. I hate the cold!
Warmer=more sun=more daylight=more ride time!
Did a bit more than 15 miles within the last week and have been able to go out farther and farther. Dory has been fantastic about not freaking out about new situations on the trail; a couple a weeks ago a huge horse rig zoomed by us, guess the driver got excited, and honked and waved. She tensed up but didn't spaz out... I was actually surprised because it scared me more than it did her!
Been using Endomondo on my phone and we are up to about 55 miles this year so far. Ordered a Garmin so soon I'll really have a better idea on our time, distance, speed, etc.
This week the barn owners are gone for a few days and I'm not too sure I want to go miles out on the trail when there is no one to call for help if something goes wrong.
So we are working on arena work, mostly trying to get her left lead down. Not 100% but there is progress!
---
Horse, thou art truly a creature without equal, for thou fliest without wings and conquerest without sword. - The Qu'ran
We got our first significant snowfall last night, but it was warmer today. I rode out for the first time since his shoes were pulled. Just a little 2 or 3 miles around the block to get my fix, so to speak, nothing major. I was worried that his feet were bothering him for the first mile as he was being so slow and careful, but then all of the sudden he was fine and wanting to trot and run. Then it dawned on me- my horse is from South Texas! That was probably the first time he's ever been ridden in snow, on packed snow, on ice, and with clumps of snow falling out of the trees all over! Apparently he decided the snow wasn't really too bad, since after that he was fine (though appropriately cautious on the one really icy and nasty bit). He was panting and warm even with the light workout through. I hope he sheds out soon, he's too fuzzy for temps above freezing!

I also did his feet and tried on the new pair of EasyBoot Edges I got. Three out of four feet went on fairly easy, the last is a little snug to pull on, but popped into place when he stepped down. He's never been booted before and was a little concerned, but got over it within a few minutes. They stayed on all feet while he trotted a few circles on the lunge, so that's a promising start. I hope I have his feet sorted by the LBL ride! Do non-endurance riders obsess this much about their horses' feet?
Well I'm a little late in the game here (I've been hanging out in the 2014 mileage trail riding thread...). But I'm planning on riding in my first LD ride memorial day weekend at the Hector Half Hundred.

My ride is a 2000 model mare, Amira. She's a fiesty thing that loves to trot and rarely has a slow down button. She's competed in two LD with her previous owner, so she'll at least know what she's doing...

My other little guy is Maverick, my almost 10 month old Arab/paint/quarter/? cross who I picked up off craigslist. He's a cute little bugger that I'm hoping will also enjoy/excel at endurance. He's already got a trot like my mare so I'm excited to see him grow up and progress.

So far I'm around 50 miles for the year. Cold weather and working a standard 9-5 job that leaves me getting home when it's already dark out has hampered my riding. But I'm looking forward to spring and longer daylight hours. And hopefully I'll be able to start getting my lazy butt up earlier and switch my hours to 7-4...
Zero riding since last week...rain, rain, rain, and more rain. Have a ride this weekend in TX. I'm waaaaaaay over this weather. I would love some dry warm days.
Posted via Mobile Device
liltuktuk--They are beautiful. I know it's a few months away, but I can't wait to hear how you do at your LD!
---
The sensitivity of the internet baffles me.
liltuktuk, wow, gorgeous mare! I love the plaits in her mane. Are those fishtail braids? Now I want to try that on my mare.
Quote:
Originally Posted by
TrailDustMelody
View Post
liltuktuk, wow, gorgeous mare! I love the plaits in her mane. Are those fishtail braids? Now I want to try that on my mare.
Thanks and yes they are! I've found that they look really pretty and tend to stay in a lot longer than normal braids. But then don't leave them in too long or they are a pain in the butt to get back out!
Quote:
Well I'm a little late in the game here (I've been hanging out in the 2014 mileage trail riding thread...). But I'm planning on riding in my first LD ride memorial day weekend at the Hector Half Hundred.
Oh, we hope to be there as well! Looking forward to seeing the real trails this year, seeing as the national forest was closed last year during the ride. Looks to be a nice one.
---
There is no joy equal to that found on the back of a horse.
Ok I'm tardy to the party, but would love to join if I may. :)

I have been wanting to get into endurance for a while now, but for the longest time did not have an appropriate horse. My first prospect was diagnosed with heaves, another had stifle issues and a 3rd ended up being unsound for endurance due to past episodes of laminitis. Anyway I took these horses, fixed them as best I could and rehomed them. I was beginning to despair that I would ever find a suitable mount when I came across a craiglist ad for an Arabian mare for $200. The post mentioned she had been used for "long distance rides", which piqued my interest. However when I went to see her, I was unprepared for what I found. The mare (advertised as 14.3h) was barely 13.3h (if that) and at least 200lbs underweight. I'd give her a body score of 2.
A friend reminded me I didn't need any more horses with issues but there was something about her that tugged at my heartstrings. I couldn't just leave her.
Posted via Mobile Device

(NOTE: Edit in progress...sorry hit "submit" too soon!")
(Continued from above - accidentally hit submit before I finished!)
Anyway to make the long story short, this is "Willow" the day I brought her home.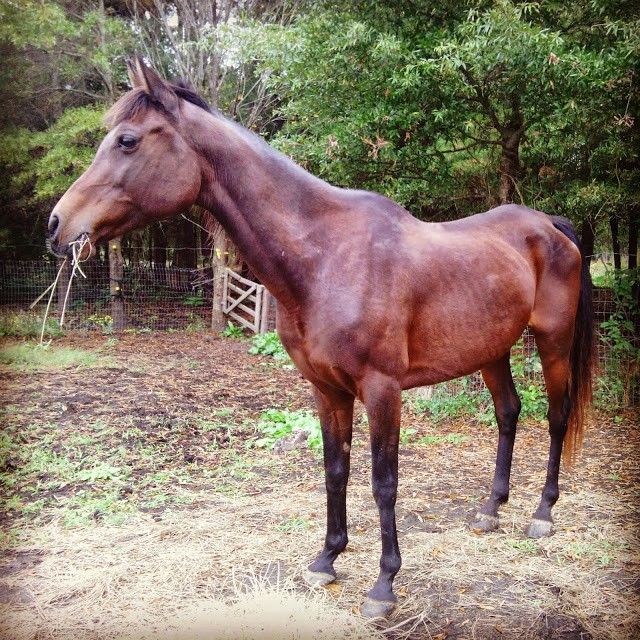 And this is her after 3 months. She still has some weight to gain but already looks worlds better.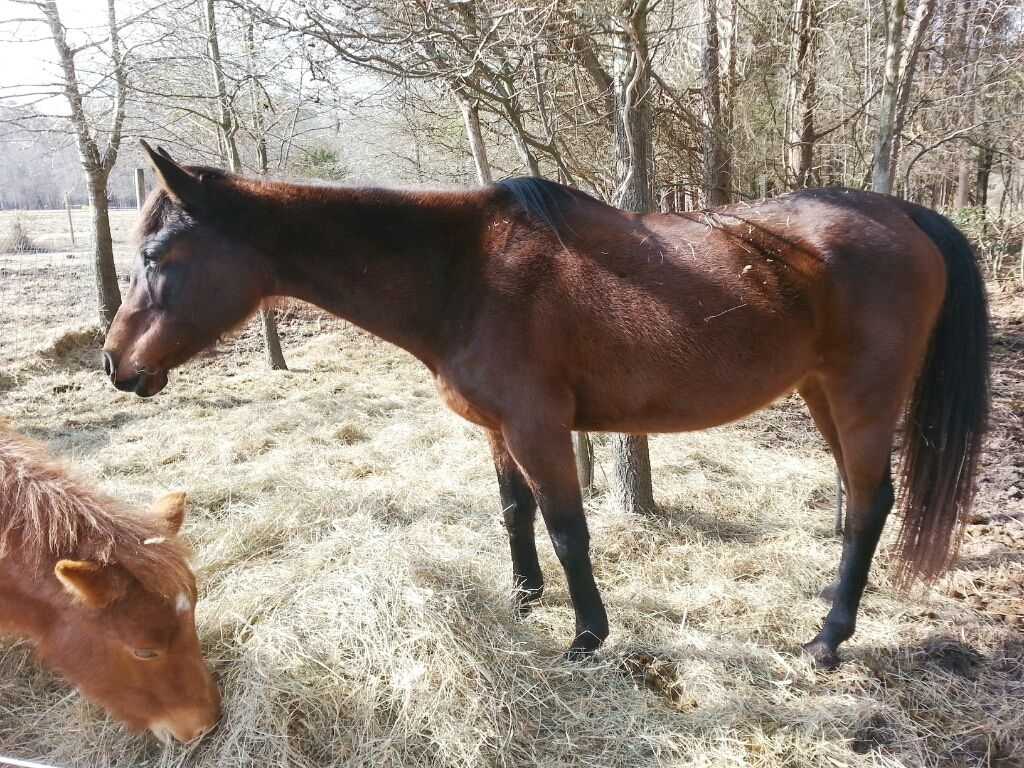 I recently began riding her and we are planning to attend our first fun run in July. Originally I had hoped to make it to Sandhills in April but I don't think either of us will be ready by then:)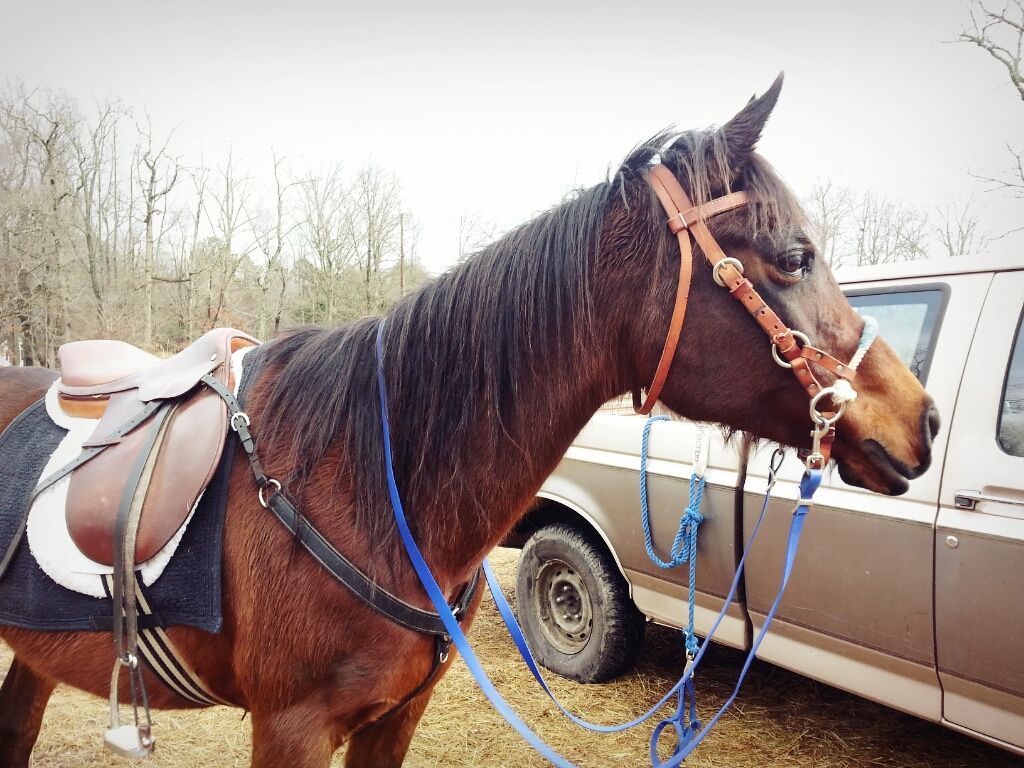 I am looking forward to joining in this thread and getting to know everybody! Ride on! :)
Posted via Mobile Device
---
Last edited by prairiewindlady; 02-14-2014 at

09:42 AM

.