To Big For Your Horse..
---
I wasn't sure where to post this so... move it if you must :P
Chance is 14.3-15H depending on the day
Im about 5'3 ish.. I have a tall upper body. She takes up my leg still but I kinda tower over her. I feel like im to tall for her. Opinions? Would this effect her in any way while riding or anything..
Im planning on doing low levels dressage for a little while then switching back to hunter jumpers.
Im considering I may need a larger horse.
Heres a picture of me riding her.. Its the best I have so far. Shes 6 years old so I dont think she will be growing anymore.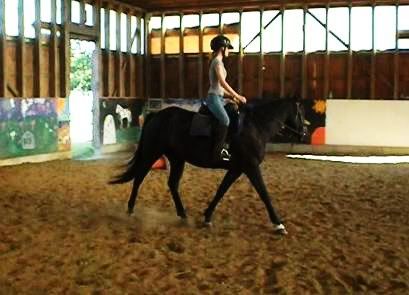 No Way!

Sheesh, all you people worry too much :] I'm a MG rider, so we all ride teeny tiny ponies, and some of the guys are TALL! The onyl regulation in MG si that if the pony is under 12h, then the rider has to weigh less than 60kg? I think. In my opinion, if we are talking about height alone, then there is no-one too big for a 15h horse. Unless you are a guiness world record holder for height or something :]
---
i looked at this and i just have to say: i think your horse is soooo adorable!!!!!!!!!!!!! :)
---
If there are no horses in heaven... im not going.
LOL! Okay thanks WS!!
Im glad to hear that though! :)
Aw thank you ridergirl!!!!!! :)
I think you look fine on her.
Though it all depends on what you're comfortable with and everything. A million people can say you are fine, but if you dont think so, no one is going to change that.
Thanks everyone!!!!
I just always felt like I was to tall for her.
Folks get funny ideas about the optimum height of a horse.
You look absolutely fine - you are slim , you sit well and your horse looks happy.

Fancy the palaver of exchanging her - you'd lose a lot and you might gain nothing except a few inches on the legs.

Anyway, there are lots of advantages in having a short horse - it is not so far to get up or off and you can duck all those low branches.

Strikes me you are doing well already.

Barry G
Everyone in my family likes horses between 13-15hh. Anything bigger my mom refuses to have around. She is insisting her next horse will be a 12hh pony!

I am 5'2, 140lbs and ride a 13hh pony all the time. So I look a little goofy. I can wiggle my way under any low riding branch... and if I can't we can jump over it.
I think you look fine on her
---
"The ideal horseman has the courage of a lion, the patience of a saint, and the hands of a woman..."